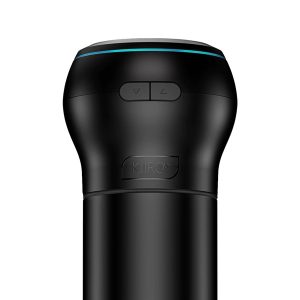 Welcome to our Kiiroo PowerBlow review. This is something we have wanted to share since we first heard of its development. After all, while there are plenty of male masturbators and interactive male sex toys available there are not that many devices that are capable of offering a realistic blowjob experience. They big question is whether or not the Kiiroo PowerBlow is capable of filling the gap in the market for a realistic blowjob machine.
You can check out the best price for the Kiiroo PowerBlow by clicking here.
Kiiroo PowerBlow Review – Quick Look
So let us dive in to our Kiiroo PowerBlow review and decide whether this is an interactive male sex toy worthy of being granted the title of best blowjob machine and best blowjob sex toy simulator.
Kiiroo PowerBlow – What is It?
The Kiiroo PowerBlow is, in simple terms, an interactive sex toy that simulates oral sex. More specifically it is a blowjob sex toy or blowjob sex machine.
The Kiiroo PowerBlow takes any regular Kiiroo stroker although it works best with Kiiroo strokers that are designed to look and feel like a mouth. The end cap of the Kiiroo stroker is unscrewed and the Kiiroo PowerBlow is screwed on in its place ready to automatically replicate the experience of a blojob.
You can check out the best price for the Kiiroo PowerBlow by clicking here.
How Does it Work?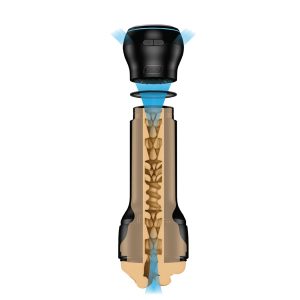 Once the Kiiroo PowerBlow is screwed onto the end of a Kiiroo stroker it is a simple case of connecting it to a smartphone or other compatible form of adult media. Once the Kiiroo PowerBlow is connected (using Bluetooth) to your controller of choice it is ready to use. Put simply the PowerBlow creates a suction effect within the Kiiroo stroker that is intended to perfectly replicate the sensation of receiving a blowjob.
Control Using the Buttons on the Kiiroo PowerBlow
When I began this Kiiroo PowerBlow review you will undoubtedly understand I was keen to try the device out. After all there are not many guys who would not be keen to receive a blowjob even if it was from an interactive blowjob machine.
Rather than mess around trying to connect the toy to my phone I opted to lube up the Kiiroo stroker and use the control buttons located on the side of the PowerBlow. This is by far the simplest way of enjoying simulated blowjobs on tap as it is a simple case of controlling the speed of your blowjob using two buttons. One to make the sucking faster and harder and the other to make the sucking go slower. What could be any simpler?
You can check out the best price for the Kiiroo PowerBlow by clicking here.
Control Using Your Smartphone
The next step of this Kiiroo PowerBlow review was to use while connected to my smartphone. Over the years I have used a huge number of interactive sex toys that can be controlled using my smartphone. I must say that, as with all Kiiroo sex toys, this was a breeze to connect to and control from my smartphone.
Simply download the specially designed app, it is the same app that is used to control other interactive sex toys from Kiiroo, then put the app and the PowerBlow into pairing mode. Within a matter of seconds the PowerBlow is connected to your phone and ready to use. From there it is a simple case of using the touchscreen slider to control the speed and strength of the suction.
Sync with A Compatible Interactive Sex Toy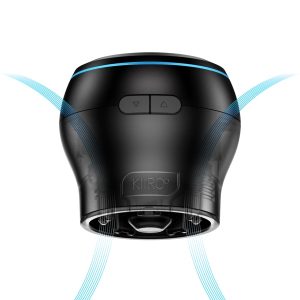 As with all Kiiroo interactive sex toys there is the option of syncing the PowerBlow with another compatible sex toy. This is done quite easily using the app which you will have to install on you smartphone. Using this method allows couples to enjoy interactive cyber sex from anywhere in the world.
This is quite a novel idea which many couples in a long distance relationship will enjoy.
You can check out the best price for the Kiiroo PowerBlow by clicking here.
Sync With Your Favorite Adult Content
My favorite part of this Kiiroo PowerBlow review was most certainly using this blowjob machine with adult content. What this involves is connecting the PowerBlow to your laptop, smartphone or virtual reality headset. Once connected the PowerBlow perfectly replicates what you see which allows you to get closer than ever to your favorite porn stars.
I get the biggest thrill using the Kiiroo PowerBlow with virtual reality porn scenes. There really is nothing quite like seeing the likes of Brandi Love or Alina Lopez giving you a blowjob and actually being able to feel them in realtime.
In the past for Kiiroo interactive sex toys to work with porn the video had to feature a special encoding. Now that is a thing of the past thanks to FeelMe AI. This is a subscription based service which uses artificial intelligence to convert what it sees in a porn movie and control an interactive sex toy in response.
You can check out FeelMe AI by clicking here. It really is a must have for any Kiiroo sex toy as it makes these sex toys work with pretty much any porn scene you can throw at it.
Which is Best for Controlling the PowerBlow?
Personally I found that the best and most enjoyable way of controlling Kiiroo PowerBlow was syncing it with my favorite porn movies. It really was fantastic using it with some blowjob edging porn scenes. Then, when combined with virtual reality, you find things taken to a whole new level. A level where you will never ever look at porn or interactive sex toys the same way again. Especially when you combine the PowerBlow with the Kiiroo Keon.
I must add at this point in this Kiiroo PowerBlow review that I also spent a lot of time using it with just the controls on the side of the unit. Sometimes a guy just wants a quick blowjob without having to grab a virtual reality headset. Basically the PowerBlow can deliver a highly realistic, all singing and all dancing virtual blowjob or it can deliver a quick release. The choice is down to you.
You can check out the best price for the Kiiroo PowerBlow by clicking here.
How Good is the Kiiroo PowerBlow?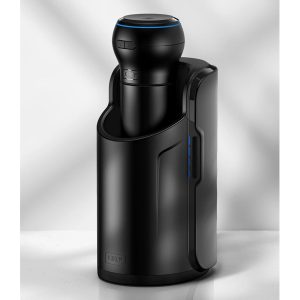 At the beginning of this Kiiroo PowerBlow review I must admit I was expecting something a little different to what it offers. I was expecting a sex toy, a blowjob machine that I inserted my penis in and then it went to work sucking completely hands free.
This is not how this blowjob machine works.
When you are inside the blowjob machine and turn it on you can most certainly feel what I can only describe as a heavenly sucking sensation. It really does feel like a woman sucking your penis and that can only ever be a good thing. While this really feels amazing you do find yourself adding extra stimulation jerking yourself off with the stroker that you have attached the PowerBlow to.
It is at this point I realised that the PowerBlow becomes very much the best blowjob machine that money can buy with one simple trick. That trick is to add the Kiiroo Keon into the mix. With the Kiiroo Keon you can automate the stroking experience while enjoying the sucking sensation from the blowjob machine. More importantly this is all completely handsfree.
The moral here is that it would be money well spent if you were to buy both the Kiiroo PowerBlow and the Kiiroo Keon.
You can check out the best price for the Kiiroo Keon by clicking here.
I promise you will not be disappointed.
What I Liked About the Kiiroo PowerBlow
The most obvious thing to say here is that I truly loved that this interactive sex toy offers guys the chance to enjoy oral sex whenever and for as long as they want. What guy on this earth would ever suggest that is a bad thing?
What really stands out to me about this interactive blowjob machine is how compact it is. I am sure everyone reading this Kiiroo PowerBlow review is more than aware there are plenty blowjob machines available to buy. The problem with these blowjob toys is they tend to be somewhat bulky. This is not the case with the Kiiroo PowerBlow. This interactive sex toy is as compact as they come.
You can check out the best price for the Kiiroo PowerBlow by clicking here.
What I Did Not Like About the Kiiroo PowerBlow
Personally I would have liked the suction to be just a little stronger. The PowerBlow delivers a good amount of suction but it would have been nice if it could be ramped up just a tiny little bit.
Conclusion
The bottom line is that the Kiiroo PowerBlow is one seriously awesome sex toy. It perfectly replicates the sensation of receiving a blowjob and that is only ever going to be a good thing. A great thing even.
It is extremely compact and can be controlled in a variety of really cool ways. The most notable and most impressive is when it is synced with your favorite porn movies. This is most certainly one of the best blowjob machines I have had the pleasure of using and is most certainly an interactive blowjob machine sex toy that I would highly recommend.
You can check out the best price for the Kiiroo PowerBlow by clicking here.
Take a look at more Kiiroo stuff here.