Our Abigail Mac Fleshlight review looks at the signature product of the well known adult film star. The Abigail Mac Fleshlight is part of the hugely popular and best selling Fleshlight Girls range of toys.
Abigail Mac Fleshlight Review – Quick Look
Unlike many products in the Fleshlight Girls range the Abigail Mac Fleshlight comes in only a Lady version with no Butt version available. It features the intensely stimulating Lush Fleshlight sleeve.

| | |
| --- | --- |
| Fleshlight Sleeve | Lush |
| Stimulation | ★★★★★★ |
| Tightness | ★★★★★★ |
| Suction Effect | ★★★★☆☆ |
| Realism | ★★★★★☆ |
| Cleaning | ★★★☆☆☆ |
| Overall | ★★★★★☆ |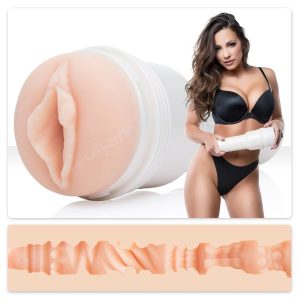 The opening of the Abigail Mac Fleshlight is, as you would expect, moulded from the body of Abigail Mac. It looks incredibly lifelike and feels just as realistic. This opening is just as, if not more, inviting that the real thing.
Chamber One
As you enter the Lush Fleshlight sleeve you enter the first chamber. This first chamber is lined with three thin spaced out ribs which protrude a good amount from the chamber walls. This provides a teasing pulsating sensation.
Chamber Two
The second chamber is the shortest in the entire Lush Fleshlight sleeve. Here you will find the walls lined with a single row of nubs with rounded tips. These nubs are just long enough to flex very slightly as you move back and forth. This creates a very pleasant stroking sensation.
Chamber Three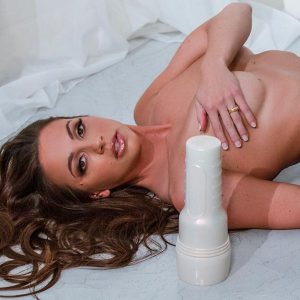 Chamber three continues with the stimulation. The walls are lined with three ribs, each running half way around the chamber walls. These three ribs offer little flex as you move through this chamber and provides a combination of two sensations. There is pulsating form of stimulation as you move over the each rib and the space between them. You will also experience a stroking effect which rotates around the chamber depending on which rib you are encountering.
Chamber Four
This chamber is where the level of stimulation dramatically increases. The walls are lined with thick ribs which spiral around the chamber just like the threads on a screw. All the ribs have a rounded edge and continue with the pulsating effect experienced in the previous chamber. There is also a heavenly twisting sensation that is created due to the way the ribs are laid out. This has to be experienced to be believed. It really is that good.
Chamber Five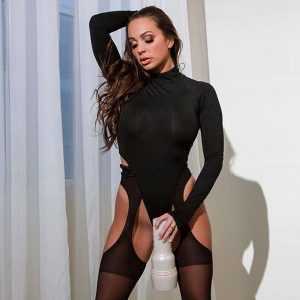 Chamber five changes the form of stimulation yet again. The walls are lined with three rows of nubs which have soft pointed nubs. These create a delightful pinpoint stroking sensation.
Chamber Six
As you enter and move through chamber six the level of stimulation is reduced a little. This chamber has a very minor ribbed texture to the walls. You will find that this texture continues the pulsating sensation only not as intense as experienced in previous chambers.
Chamber Seven
The seventh and final chamber of the Abigail Mac Fleshlight is, in our opinion, the least stimulating of all. It is lined with two rows of small pancake shaped flat nubs. It is hard to say exactly what form of stimulation these are meant to produce as it is difficult to even tell that they are present.
Cleaning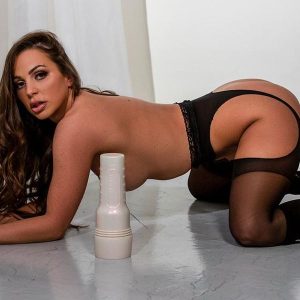 Cleaning the Abigail Mac Fleshlight is one of the few negative things we can say about the product. The fact that the Lush Fleshlight sleeve is lined with nubs, bumps, and ribs, which are positioned closely together, there are plenty of places for lube to become stuck. You certainly will not find yourself spending hours cleaning this Abigail Mac Fleshlight but you will it does take a little longer than most other Fleshlight sleeves. We would say that we feel this is a small price to pay for such an intensely stimulating product.
Overall
The Abigail Mac Fleshlight and Lush Fleshlight sleeve is one of the most stimulating Fleshlight products available. Not only does this high level of stimulation make it exceptionally enjoyable it also makes it ideal for anyone wishing to improve their stamina.
There is a good variety of stimulation and sensations throughout the sleeve. This high level of varied stimulation however reduces the sense of realism. Primarily this is because the Lush Fleshlight sleeve is dramatically more stimulating than the real thing. If you are looking for a realistic Fleshlight then you would be better looking at the likes of the Jenna Haze Fleshlight.
The bottom line is we would highly recommend the Abigail Mac Fleshlight. You will struggle to find a more enjoyable and pleasurable Fleshlight. From start to finish we throughly enjoyed every second of our Abigail Mac Fleshlight review.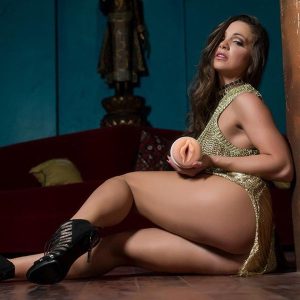 See more Fleshlight Girls here.