If you are lucky enough to have experienced virtual reality porn you will undoubtedly have been blown away by it. Virtual reality is the biggest thing to hit the adult entertainment industry since the VHS video cassette. In fact VR porn is so truly amazing it is, in someways, addictive. Once you are hooked you will be forever looking for ways to make it even better. Undoubtedly you will be here looking for the best virtual reality sex toys.
Best Virtual Reality Sex Toys
Recently there seems to have been a huge explosion in the number of interactive sex toys available to buy. Some of them are truly amazing while others are not. So, what are the best virtual reality sex toys that money can buy. Let us take a look.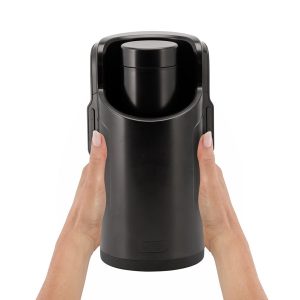 Hands down the very best VR sex toy we have ever experienced is the amazing Kiiroo Keon.
The Kiiroo Keon takes any Kiiroo branded male stroker and automates the stroking. Not only does it automate the stoking action the Kiiroo Keon can be synced with your favorite VR porn scenes allowing your to feel exactly what you see on the screen.
Imagine enjoying your favorite porn star in VR but actually being able to feel everything you are seeing.
What really makes the Kiiroo Keon stand out is how it replicates every last feeling of the scene. If your favorite adult star only has the top of the penis inside her then the Keon will replicate this perfectly. The same applies should you see your favorite adult star pressing down on you, taking every last inch of you. This too would be perfectly replicated by the Kiiroo Keon.
The bottom line is that if you buy only one interactive male sex toy it really should be the Kiiroo Keon. It even comes with an ultra realistic male stroker with the option of buying even more. We would highly recommend you check out the Kiiroo Feel Star range of strokers.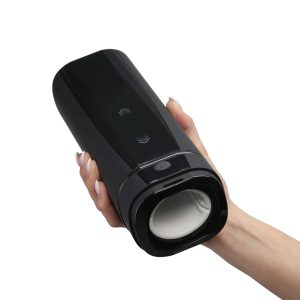 The Kiiroo Onyx+ is another interactive male sex toy from the same company as the Keon.
There are two things that make the Kiiroo Onyx+ a totally different toy to the Keon. Firstly, the Kiiroo Onyx+ is a much more compact toy. This makes it a better choice should you want to take it with you on your next holiday. It is also easier to store and hide away when it is not in use.
It is not just the size that is different about the Kiiroo Onyx+. The way this interactive male sex toy generates the required stimulation is certainly unique. Rather than generating simulation by stroking the sleeve of the Kiiroo Onyx+ is lined with specially designed rings. These rings are all controlled individually to contract in time with what is happening in the VR porn experience.
This may sound like an unusual way of generating stimulation but it really does work extremely well. You really do feel like you are inside a real female vagina. It even feels like your penis is being stroked which is amazing.
If you are looking for a compact interactive sex toy to use with your VR porn the Kiiroo Onyx+ is most certainly worth considering.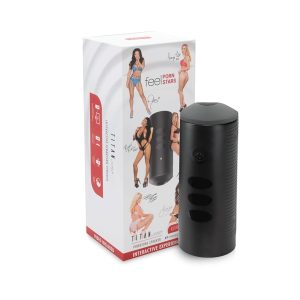 The Kiiroo Titan offers something completely different for anyone looking to buy the best virtual reality sex toys.
What makes the Kiiroo Titan special is that it combines a conventional male stoker with vibrating bullets positioned along the length of the sleeve. This allows the Kiiroo Titan to be used as a simple male stroker or to use as a male stroker with vibrations added for extra stimulation.
The vibrating bullets can be synced with the action in a virtual reality porn movie which enhances the experience. Some men may find simply being inside the Kiiroo Titan while the vibrations work in time with the action is enough for them to reach a climax. Other guys will find they have to add some manual stroking to help them achieve their peak.
What we really like about this specific toy is that additional sleeves can be purchased. We would highly recommend you check out Kiiroo's FeelPornStars range. You should also take the time to consider the Kiiroo Titan Extra Tight Sleeve. This sleeve is perfect for anyone who loves the feeling of a tight, wet pussy.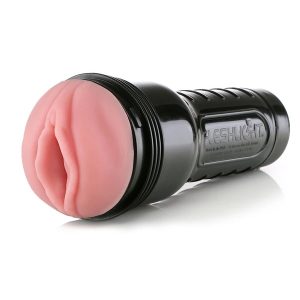 No selection of the best virtual reality sex toys would ever be complete without mentioning the world famous Fleshlight.
Just incase you have been living under a rock in the most remote place in the whole world for the past 50 years the Fleshlight is undoubtedly the worlds most famous male stroker. It started out as a simple lifelike male stroker designed to fit inside a flashlight style case.
Over the years Fleshlight have added more and more products to their range. Nowadays it is possible to buy replica pussy's and butts along with specially designed stamina training devices. There is even a range of male strokers called the Fleshlight Girls range. This range is made up from strokers which are perfect replicas of all your favorite adult film stars. When you combine a Fleshlight Girls stroker with your favorite VR porn content you can get closer than ever before to your favorite adult stars.
Yes, we know that Fleshlight products require you to manually stroke with them. However, they really are so wonderfully realistic. It is hard to imagine anyone who would not state a Fleshlight can make your VR porn experiences so much more immersive.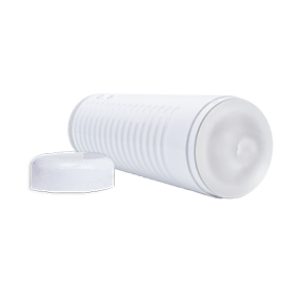 The Lovense Max 2 is a relatively new interactive male sex toy. It is also one of the best options for anyone who happens to be on a strict budget.
The Lovense Max 2 is very similar to the Kiiroo Titan. At its heart the Lovense Max 2 is a stroker. Like the Titan the Lovense Max 2 is also equipped with a vibrating unit for added stimulation. What makes the Max 2 a little more attractive than the Titan is that it also generates a heavenly sucking sensation.
What lets the Lovense Max 2 down is that it cannot be synced with your favorite VR porn content. If you are looking for this feature this may not be the best interactive sex toy for you.
The reason the Max 2 is considered interactive is because it can be controlled via a smartphone app. Control can also be passed to a partner who can control the Max 2 from anywhere in the world as long as they have an internet connection.
See more awesome stuff here.