ElectraStim Wave Electro Dildo Review – Quick Look
Put simply the ElectraStim Wave Electro Dildo is a dildo that is used by people who want to explore electro sex. In its most simple form it is a simple dildo. What makes it different is that it is used with an electric current for added stimulation. If you are looking to explore the world of electro sex this is an ideal first electro sex toy.
What is the ElectraStim Wave Electro Dildo
The ElectraStim Wave Electro Dildo is a versatile and stylish sex toy made of shiny and polished stainless-steel. With a smooth wave design and a central acrylic isolator on the interior, this toy is designed to prevent the pleasure pulses from escaping into the hand, ensuring a pleasurable and safe experience.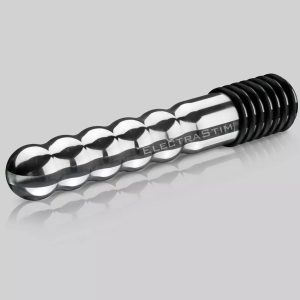 This unisex toy offers an electrifying experience when used with its compatible Electrosex power unit, which is sold separately. The power unit is easy to use and has two 2mm pin connectors that connect to the sockets in the base of the dildo, allowing the transfer of tingly sensations to any part of the body. This makes the ElectraStim Wave not only a sex toy but also a foreplay tool and a body massager.
The liner design ensures the insulating layer and the e-stim power run uninterrupted end-to-end, providing continuous and intense pleasure sensations. Additionally, the Wave uses seven insulating rings to support non-stop and unwavering pulses, providing an intense and satisfying experience.
Additionally, here are some additional details to be aware of before proceeding:
The circumference measures 3.5 inches.
The toy can be inserted for a length of 5.5 inches.
Its overall length is 7.5 inches.
This product is free of latex and phthalates.
It cannot be used in water.
Proper cleaning requires specific supplies.
The power source requires electrical connection and is not rechargeable or battery-operated.
In the Box
Given its impressive features and the intriguing name of ElectraStim Bi-Polar Electrosex Wave Dildo, one might expect a sleek and premium packaging, complete with various freebies and samples. However, this assumption is incorrect. The packaging of this product is rather basic and not meant for storage purposes.
Additionally, the dildo is sold alone and doesn't come with a protective cover or container. The power unit, conductor pads, and conductor gel-lubes must be purchased separately, indicating that using this device requires a significant investment. It is important to keep in mind that the box only contains the dildo and does not include any additional components.
Check out the best price for the ElectraStim Wave Dildo by clicking here.
What Does It Feel Like