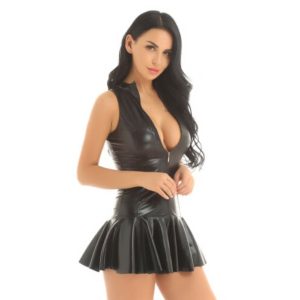 Latex clothing has become increasingly popular among BDSM enthusiasts in recent years. Its unique tactile sensation and shiny appearance make it a highly sought-after material for fetish wear. If you're interested in exploring the world of latex clothing for BDSM, this guide will provide you with everything you need to know to get started.
Check out the best latex wear and fetish wear by clicking here.
Introduction to Latex Clothing for BDSM
Latex wear has been used in BDSM for many years, and it has become increasingly popular in recent times. The use of latex in BDSM started in the 1950s when it was used for fetish wear in various fetish subcultures, including BDSM.
The popularity of latex clothing in BDSM can be attributed to its unique properties. It has a tactile sensation that cannot be matched by other materials, and it also has a shiny appearance that makes it highly sought-after for fetish wear.
The tactile sensation of latex clothing is unlike any other material, and it's one of the primary reasons why it's so popular among BDSM enthusiasts. The feel of the material on the skin can be highly arousing and stimulating, and it can enhance the sensory experience during BDSM play.
In addition to the tactile sensation, the shiny appearance of latex wear is also highly appealing to many BDSM enthusiasts. The material's reflective surface adds a sense of drama and glamour to BDSM scenes, and it can be visually striking in photographs and videos.
Types of Latex Wear for BDSM
There are several types of latex wear that are popular among BDSM enthusiasts. Here are some of the most common:
Latex Catsuits and Bodysuits: These are full-body suits that cover the entire body from head to toe. They can have various designs, including zippers, hoods, and gloves.
Latex Corsets and Waist Cinchers: These are designed to accentuate the waist and provide a flattering figure. They can have various designs, including front or back lacing.
Latex Hoods and Masks: These cover the head and neck and can be designed with various openings, including eye and mouth openings.
Latex Gloves and Stockings: These are designed to cover the hands and feet, providing a full-body latex experience.
Latex Panties and Thongs: These are designed to provide a sensual experience and can be worn on their own or with other latex clothing.
Latex Accessories: These include collars, cuffs, belts, and other accessories that can be used to enhance a BDSM scene.
Check out the best latex wear and fetish wear by clicking here.
Sizing and Care for Latex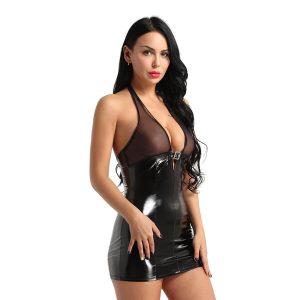 It's important to ensure that your latex wear fits properly to maximize the sensory experience and prevent discomfort or damage to the material. Here are some tips for sizing and caring for latex clothing:
How to measure yourself for latex clothes: Measure your chest, waist, and hips, as well as the length of your arms and legs.
Tips for finding the right size: Check the sizing chart of the manufacturer, and consider the stretchiness of the material.
How to put on and take off latex clothes: Use talcum powder or a silicone lubricant to make it easier to put on and take off the clothing.
Cleaning and storing latex wear: Wash your latex clothing in lukewarm water with a mild soap, and store it in a cool, dry place away from direct sunlight.
Finding the Right Latex Wear for You
When it comes to purchasing latex clothes for BDSM play, there are a few things to keep in mind. Here are some tips for finding the right latex clothing for you:
Where to purchase latex clothes: You can find latex clothing at specialized fetish shops or online stores.
Tips for choosing the right style and color: Consider the type of BDSM play you enjoy, your personal style, and your body type. Black is a classic color for latex clothing, but there are many other colors to choose from.
Trying on latex clothing: It's essential to try on latex clothing before purchasing to ensure the right fit. Many latex clothing items require a tight fit for maximum sensation, so it's important to get the right size.
How to negotiate with custom latex designers: If you're interested in a custom piece of latex wear, be sure to communicate your needs and preferences clearly to the designer. You can also negotiate the price and timeline for the project.
Check out the best latex wear and fetish wear by clicking here.
Incorporating Latex Clothing into BDSM Play
Latex clothes can add a unique dimension of sensation and style to BDSM play, but it's essential to consider safety and maintenance. Here are some tips for incorporating latex wear into BDSM scenes:
Safety considerations when using latex in BDSM play: Ensure that the clothing fits properly, avoid covering the mouth and nose, and be aware of potential allergic reactions.
Ideas for incorporating latex clothes into BDSM scenes: Consider incorporating latex clothing into bondage, sensory play, or role-playing scenes.
Tips for caring for and maintaining latex clothes during BDSM play: Use a silicone lubricant, avoid sharp objects or excessive heat, and clean the clothing promptly after use.
Overcoming Challenges in Wearing Latex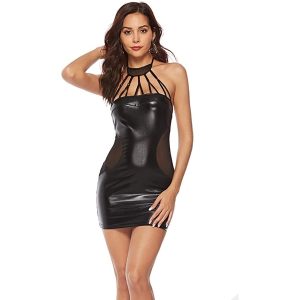 While latex clothing can be highly stimulating and enjoyable, there are some challenges to consider. Here are some tips for overcoming challenges in wearing latex clothing:
Common challenges when wearing latex: Sweating, difficulty breathing, and skin irritation are common challenges when wearing latex clothing.
How to deal with discomfort or irritation: Remove the clothing immediately and allow your skin to breathe. Use talcum powder or silicone lubricant to prevent sweating and chafing.
Tips for building up tolerance to latex: Start by wearing latex clothing for short periods and gradually increase the time you spend wearing it.
Conclusion
In conclusion, embracing your fetish for latex can add a thrilling dimension to BDSM play. Whether you're interested in latex catsuits, corsets, hoods, or gloves, there are many options available to suit your preferences and style. However, it's crucial to consider safety, maintenance, and personal comfort when incorporating latex clothes into BDSM play.
By following the tips and recommendations in this guide, you can find the right latex wear for you, care for it properly, and incorporate it into your BDSM play safely and confidently. Remember that latex clothing isn't for everyone, and it's essential to communicate openly and honestly with your partners about your interests and boundaries.
Overall, embracing your fetish for latex can be a liberating and exciting experience, allowing you to explore your sexuality and express your individuality in new and thrilling ways.
Check out the best latex wear and fetish wear by clicking here.
Take a look at more cool stuff here.