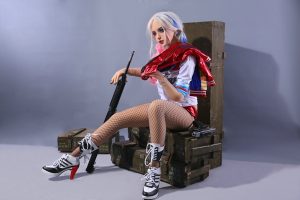 Having been lucky enough to get hold of and try out the Harley Quinn sex doll we can now bring you our Harley Quinn sex doll review. This doll is based on the sexy DC Comics character who has, especially since Margot Robbie portrayed the character in Suicide Squad, become the center of many cosplay sexual fantasies. No, the Harley Quinn sex doll does not really look like the actress but for now this is likely the closest we will ever get to a Margot Robbie sex doll.
Harley Quinn Sex Doll Review
It is hardly surprising that demand for a Harley Quinn sex doll is so great. After all the character looks and dresses remarkably sexy. She is a trained psychiatrist, so she can read your mind and knows your secret fantasies, and mixes that with a sleaze, naughtiness, aggression, and a twist of craziness.
Designed and manufactured by Qita Doll, the Harley Quinn sex doll is an exceptionally well priced yet high quality sex doll. She even shares a very similar height and body measurements to Margot Robbie. The big question is – should I buy the Harley Quinn sex doll?
Hopefully, our Harley Quinn sex doll review will answer that question for you.
| | |
| --- | --- |
| Height | 5 feet 7 inches (170 cm) |
| Weight | 88 lbs (40kg) |
| Chest Size | 32 Inches |
| Waist Size | 21 Inches |
| Hips Size | 35 Inches |
| Vaginal Depth | 6.7 Inches |
| Oral Depth | 5.1 Inches |
| Anal Depth | 6.7 Inches |
| Material | TPE |
| Manufacturer | Qita Doll |
Highly Realistic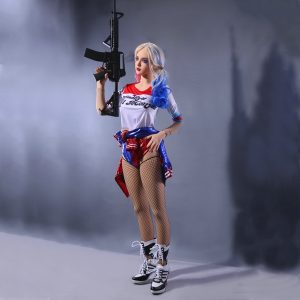 There is no denying that sex dolls have come an exceptionally long way in recent years. The days of inflatable sex dolls are well and truly over. Today's sex dolls are made to look and feel as close to the real thing as possible. As you would imagine some manufacturers are better than others.
The Harley Quinn sex doll is a product that does indeed look highly realistic and lifelike. Her hair and her makeup, especially around the eyes is a perfect replica to what is worn by Margot Robbie in the Suicide Squad movie. Her height and body measurements are also very similar.
We personally found that her eyes appeared to be exceptionally realistic as are her lips and other facial features. She also feels remarkably lifelike, especially her breasts and skin.
However, the one thing that lets this sex doll down is her skin tone in her pre-configured form. The material that her skin is made from certainly feel soft and realistic but we could not help but feel that more attention could have been made to the coloring of her skin. It is however worth pointing out that the skin tone can be customized at the point of sale. By doing so eliminates this issue and leaves you with a highly realistic and lifelike looking sex doll. We would recommend either the natural or tan skin tone for the greatest realism.
Measurements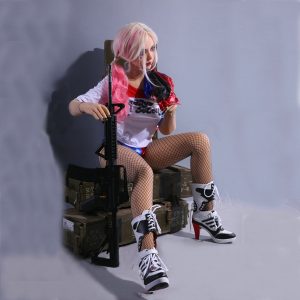 The body measurements of this doll certainly give her a very sexy feminine figure. Her 32 inch bust, 21 inch waist, and 35 inch hips giver her a curvy, yet athletic, appearance. She certainly has curves in all the right places and she, should you desire, could comfortably look just as fantastic in any outfit you care to dress her in.
This sex doll stands 5ft 6 inches (170cm) tall which makes her life size and enhances her athletic figure. Her legs are also perfectly formed, extremely sexy, and measure around 32 inches while her size 2.5 feet make her the perfect doll for anyone who has a sex legs or foot fetish. As you would imagine she looks great in stockings, Harley Quinn boots, or high heels.
She weighs 88 lbs (40kg) which is a little lighter than a real woman. However, the finished product is heavy enough to feel realistic while in use. The slightly lighter than human weight is also a huge advantage when it comes to moving the doll or positioning her in poses.
Manufactured from TPE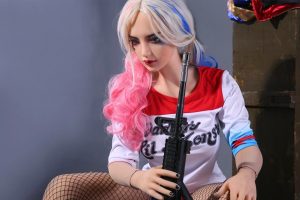 This doll is manufactured from TPE or, as its also known, Thermoplastic Elastomer. The fact this product is made from TPE rather than silicone is one of the main reasons why it is sold at such an excellent price.
TPE has many advantages over silicone when used in dolls. Not only is it cheaper, which means the finished product is cheaper,  it feels much more realistic and is highly flexible. It will also always return to its original shape. Silicone, on the other hand, tends to be harder therefore does not feel as realistic.
Fully Positionable Metal Skeleton
A humanoid steel skeleton is what gives this doll her weight and her lifelike appearance.
This steel skeleton is not as heavy as it sounds and act very  much in the same way a human skeleton does. It features moveable joints in all the same places  as a human skeleton. This allows for positioning of the Harley Quinn sex doll into any pose a real woman could achieve. She can sit in any position, with her legs crossed, with her arms in the air, and in a, quite literally, any pose you can image.
If you are wanting to position the Harley Quinn sex doll in any form of standing pose you will need to pay extra for the upgraded feet option. Without these upgraded feet the only way to stand the doll up would be through the use of a stand. To be honest at less than $100 for the upgraded feet it would be a sin not to choose this option.
Capable of Providing All Forms of Sex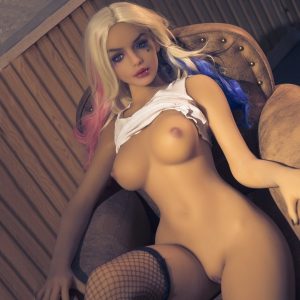 The great thing about sex dolls is that they are a great way of satisfying fantasies. While many products on the market are capable of providing all forms of sex, there are some that cannot. Thankfully, the Harley Quinn sex doll is a product which can provide its owner with all forms of sex and satisfy his every fantasy.
The Harley Quinn sex doll features a realistic looking and feeling vagina which is 6.7 inches in depth. It is also fitted with a highly realistic mouth and anus which offers oral and anal sex. The mouth measures 5.1 inches in depth while the anus measures 6.7 inches in depth.
Combined, the Harley Quinn sex doll is always willing to satisfy every last fantasy and never say no or – I have a headache…!
Quality
This product is sold at an exceptionally great and competitive price as far as sex dolls go. However, it is still not a sex toy that you would consider as cheap. It is for this very reason anyone looking to buy the Harley Quinn doll will undoubtedly want to know about its quality.
The good news is that, despite its excellent price point, this product is manufactured to a very high standard. The internal steel skeleton feels solid with no rattles and is capable of holding position very well indeed. Not only does the steel skeleton hold the doll in place it allows for a certain degree of movement which makes it feel much more like a real woman than a sex doll when in use.
The skin and body of this doll is also of an exceptionally high quality. Since it is made from TPE rather than silicone it does require a little more attention when it comes to cleaning however. The skin is also more likely to stain than a silicone doll should it not be taken care of correctly.
Customization and Options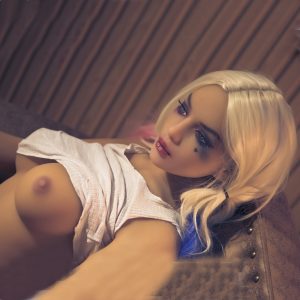 One of the greatest things about the Harley Quinn sex doll is not simply that she can satisfy your Harley Quinn / Margot Robbie fantasy. She is also highly customizble which is rare on such well priced sex dolls.
The first customization you can carry out is the hair color of this doll. Other than the pre-configured Harley Quinn hairstyle you can also choose blonde, brown, red, and black hair. We would advise sticking with the Harley Quinn hairstyle here as if you change her hair you are talking away from the reason for buying a Harley Quinn sex doll.
It is also possible to change the color of the dolls eyes. In her pre-configured form she comes with blue eyes but there is the option of choosing green or brown eyes instead.
In her pre-configured form the Harley Quinn sex doll comes with no pubic hair. Again, this is easily changed should you like pubic hair on a lady. This is all down to personal preference and in no way would take anything from the character.
If there was anything you really should customize when buying a Harley Quinn sex doll it is her skin tone. Pre-configured the doll comes with white skin which is very pale and, as we have already said, lacks that real life look. We understand that the character has a white face but we really feel that the doll looks much better and real with either the natural or tan skin tone.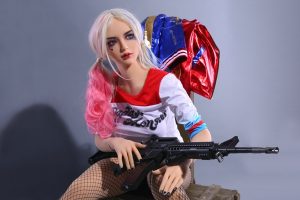 When it comes to upgrades the Harley Quinn sex doll comes with two which we would highly recommend. First there is the option of upgrading her vagina. As standard the doll comes with a simple vagina which is built into the body. The upgraded vagina provides a removable vagina insert which makes cleaning the doll after use a great deal easier. It also means that the vagina is easily replaced.
We would also highly recommend that you choose to upgrade the feet of this doll. As standard the doll is incapable of standing up by herself. With the upgraded feet she can be positioned in an unlimited number of poses without the need for any support whatsoever. This may seem like a trivial matter but we guarantee this is the one upgrade you will wish you had chosen.
There are also a number of extras that are available for the Harley Quinn sex doll. As you would guess there is always the option of buying additional outfits for her which is all down to your own personal tastes. We would certainly recommend that you buy the storage case for your Harley Quinn sexy doll. Yes, this is an expensive case but it is a small price to pay if you want to protect and keep your doll in perfect condition for a very long time.
Price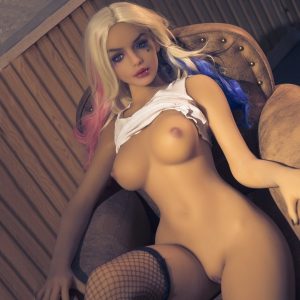 You undoubtedly are already aware that sex dolls can be very expensive with some costing easily more than $10,000. This is another great selling point of the Harley Quinn sex doll as this is an exceptionally well priced product. Especially when you consider she is the perfect way to satisfy your ultimate Harley Quinn Margot Robbie fantasy.
No, she is not the cheapest sex doll available to buy. However, she really is an absolute bargain when you consider that she is a high quality, realistic, and highly customizable sex doll. In fact we would go as far to say she is one of the best value sex dolls available to buy.
What We Like About the Harley Quinn Sex Doll
Other than the fact she allows you the chance to satisfy your comic book fantasies there really is a lot that we love about the Harley Quinn sex doll.
We love that she is a full life size doll which gives you an experience as close to the real thing as we are every likely to get. There is also the high quality design and manufacture of the doll that we reall like. She not only looks incredibly realistic she feels that way to.
We also really love her exceptionally competitive price. It is fair to say you could easily buy three or four sex dolls for the amazing price that the Harley Quinn sex doll is sold at.
Finally, we really love that, with the exception of the upgraded feet, there is no extra cost when and if you choose to customize your Harley Quinn sex doll at the point of sale.
What We Do Not Like About the Harley Quinn Sex Doll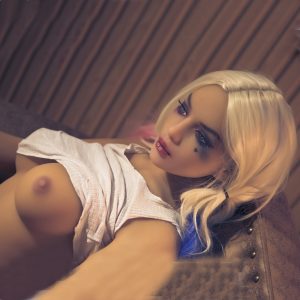 There really is not a lot that we can find to complain about with the Harley Quinn sex doll. The main issue that we had with this doll was that she comes naked meaning you are required to buy the Harley Quinn costume for her to wear in addition to the doll. However, given the highly competitive price and high quality of this doll we really should not complain too much. You can make or buy a Harley Quinn costume quite easily and cheaply here.
Other than the fact you are required to buy her costume as extra the only other thing we can point out that since she is made from TPE rather than silicone she requires that little bit more attention when cleaning. However, we found this a small price to pay given how much cheaper TPE is and how much more realistic it feels over silicone.
Overall
Anyone looking for a Harley Quinn sex doll or a sex doll on a budget could certainly do a lot worse than this amazing product. It looks and feels exceptionally realistic and is manufactured to the very highest of standards. Overall, we can not recommend the Harley Quinn sex doll enough. It is sold at a fantastic price, is high quality, realistic, highly customizable, and exceptional value for money. Possibly the best value sex doll available to buy.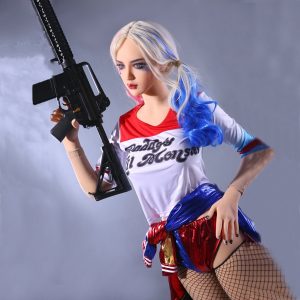 See more Sex Dolls here.