I cannot begin to tell you how excited I was to finally get my hands on this addition to the Fleshlight Girls range. Having used it for several weeks it is now time for our Henessy Fleshlight Review. The big question is – does it live up to the legendary reputation of this male sex toll manufacturer?
Henessy Fleshlight Review – Quick Look
Currently this male masturbator comes in a vagina version. The vagina version uses the Fanatic Fleshlight sleeve so this is exactly what our Henessy Fleshlight review will take a tried and tested look at.
Henessy Fleshlight Review – Fanatic Fleshlight Sleeve

| | |
| --- | --- |
| Fleshlight Sleeve | Fanatic |
| Stimulation | ★★★★☆ |
| Tightness | ★★★★☆ |
| Suction Effect | ★★★★☆ |
| Realism | ★★★★☆ |
| Cleaning | ★★★☆☆ |
| Overall | ★★★★☆ |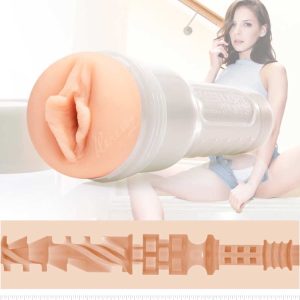 The first thing you notice, as with all Fleshlight products, is the opening. It never fails to impress me how much attention to detail the company invests in the opening. In this instance the opening is molded from the actresses own body. This has become standard practice with all signature products in the Fleshlight Girls range and this addition does not disappoint. It really does look and feel just like the real thing. If you invest in a sleeve warmer the lifelike experience will truly blow your mind.
The Fanatic sleeve is constructed from five individual chambers.
Chamber One and Two
The first two chambers of this sleeve instantly greet you with what can only be described as heaven. Both chamber one and two are lined with thread like ridges which twist around the walls of the chamber. This creates a twisting sensation which feels like a real woman twisting her hips in a circular motion as you enter her. A sensation that feels incredible when applied to the tip of the penis.
Chamber Three
The third chamber is lined with small cube shaped nubs positioned with spaces between them. These nubs create a stroking and tingling sensation as you move over them. As simple as this texture is it still manages to combine pleasure with realism.
Chamber Four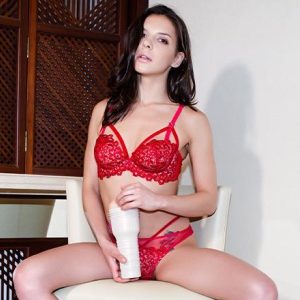 The thick rib that divides chamber three and four blew me away when I first experienced it during this Henessy Fleshlight review. The way this rib squeezes the penis in just the right place really has to be experienced to be fully appreciated. It really is such a wonderful sensation which makes you feel rock hard and very big.
The forth chamber is the tightest of the entire Fanatic Fleshlight sleeve and it feels insanely enjoyable. It is lined with a net like texture which feels so realistic when you are inside it.
Chamber Five
It would be a sin if I did not use this Henessy Fleshlight review to focus on the fifth and final chamber. Even if every other chamber of this sleeve was subpar (its not) this chamber would send your pleasure levels to the moon and beyond.
This chamber is somewhat tight and is lined with a ribbed texture. Because this chamber only ever makes contact with the tip (the most sensitive part) of the penis your pleasure levels skyrocket. This chamber will instantly bring you to within an inch of a climax. When you finally climax you will experience something you are unlikely to have experienced before. It really is that good.
Cleaning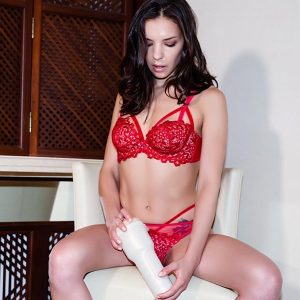 One thing I hate about male masturbators is having to clean them after use. Obviously this is all part of owning a male sex toy. What is good news is I found during this Henessy Fleshlight review that the Fanatic Fleshlight sleeve is relatively easy to clean. Sure, you have to take care and ensure it is done correctly but I found it so much easier than many of the latest releases by this manufacturer.
It drys quickly after cleaning, something else I quite liked about it. After all no one wants to leave a sex toy out longer than they have to.
What We Like About the Henessy Fleshlight
As with all male masturbators from this range the first thing I loved during this Henessy Fleshlight review is the opening. What can you fail to love when it is an exact replica of a real porn actress?
I loved that the Fanatic Fleshlight sleeve offers varied forms of stimulation from finish. And, of course, I just love the fifth and final chamber. You will be tingling for the rest of the day because of this chamber.
What We Do Not Like About the Henessy Fleshlight
Once again there really is little anyone could find to complain about with this toy. I would however suggest that if you are genuinely a very large man you may find the final two chambers a little tight. It is worth stating that I doubt this would put me off from buying this toy. A little extra lube would help this.
Overall
The bottom line is I enjoyed this Henessy Fleshlight review from start to finish. It will certainly be a very welcome addition to my growing collection of toys. It offers a highly realistic experience, a superb level of stimulation, an explosive orgasm, and it is so easy to clean after use. What is not to love about all of that?
The Henessy Fleshlight is most certainly a toy I would highly recommend to anyone.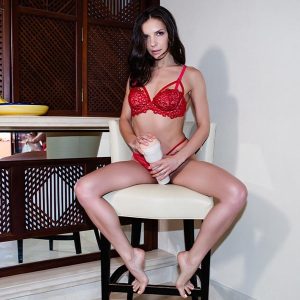 See more Fleshlight Girls here.