As huge fans of this sexy porn star you would be correct in thinking we were exceptionally excited to get started with our Lola Reve Fleshlight review. The main question we hope to answer was – should I  buy the Lola Reve Fleshlight?
Lola Reve Fleshlight Review – Quick Look
When we realised our Lola Reve Fleshlight review was another chance to use the Dorcel Fleshlight sleeve we were more than just a little bit happy. We have enjoyed the pleasure of using this texture before as it has been used for several products in the Dorcel Girls range. With an opening which is a perfect replica of Lola Reve's own vagina we simply could not wait to get started with our Lola Reve Fleshlight review.

| | |
| --- | --- |
| Fleshlight Sleeve | Dorcel |
| Stimulation | ★★★★☆ |
| Tightness | ★★★★★ |
| Suction Effect | ★★★★☆ |
| Realism | ★★★★☆ |
| Cleaning | ★★★☆☆ |
| Overall | ★★★★☆ |
Chamber One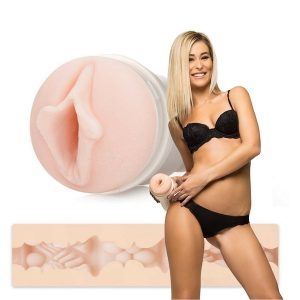 The first chamber is lined with three different shaped nubs positioned along the walls. The majority of the nubs in this chamber are shaped in a similar way to very small playing cards pressed into the walls. These generate what is best described as a simple stroking sensation. There are also nubs shaped like balls as well as several triangular shaped nubs.
The texture in chamber one feels exceptionally realistic and lifelike rather than intensely over-the-top stimulating.
Chamber Two
The second chamber feels a little tighter then the first chamber. This chamber is lined with relatively large ball shaped nubs. These ball shaped nubs feel continue with the exceptionally realistic and lifelike experience which was started in chamber one.
Chamber Three
Chamber three features a texture which is actually a perfect replica of the first chamber. The one and only difference between the first and third chamber is the pattern in which the nubs are laid out is reversed. This actually makes the two chambers feel different as you move back and forth through the Dorcel Fleshlight sleeve.
Chamber Four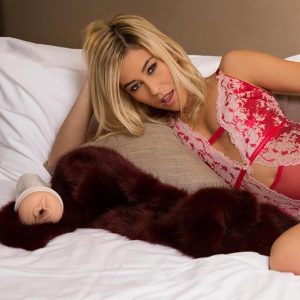 Just like the third chamber is a replica of the first chamber the forth and final chamber is a replica of chamber two. However, this final chamber of the Dorcel texture feels much more intense than the second chamber. The reason for this is simply because the final chamber only ever comes in to contact with the head and most sensitive part of the penis.
Again, like the rest of the Dorcel Fleshlight sleeve this final chamber feels remarkably lifelike.
Cleaning
Our Lova Reve Fleshlight review process meant we spent a lot of time not only using this sex toy but cleaning it. This is in no way what anyone could consider a difficult sex toy to clean. We found it certainly needed more than just warm water running through the sleeve to clean it.
The easiest way to clean the Dorcel sleeve we found was to use a finger while running warm water through the sex toy. We then used Fleshlight's own cleaning solution, Fleshwash, to freshen the sleeve and kill off any bacteria.
What We Liked About the Lova Reve Fleshlight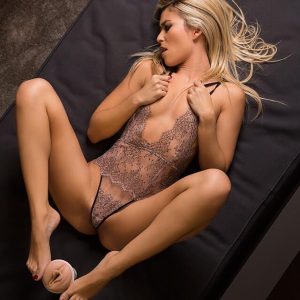 As you would expect the first thing we loved about this sex toy is it is a perfect replica of Lola Reve's own vagina. It not only simply looks like her vagina, it feels like it as well. You really will struggle to tell the difference between this sex toy and a real human vagina.
Secondly, we also loved how realistic and lifelike the Dorcel Fleshlight feels. Without any doubt the Dorcel Fleshlight sleeve is one of the most realistic fake vagina's you are ever likely to experience.
What We Do Not Like About the Lova Reve Fleshlight
When you have a fake vagina which feels this realistic it really is difficult to say anything negative about it. We would say that if you are looking for intensity this is possibly not the male masturbator for you. The Lova Reve Fleshlight is designed for realism over intensity which may not suit everyones requirements and needs.
Overall
We really did enjoy every second of our Lova Reve Fleshlight review process. We found the Dorcel Fleshlight sleeve to be an exceptionally realistic product which is difficult to distinguish from a real vagina. It really is that fantastic. If a lifelike and realistic fake vagina this a male sex toy we would highly recommend you buy.
See more Fleshlight Girls here.