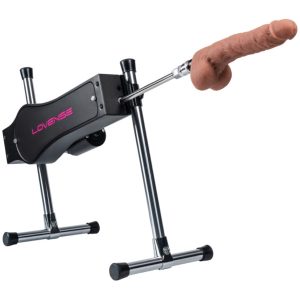 Welcome to our Lovense Sex Machine review. It is the ultimate tool for exploring your desires and taking your pleasure to new heights. This cutting-edge device is the newest addition to the renowned Lovense family of smart, interactive sex toys, and it promises to deliver an extraordinary experience.
Whether you're looking to spice up your solo play or enhance your partner play, the Lovense Sex Machine has something for everyone. With its sleek, ergonomic design and advanced technology, this sex machine is sure to become your go-to for satisfying your desires. In this Lovense Sex Machine review, we will be taking a closer look at the features, performance and overall satisfaction of the Lovense Sex Machine. So, if you're in the market for a new sex toy or just curious about what this device has to offer, keep reading to find out more!
Check the best price for the Lovense Sex Machine by clicking here.
Lovense Sex Machine Review – Quick Look
The Lovense Sex Machine is a sex toy that very much does what its name suggests. This is a machine that simulates sex. It can be controlled in a variety of ways including through the use of an app installed on your smartphone.
What is the Lovense Sex Machine
The Lovense Sex Machine is a type of sex toy that is designed to provide various forms of stimulation, including thrusting and vibration.
It is typically via a remote control or smartphone app, which allows users to customize the settings and intensity of the stimulation.
Some models of the Lovense Sex Machine may also be connected to virtual reality or live streaming platforms, and webcam sites allowing for interactive experiences with partners or performers. The device can be used for solo or partner play and it is often marketed as a tool for enhancing sexual pleasure and intimacy.
Since its release it has quickly become one of the best selling sex machines on the market.
Packaging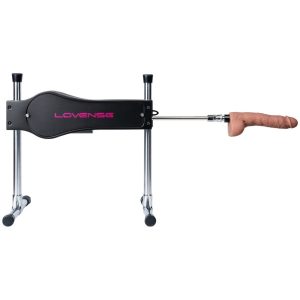 The Lovense Sex Machine arrived in what can only be described as a large box. Most importantly this box was extremely discreet giving no indication  to its contents.
I got a shock when I tried to lift the box myself as it was pretty heavy weighing 27.55 lbs. However, I managed to get it through my front door and into the privacy of my home.
On opening the box, I found another cardboard box inside, which contained a crinkled and slightly torn construction manual. After carefully lifting it out of the shipping foam, I saw the machine mechanism. The package included two silicone dildos of different sizes, the machine mechanism, power supply, power cable, control box, user manual, metal support legs, two rods attached to the dildos, and a 6mm and 8mm Allen wrench.
Material
The Lovense Sex Machine is made of a durable, sturdy metal that is not specified in the user manual or on the Lovense website. What is talked about on the website and instruction manual is the two dildos which are crafted from high-quality silicone.
You find the machine's metal legs and supports are robust and able to hold up the machine's weight.
The dildos are flexible and have a soft, jelly-like texture, which may cause some doubt on the claim of being made of silicone. These dildos are connected to the machine through the Vac-U-Lock system, which allows for compatibility with a wide range of additional sex toys, adding to the versatility of the device.
Size and Dimensions
One thing for sure is if you are looking for a discreet, easy to hide sex toy this really is not what you are looking for.
When set up parallel to the ground, without the dildo arms attached, the machine measures 17.79 inches in length x 17.72 inches in height x 10 inches in width. With the ability to adjust the angle, attach one or two arms, and change the stroke length, the possibilities for customization are endless.
The accompanying dildos also offer options with the smaller measuring 5.43 inches and the larger measuring 6.3 inches in length.
Check the best price for the Lovense Sex Machine by clicking here.
Body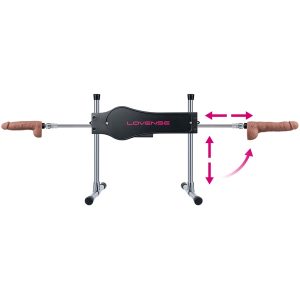 The Lovense Sex Machine boasts a highly adaptable design, allowing for a wide range of angles and setups. It features a mechanical core that can be connected to arms that hold the included dildos or any other Vac-U-Lock compatible sex toys.
The machine's legs are constructed from durable metal and feature protective plastic covers on the ends for added safety. The versatility of the machine's body makes it possible to create many different set ups for an enhanced experience.
Power
The Lovense Sex Machine is driven by electricity and comes with an 8'9″ power cord to supply energy. It requires an electrical input of 100-240 V, 50-60 Hz to operate. This feature ensures that the machine can be used in different countries with different power outlets.
Using the Lovense Sex Machine
When it comes to controlling the Lovense sex machine you have several options. From the very start of this Lovense Sex Machine review I must admit that I was very impressed that there are several ways to very easily control it.
App Control
The Lovense Sex Machine, like all Lovense sex toys, can be controlled and customized through the Lovense App in multiple ways.
The App provides access to an unlimited number of thrusting patterns that can be downloaded for a more personal experience. Users can also create their own patterns and share them with other users on the App. The App also offers the option to give control to a partner and adjust the tempo, adding an extra layer of excitement for both parties, even if they are located in different parts of the world.
Additionally, the machine can be activated by sound, allowing users to experience the thrusts in sync with their favorite songs saved on their device or Spotify, creating an immersive experience.
Manual Control
In addition to the extensive customization options through the app, the Lovense Sex Machine also includes a hardwired dial controller, allowing for manual adjustments to the tempo. With this feature, you can experience a wide range of sensations by turning the dial up or down.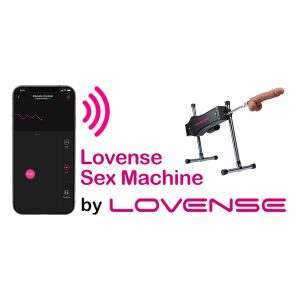 On the lower setting, you can savor slow and gentle thrusts, while turning it up to the highest setting will propel you into a frenzied 300 thrusts per minute paradise. With this option, you can tailor your experience to your liking and enjoy a versatile range of playtime.
Check the best price for the Lovense Sex Machine by clicking here.
Tip Control
If you happen to work as a cam girl model you will be delight to know the Lovense Sex Machine is compatible with all major camgirl platforms.
When I began this Lovense Sex Machine review one of the standout features of the Lovense Sex Machine, and the Lovense toy line as a whole, is its tip-controlled option, which makes it a favorite among camgirls.
This feature allows camgirls to connect to a cam site that supports Lovense and perform shows that involve using the sex machine. These shows can be of any type, either public or private, and the machine would react to every tip received from viewers. This not only creates a more engaging and interactive experience for viewers but also incentivizes them to send more tips, which the camgirl can later pocket.
Camming shows with sex machines are becoming increasingly popular, however, most other sex machines require the cam model to control the machine via a remote control whenever they receive tips. Lovense Sex Machine is the only sex machine that directly responds to tips which makes it the most popular choice among cam models and it will become even more popular in the near future.
Double Sided Design
The Lovense Sex Machine also includes two dildos, one on each end, one measuring 6.3 inches and the other measuring 5.43 inches, offering a variety of sizes to suit your preferences.
The double-sided thrusting design allows for an exciting experience for couples of all genders, adding a new level of intensity to their playtime.
The dildos are also made from medical-grade silicone, which is body-safe, non-toxic, and easy to clean and sanitize. These dildos are also girthy, veiny, and heavy, providing a realistic sensation. This feature makes it an ideal choice for those who want to try something new and exciting.
Fully Adjustable
The Lovense Sex Machine is designed for easy installation and offers a wide range of adjustability, up to 90 degrees, to accommodate a variety of heights and positions, allowing for precision stimulation of your hot spots. This feature is especially beneficial for those who have difficulty reaching orgasm through G-spot stimulation alone.
By adjusting the machine to pound at the perfect angle, you can achieve direct and prolonged G-spot stimulation, leading to an incredibly satisfying experience, similar to what you might see in movies.
Check the best price for the Lovense Sex Machine by clicking here.
Support an Warranty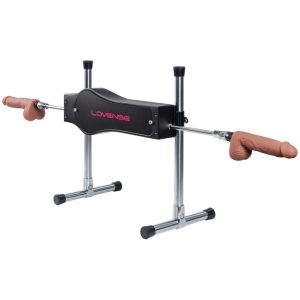 I was pleased to see at the start of this this Lovense Sex Machine Review when I was looking through the manual that it comes with a comprehensive one-year warranty, covering all components inside the package except the Allen wrench.
This means that if the machine becomes faulty within this time frame, Lovense will replace it free of charge and bear the cost of shipping. It is always welcome to have peace of mind and assurance that you will be able to enjoy your machine for a long time.
Possible Positions
The Lovense Sex Machine offers a wide range of possibilities for positions, thanks to its ability to adjust to different angles, strokes, and dildos. The all fours position, where the dildo comes at you from behind, is a popular choice, but the machine's versatility allows for endless possibilities depending on your body and imagination.
Ite can also be used for simultaneous vaginal and anal play with a partner, adding an exciting new dimension to your intimate experiences. With its advanced technology and versatility, the Lovense Sex Machine is sure to provide a wide range of exciting, satisfying experiences.
Compatible Attachments
The Lovense Sex Machine is compatible with any toy that is Vac-U-Lock compatible. These toys are often used in conjunction with strap-on harnesses and other machines, making it possible to use a wide range of attachments.
The attachments that are commonly used with the Lovense sex machine include dildos and anal plugs, which are available in a variety of shapes, sizes, and designs and can be purchased from multiple retailers.
This feature makes the Lovense Sex Machine versatile and adaptable to different preferences and desires.
Check the best price for the Lovense Sex Machine by clicking here.
Perfect for Long-Distance Relationships
Something else I was extremely impressed with throughout this Lovense Sex Machine review was the fact it can be controlled over long distances. This is very much an interactive sex toy once it is connected to your smartphone. What this means is that as long as both you and your partner have the specially designed app installed on your smartphones the machine can be controlled from anywhere in the world.
Ideal for CamGirls
The Lovense Sex Machine offers a wide range of possibilities for cam girls to use in their shows. The machine is highly versatile and can be used vaginally, anally, and at a variety of angles. The machine can also be controlled remotely through the app, and the double-sided thrusting design allows for simultaneous use by two individuals. This feature provides cam girls with a wide range of ways to use the machine in their shows.
Additionally, the machine is compatible with Lovense's tipping, gaming, and private virtual sex features, and can be used on most major webcam sites such as Chaturbate, Bonga Cams, etc. This makes it an ideal choice for cam girls who want to add a new level of excitement to their shows and provide their audience with a unique experience.
Overall Quality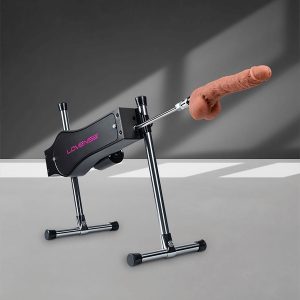 Overall I found the build quality of the Lovense Sex Machine to be exceptionally good. It is a heavy and feels like it has been constructed using high quality components. Throughout this Lovense Sex Machine review I really gave it some heavy use. I can most certainly see it lasting a very long time.
The only issue I really had with this sex machine was the quality of the dildos that come with it. For me they felt a little on the cheap side. I would certainly recommend purchasing several Vac-U-Lock sex toys to replace the included dildos.
I would highly recommend taking a look at the RealCock2 from Abyss Creations. This happens to be one of the most realistic, high quality dildos in the world. It is a well worth investment if you own a sex machine.
Check out the best price for the RealCock2 by clicking here.
Sound Level
This sex machine is astonishingly quiet when used at lower speeds.n However, this is not the case when you ramp up the speed. It is certainly not the nosiest sex machine I have ever used when at full power. But, with that said, you certainly would not want to have your parents in the next room when using it.
You could maybe get away using this if you have other people in your house as long as you keep it on its lower speed. However, if you like the idea of cranking this bad boy up to full speed you may want to make sure you are home alone.
Discreet Shipping
The Lovense Sex Machine will be shipped to you in a discreet manner. The package will be plain, with no branding or identifying marks on the outside. Shipping labels and return addresses will also be discreet, usually using the company's name rather than the product name.
The package will be sealed and packaged securely to ensure that the contents are protected during transit. In addition, they will use a carrier service that will deliver the package to your doorste or a safe place you choose, to ensure the package is only received by you or someone you trust.
This way you can enjoy your privacy and receive your package without any inconvenience.
Where Can I Buy the Lovense Sex Machine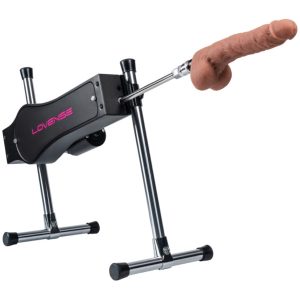 There are plenty of online sex toy retailer that sell the Lovense Sex Machine. With that said, thanks to the wonders of modern technology such as the internet, you can buy this sex toy directly from Lovense.
I highly recommend buying direct from Lovense as you can be sure you are getting the very best possible price as you are effectively cutting out the middle man.
You can check out the best deals from Lovense by clicking here.
Pros
The Lovense Sex Machine operates quietly on lower settings
It has a robust and weighty design
It offers a wide range of angles, stroke speeds and stroke lengths to customize your experience
There are multiple ways to use the toy and be creative
It can be controlled through the app and a remote control, the same app can control other Lovense sex toys
You can control it remotely, even from long distances
It can sync to the sounds around you and music
It can be used for both partnered or solo play.
Cons
It requires a substantial amount of storage space and needs to be disassembled to fit in the storage bag
The highest speed settings resulted in the machine being unstable, jumpy, and excessively loud
There was an intense chemical odor upon opening the package
The dildos included had a poor quality feel.
Buy This Sex Machine If :-
The Lovense Sex Machine is an excellent option for those who are passionate about sex machines and desire a model that offers more advanced features. However, it's important to note that this machine requires a significant amount of storage space or the patience to disassemble it, as it can be a tedious process. It's recommended for those who have the space and are willing to invest the time to properly store it.
Additionally, the high cost of the machine may be a factor to consider before making a purchase. Overall, the machine is a great choice for those who are looking for a high-quality, feature-rich model but have the space and budget to accommodate it.
Do Not Buy This Sex Machine If :-
The Lovense Sex Machine is an advanced model that may not be the best choice for first-time users who are uncertain about their interest in sex machines.
Given the high cost of this machine, it may be more prudent for those new to the category to explore more affordable options first.
There are many other sex machines available at a lower price point that are better suited for beginners. If you are considering purchasing a sex machine, but are not sure if it's something you will enjoy, it's recommended to start with a more affordable model before investing in a high-end machine like the Lovense Sex Machine.
This will allow you to get a sense of whether a sex machine is something you would like to pursue further without committing a large amount of money upfront.
If you are looking for a cheaper, easier to store option for a sex machine I would highly recommend the Kiiroo Keon. This is a multi sex toy that can be used in different ways depending on the fitted attachment. You can check out the Kiiroo Keon by
clicking here
.
Lovense Sex Machine Review Conclusion
In conclusion to this Lovense Sex Machine review I will say it is an exceptional product that offers a wide range of features and possibilities to enhance your sexual experience.
The ability to customize your experience with different angles, stroke speeds, and lengths, as well as being able to use different attachments make it versatile and adaptable to your preferences. The machine is also controllable through the app and remote control, which makes it easy to control the machine even from long distances, and also syncs to the sounds around you and music to offer a unique and immersive experience.
The design of the machine is heavy and sturdy and it can be used for solo or partnered play. The machine also offers the ability to connect to most major webcam sites, which makes it a great choice for camgirls to have a unique and engaging shows. All in all, the Lovense Sex Machine is a great investment for those who are looking for a high-quality, feature-rich, and versatile sex machine that is well worth its price.
You can check the best price for the Lovense Sex Machine by clicking here.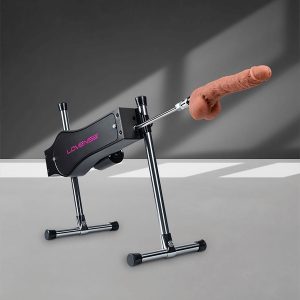 You can check the best price for the Lovense Sex Machine by clicking here.
Check out more cool stuff here.