If you are here reading this Molly Stewart Kiiroo stroker review simply to find out if it is any good the answer is, yes!. This is a truly awesome male sex toy and it is a toy I would highly recommend. You can check out the best possible price for this male stroker by clicking here.
If you want to learn why it is so fantastic please keep reading.
Molly Stewart Kiiroo Stroker Review

This Molly Stewart Kiiroo stroker review looks at what is, at the time of writing, the latest pornstar stroker to hit the market. It looks and works very much in an identical way to a Fleshlight.
When you take the cap of the plastic case you are presented with a high quality opening. An opening which is actually molded from the Molly Stewart's own vagina. It looks and feels just like the real thing. Something that will be extremely appealing to any of her loyal fans.
Chamber One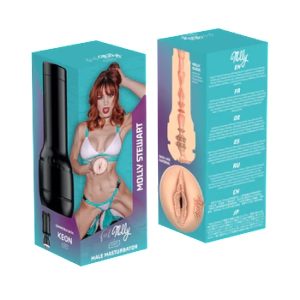 When I entered the first chamber I quickly realised this Molly Stewart Kiiroo stroker review was going to be a mind blowing experience. If the initial experience of sliding your penis inside of Molly Stewart's vagina was not enough this first chamber takes things to the next level.
The walls of this chamber are lined with thick and deep ribs. This ribbed texture squeezes the penis and generates a deep pulsating or throbbing sensation as you move back and forth through it. You will be truly blown away especially when the tip of your penis inside this chamber.
Chamber Two
The second chamber of this stroker is insanely realistic. The walls feel just like the inside of a real vagina which can only ever be considered a good thing.
When the tip of your penis first enters this chamber you feel an extremely heavenly throbbing sensation. This is because the penis is being squeezed in the first chamber while this chamber is slightly wider.
Chamber Three
Once you enter chamber three you are instantly realise the level of stimulation has dramatically increased. This third chamber is, in my opinion, the second tightest chamber in this stroker.
Like the first chamber this chamber is lined with a ribbed texture. The ribs in this chamber are equally as deep as the first. What is different is about the ribs in this chamber is they are not as thick. What this means is the pulsating effect that is generated in this chamber is much faster than experienced in the first. You will certainly find this chamber pushes you somewhat quickly towards a climax.
Chamber Four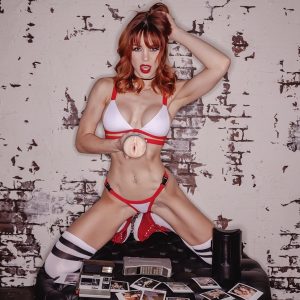 The forth chamber in this male stroker stars at its widest. It then becomes ultra narrow towards the middle of the chamber then widens again. This is most certainly the tightest chamber in this toy and the squeezing sensation feels incredible. Especially as it is applied only to the tip of the penis. As you will know this is the most sensitive part of the penis.
I found this squeezing sensation felt incredible and helped delay my climax. You feel very much on the edge thanks to this chamber. The end result it that when you do blow you blow with a nuclear force.
Kiiroo Keon Compatible
On a regular basis I am asked how I compare Kiiroo male strokers to a Fleshlight.
As you will more than likely realise the two brands are very much similar in every way. I find people will choose a certain brand based on the adult star a stroker is based on. In this case a fan of Molly Stewart will choose a Kiiroo stroker.
My personal opinion is that at the time of writing Kiiroo male strokers have the edge over Fleshlight. This is because only Kiiroo strokers are compatible with the Kiiroo Keon.
For those who do not know the Kiiroo Keon takes a male stroker and automates the stroking. The perfect way to have a hands free orgasm.
The Kiiroo Keon is much more than a simple interactive stroker. It can be controlled using buttons on the side of the unit or through an app on a smartphone. This allows you to hand control to a partner anywhere in the world. It can also be synced with a compatible interactive toy.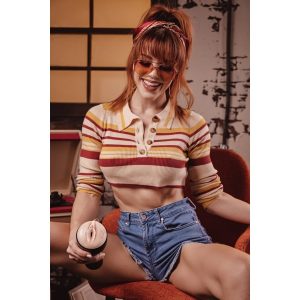 What really makes the Kiiroo Keon so special is that it can be synced with your favorite adult content. This means you get to feel, in real time, everything you see on the screen. When you use it with virtual reality porn experiences you find yourself closer than ever to a real life pornstar than you will have ever dreamt possible.
You can check out the best price for the Kiiroo Keon by clicking here.
What I Like About the Molly Stewart Kiiroo Stroker
Once again there is so much to love about this male stroker.
There is the obvious fact the opening is a perfect replica of Molly Stewart's vagina. Then there is the heavenly stimulation it offers. It generates an intense level of stimulation but is designed in a way to help you stay in the game. This is a sensation that has to be experienced to be truly believed and appreciated.
There is also the fact that as this is a Kiiroo stroker it is compatible with the awesome Keon. I could go on and on as this is a truly fantastic male sex toy.
What I Did Not Like About the Molly Stewart Kiiroo Stroker
The only real negative thing I can say in this Molly Stewart Kiiroo stroker review is this. If you are lucky enough to be an exceptionally large man you may find this a little tight. While we all like to think we are carrying an impressive package. If your penis is genuinely well above average thickness you may find this a little tight.
Conclusion
The bottom line is that this is a truly wonderful male stroker. I have to admit Kiiroo really are on to something with the toys they are realising lately. They just get better and better. The Molly Stewart Kiiroo stroker is no exception to this rule. If you are a fan of this adult star this is a toy you will have to buy. After all this is closer to her than you have ever dreamt of getting.
With that said even if you are unaware of this heavenly lady this is a truly superb male sex toy. A toy I would highly recommend to anyone looking to buy a male stroker.
You can check out the best price for the Molly Stewart Kiiroo stroker by clicking here.
Check out more awesome stuff here