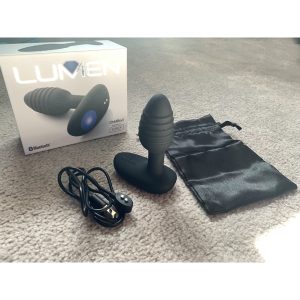 I honestly was not sure what to expect when I was asked how I felt about a OhMiBod Lumen review. Never one to turn down the chance of trying a new toy I obviously jumped at the chance.
OhMiBod Lumen Review
Put simply the OhMiBod Lumen is a vibrating butt plug. It can be controlled by using a button located on the base or by connecting it to an app installed on a smartphone.
When I first started this OhMyBod Lumen review I could not help wondering what point there was in an app controlled but plug. After all, in my opinion, a butt plug was a butt plug. Why would it need to vibrate? After a week of using this toy with my wife my opinion had most certainly changed. In fact this clever, simple toy really has helped spice things up a little.
Function and Design
So, exactly what is the OhMiBod Lumen? In its simplest form it is a butt plug. A better description would be to say it is a Bluetooth enabled, app controlled butt plug. The Lumen is completely waterproof and is recharged using a USB cable which is included with the toy.
Looking at the OhMyBod Lumen, at first glance, it looks very much like an ordinary butt plug. The first thing that makes it different is the tapered body of the plug. This body is ribbed which is designed to create additional stimulation as it is inserted. The Lumen offers 3 inches of insertable length and, at its widest point, a diameter of 1 inch.
What you do notice when you first hold the Lumen is the black material its is coated with. This is a beautiful soft body safe silicone which just oozes quality.
First Look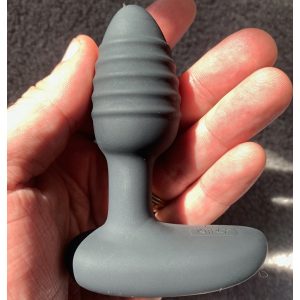 When I told my wife we were doing an OhMiBod Lumen review her first concern was comfort. This is something I really could not comment on for obvious reasons. According to my wife the biggest issue with wearing a butt plug for any length of time is comfort.
It turns out this is not an issue with this butt plug. The reason it is not an issue is down to the base. Because the OhMiBod Lumen is elongated the plug is more comfortable to wear. This makes it much easier, and enjoyable, to wear for longer periods of time.
It is worth pointing out here that the base is where you will find the power button and charging port. The charging port is a simple magnetic point which makes charging exceptionally easy. The power button also doubles as a way of controlling the pulses and vibrations of the OhMiBod Lumen. This simple one button control is useful should you not own a compatible smartphone.
Wearability and Insertion
Before my wife and I even began exploring the features of this app controlled, vibrating butt plug my wife had fallen in love with it. She stated on more than one occasion how aesthetically pleasing it was not to mention how wonderful the soft silicone covering felt.
When it came to inserting the OhMiBod Lumen butt plug the experience was described as surprisingly comfortable. This is undoubtedly a result of the tip being being tapered and covered in soft silicone. The key, as with any butt plug, is making sure you use plenty of lube.
Because the neck is slim and long with a well positioned base the OhMiBod Lumen is extremely comfortable to wear. Even over long periods of time it sits in place without any discomfort whatsoever. A lot of thought has clearly went in to the design of this butt plug. After all if you are planning to use this toy in public with your partner you want it to be comfortable.
How to Use the OhMiBod Lumen
Manual Operation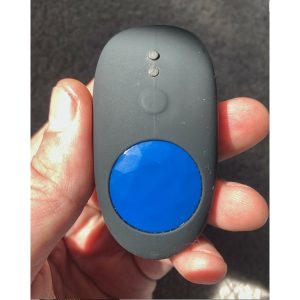 When my wife and I first tried this toy for this OhMiBod Lumen review we tried it in manual mode in the bedroom. We figured this would work as an initial test while we worked out how to use the toy to tits full potential.
Turning the Kiiroo OhMiBod Lumen on is as simple as you could hope for. On the base of the plug is a single button. Press this and hold it for a couple of seconds and the toy will vibrate indicating it is powered on. When the Lumen is first powered on it will be in Bluetooth mode and ready to connect to a smartphone. An extra press of the button on the base switches it into manual mode. Each subsequent press scrolls through the three speed and two pulsating settings. In my opinion it would be nice if you were able to scroll up and down through these settings. However since there are only five settings this is hardly a deal breaker. There is also the fact that the single button operation makes operation of this toy extremely simple.
The vibrations from the OhMiBod Lumen were more impressive than expected. The first thing my wife commented on was how these vibrations, when on the highest setting, provided some surprising stimulation to the G-spot and clitoris. That is only ever going to be considered a good thing.
App Controlled Operation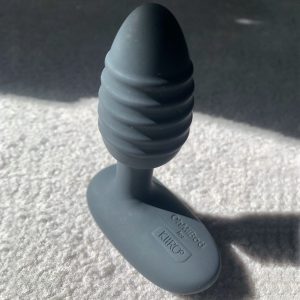 The most exciting part of this OhMiBod Lumen review for both my wife and I was the remote control feature. The remote control feature works by connecting the Lumen to one of two apps which need to be installed on your smartphone. There is the OhMiBod app and the FeelConnect app which has been designed by Kiiroo. Both of these apps are available for Android and Apple iOS smartphones.
Since I was familiar with the FeelConnect app from Kiiroo we decided this is what we would use for this OhMyBod Lumen review.
It is possible to use the FeelConnect app as a guest but I would recommend registering a free account. By registering a free account you gain access to every feature the OhMiBod Lumen has to offer.
Once the app on your smartphone is connected to the OhMiBod Lumen there are several ways to use it. The first option is using the QR code scanner within the app. This allows you to connect the butt plug and sync it to various forms of adult content. This could be movies on websites such as PornHub or various webcam sites. The idea is that you can feel what you are watching on the screen. If you are using the Lumen on a webcam site it can be controlled when you are tipped by someone watching.
There is also the option of controlling the vibrations using a slider button on the screen of your smartphone. This can also be controlled by your partner should you be out in public together.
What is really exciting about the OhMiBod Lumen is that the app allows a partner to control the vibrations from anywhere in the world. All your partner needs is a smartphone, the FeelConnect app and an invite from yourself. Once you have invited your partner you will also have access to text messaging and video chat through the app.
Having the ability to control the Lumen from anywhere in the world really is exciting. Imagine being at work and your partner having control of the vibrations. This also works well if you and your partner are apart on a regular basis or happen to be in a long distance relationship.
What I Like About the OhMiBod Lumen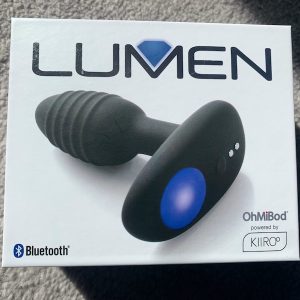 My wife has states that the OhMiBod Lumen is among the most comfortable butt plugs she has ever tried. This is highly important if the plug is going to be worn for any length of time.
There is also the ribbed texture on the tip which is enjoyable as the plug is inserted.
The very best thing about the Lumen is most certainly the chance to give control to your partner. This really is very exciting and a real turn on for both partners.
When we first started this OhMiBod Lumen review my wife was a little worried about the app and connecting things using Bluetooth. She hates all things technology. The truly great thing about the Lumen and the FeelConnect app is they are so easy to use. Once the initial set up it is as simple as opening the app and turning the Lumen on using the single button. Once this is done everything connects automatically.
What I Did Not Like About the OhMiBod Lumen
There really is not that much to dislike about this clever little toy. However, it would be nice if the battery lasted just that little bit longer. This would be exceptionally useful when using the toy out in public. It take approximately 90 minutes to fully charge for an hour worth of use. In most cases you will get longer than this depending on use but the bluetooth connection alone drains the battery. At best you can expect 90 minutes of use. With this in mind it is worth waiting until you are out in your favorite bar or restaurant before inserting and turning the Lumen on.
OhMiBod Lumen Overall
If you are simply looking to buy a butt plug the OhMiBod may not be the best choice. After all there are simple, ordinary butt plugs available that cost a lot less than this.
However, the Lumen butt plug is not designed to be a simple butt plug. The idea is, in my opinion, is to spice things up between you and your partner. It is certainly a really fun and enjoyable toy to use together when out in public. Take the time to think about this and I am sure you will appreciate the intimacy and excitement this toy brings to your relationship. For this reasons alone the OhMiBod Lumen is a sex toy I would highly recommend.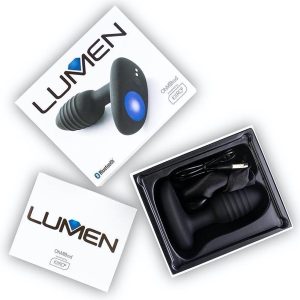 Check out more awesome stuff here.