Our Riley Jensen Fleshlight review takes a look at the signature produce from the adult film actress herself. This is another addition to the hugely popular and best selling Fleshlight Girls range.
Riley Jensen Fleshlight Review – Quick Look
The Riley Jenson Fleshlight is moulded from the body of Riley Jensen and features the Wild Fleshlight sleeve. As you would expect this was more than enough to have us excited to start our Riley Jensen Fleshlight review. This Fleshlight sleeve is comprised of four chambers, each with their own unique form of stimulation, connected by three, equally simulating, transition chambers.

| | |
| --- | --- |
| Fleshlight Sleeve | Wild |
| Stimulation | ★★★★★☆ |
| Tightness | ★★★★☆☆ |
| Suction Effect | ★★★★☆☆ |
| Realism | ★★★★★☆ |
| Cleaning | ★★☆☆☆☆ |
| Overall | ★★★★★☆ |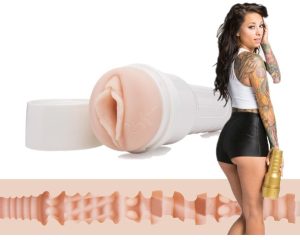 As with all products in the Fleshlight Girls range, the Riley Jensen Fleshlight has an opening moulded from the the body of the adult film actress. This opening is not only a perfect replica of Riley Jensen's body, it looks and feels just like the real thing.
Chamber One
Once through the inviting opening you enter chamber one. This is one of the tightest chambers in the Wild Fleshlight sleeve. It is lined with a rib like texture that generates a fast pulsating sensation as you advance through it. The further you move through this first chamber, the larger the rib like texture becomes.
Transition One
At the end of the first chamber you encounter the first transition chamber. These transition chambers connect the main chambers to each other. This particular transition chamber is lined with one row of soft yet slightly pointed nubs.
These pointed nubs make this transition chamber feel tighter than the first chamber. They also flex a little as you move past them which generates a feeling of tightness.
Chamber Two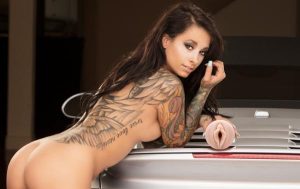 This second chamber offers little in the way of what you would class as intense stimulation. However, it does feel remarkably lifelike. It is lined with an array of numbs laid out to look very much like a net. While this may seem a strange way of arranging nubs in a Fleshlight sleeve it does create a very lifelike feeling. Especially as you move back and forth through this chamber.
Transition Two
This second transition chamber is very similar in width and in texture to the first transition chamber. It features a row of slightly pointed nubs around the lining. The main difference is that these nubs are more spaced out that the first transition chamber. This allows them more room to flex as you pass through.
Chamber Three
Once inside chamber three you will be entering one of the most intensely stimulating chambers of all. The walls of this chamber are lined ribs which are large and spaced out from each other. This creates and intensely stimulating pulse like sensation regardless of which direction you are moving through this chamber.
Between each rib the walls of the chamber also have an ever so slight nub which runs in a corkscrew pattern from one end to the other. This adds a very light twisting sensation which really enhances the stimulation.
Transition Three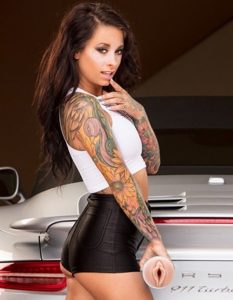 The very last transition chamber is the tightest and most stimulating of all transition chambers in the Riley Jensen Fleshlight. It is shaped like an hour glass, starting wide, getting narrowest in the middle, then getting wide again.
It is lined with the same nubs that you have encountered in the previous transition chambers. The big difference is, instead of one row of nubs, this transition chamber has two rows of nubs. These nubs also produce a higher level of stimulation as a result of the narrowing of the transition chamber.
Chamber Four
This final chamber is features a very similar lining as found on chamber three. The only real differences here are chamber four is shorter and and the ribbed texture on the walls is not as dramatic. This chamber still produces the same delightful sensation only not as intense.
Cleaning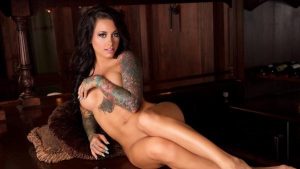 The Riley Jensen Fleshlight is certainly not one of the easiest or quickest Fleshlight products to clean. It is by no means difficult however simply running water through the Fleshlight sleeve will be inadequate.
Because the Wild Fleshlight sleeve features lots of closely positioned nubs and ribs they provide the perfect place lube to become lodged. You will most certainly have to use a finger inside the sleeve when cleaning.
The Riley Jensen Fleshlight does however dry relatively quickly. During our Riley Jensen Fleshlight review we used and cleaned it a lot. We were exceptionally impressed with the drying time. The only chamber that took and real amount of time was the first. This is simply because the ribbed lining are positioned so closely together.
Overall
Overall, the Riley Jensen Fleshlight is a very good product. This is especially true should you be looking for a Fleshlight that offers an intense form of stimulation. Throughout our Riley Jensen Fleshlight review it was impossible to deny this is one of the most intense male masturbators we have used.
The Wild Fleshlight sleeve offers a high degree of variation in the stimulation as you move back and forth through the Fleshlight sleeve. The Riley Jensen Fleshlight also offer a high degree of realism from start to finish.
The one bad thing we can say about the Riley Jensen Fleshlight is when it comes to cleaning. You will certainly have to give special attention to certain chambers because of the tightly positioned nubs and ribs.
If you are looking for a highly realistic and stimulating Fleshlight then you could do a lot worse than the Riley Jensen Fleshlight.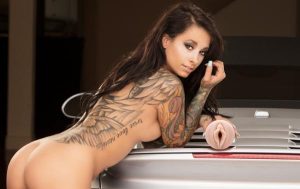 See more Fleshlight Girls here.