If you are looking for a sex toy for women that delivers pleasure that is out of this world you really need to consider a rabbit vibrator. Here we take a tried and tested look and review the very best rabbit vibrators that money can buy.
Here are out top picks of the very best rabbit vibrators. They all pack a punch and are capable of delivering an out of this world level orgasm.
Top 5 Best Rabbit Vibrators
Lelo Soraya 2

Indulge in delectable dual stimulation with this luxurious rechargeable rabbit vibrator.
With 12 individually adjustable vibration settings, you can customize your experience for maximum arousal.
A full charge offers up to 4 hours of play time, allowing you to enjoy the vibrator's intense pleasure for extended sessions.

Fifty Shades of Grey Greedy Girl

If you love dual stimulation of your clitoris and G-spot, this top-of-the-line rabbit vibrator is for you.
With an impressive 36 different vibration combinations, you can find the perfect setting to enhance your pleasure.
The vibrator's curved shaft is designed to stimulate your G-spot, while its thick and flexible ears provide thrilling vibrations to your clitoris.

Happy Rabbit

This luxury rabbit vibrator is designed for G-spot stimulation and features a USB rechargeable battery.
With two powerful, whisper-quiet motors and a waterproof design, this vibrator offers intense pleasure without any distracting noise.
It's recommended for anyone who enjoys both clitoral and penetrative stimulation, making it a versatile addition to any sex toy collection.

Lovense Nora

This high-end rabbit vibrator offers luxurious dual stimulation for blended G-spot and clitoral orgasms.
Its rotating head provides an extra level of sensation and pleasure.
You can control the vibrator from any distance using the Lovense Body Chat app, which is Bluetooth-compatible and offers a range of customizable settings.

We-Vibe Nora 2

This rabbit-style vibrator is designed to stimulate both the G-spot and clitoris simultaneously.
You can use the free We-Connect app to control the vibrator remotely and access additional features.
The vibrator's arced arm flexes as you move it, ensuring constant contact with the clitoris and enhancing your pleasure.
Here are our detailed reviews of the very best rabbit vibrators for sale.
1 – Lelo Soraya 2 – Best Rabbit Vibrators Overall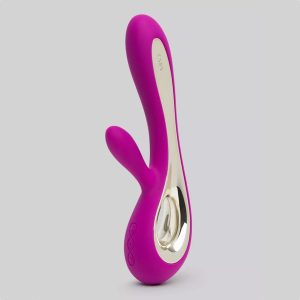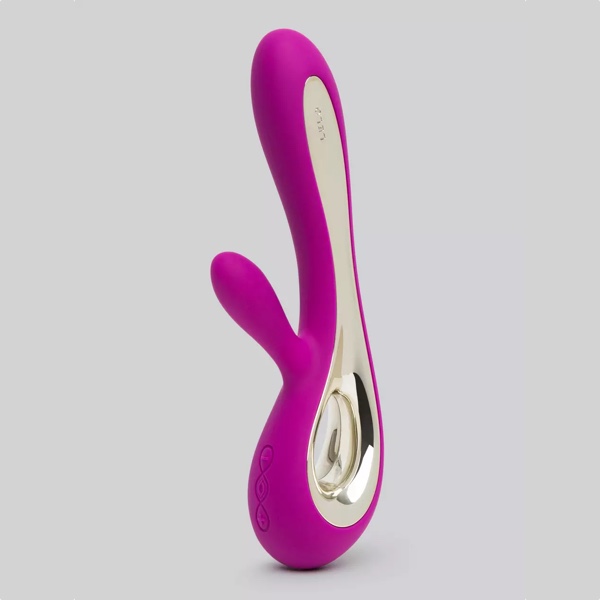 The LELO Soraya 2 has earned its reputation as the ultimate rabbit vibrator, with a sleek and sophisticated design that is unmatched in the market. The body of this female love wand is crafted from silky-smooth silicone, and features a polished metal opening that has been ergonomically designed for a comfortable and easy grip, no matter your hand position.
But the Soraya 2 is more than just a pretty face. It is also a powerful and versatile vibrator, with built-in controls that cycle through eight different pleasure settings. What sets the Soraya 2 apart from other rabbit vibrators is its modern design, which eschews the traditional "rabbit ears" in favor of a clitoral nub that delivers targeted stimulation.
And the Soraya 2 is not just a pleasure to use – it's also easy to maintain. This vibrator is waterproof, making it simple to clean and allowing for use in the shower or bath. And when it comes time to recharge, the Soraya 2 charges quickly and efficiently. As a bonus, this rabbit vibrator comes with a satin storage bag, a hallmark of the LELO brand.
But what truly sets the Soraya 2 apart is its powerful and silent vibrations. You can enjoy strong, satisfying stimulation without worrying about any distracting noise. Whether you're using it solo or with a partner, the Soraya 2 is the perfect addition to your sex toy collection.
Pro :- The device comes with a 1-year warranty from the manufacturer, providing assurance and peace of mind to users. Additionally, it is capable of simultaneously stimulating both the clitoris and G-spot, making it a versatile and satisfying option for users seeking dual pleasure.
Con :- However, the ergonomic loop handle of the device may not fit comfortably in the hands of all users. This may cause discomfort during use or require users to adjust their grip to achieve optimal comfort and stimulation.
Check out the best price for the Lelo Soraya 2 by clicking here.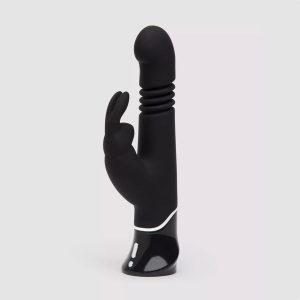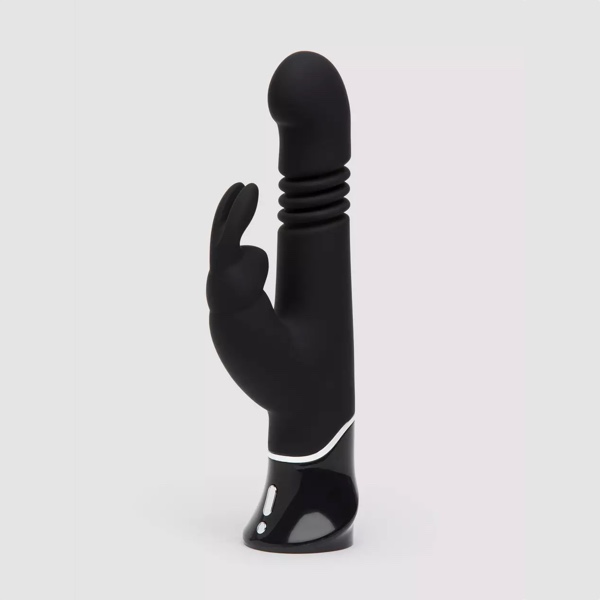 The Fifty Shades of Gray line of adult products has gained a lot of attention not only from the author of the famous novel, but from consumers worldwide as well. Among their popular offerings, the Greedy Girl Thrusting Vibrator stands out as a true masterpiece.
This vibrator is not just made with any ordinary material, but with high-quality silicone that gives it a luxurious feel. The product is also 100% waterproof, giving users the freedom to enjoy their guilty pleasures anywhere they want.
Moreover, the Greedy Girl Thrusting Vibrator has been ergonomically designed to provide simultaneous internal and external stimulation, regardless of the position you choose. And with a powerful thrusting motor, you won't be able to resist the pleasure that it provides.
This pleasure device has been designed specifically for women, and can target both the g-spot and the clitoris, leading to intense sensations. The vibrator offers an impressive 36 different vibration combinations, making it easier for you to find the perfect setting. And with its long-lasting USB rechargeable battery, you can enjoy the vibrator's effects for hours without any interruptions.
The Greedy Girl Thrusting Vibrator comes with a fancy satin storage bag, which makes it a great gift for yourself or your loved one. With this product, you'll have everything you need to experience the ultimate pleasure.
Pro :- The flexibility of the toy allows for a customizable experience that caters to your personal preferences. Whether you want to add in the thrusting and vibe settings or keep it simple with just one, the choice is yours. You can experiment with different combinations to see what feels best for you, making it a versatile option for all levels of pleasure-seekers.
Con :- Due to the wide range of settings and customizable options, it may take some time to find the perfect combination that suits your needs. While this may be frustrating at first, it also presents an opportunity for exploration and discovery. With patience and an open mind, you may just uncover a new level of pleasure you never knew existed.
Check out the best price for the Fifty Shades of Grey Greedy Girl by clicking here.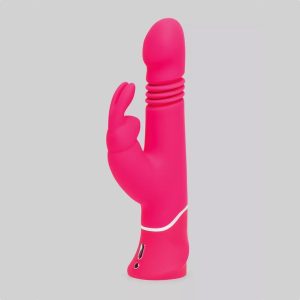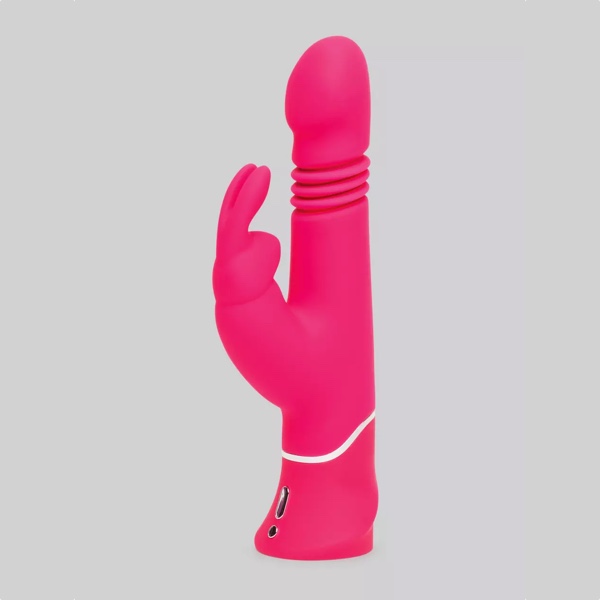 Introducing the Happy Rabbit, the ultimate pleasure machine designed to leave you weak in the knees and gasping for breath. With its unique design and powerful vibrations, this vibrating dildo is the answer to your wildest dreams.
Featuring two extra-large rabbit ears, this toy is guaranteed to hit your sweet spot with precision and accuracy every time. The long, curved shaft and rounded head make insertion and removal a breeze, while the jingling sensation inside the thick dong adds an extra layer of excitement.
With 12 different vibration levels inside the shaft and three distinct speeds for the ears, you can customize your experience to fit your mood and preferences. Use them together for intense stimulation, or focus on one area for more targeted pleasure.
Not only is the Happy Rabbit fully submersible, but it also boasts a lightweight construction that makes it easy to hold and maneuver in any position. Plus, its long-lasting rechargeable battery means you can enjoy up to two hours of playtime on a single charge.
But that's not all – this toy also comes with a convenient travel lock to protect your privacy and conserve battery life while on the go. And with its whisper-quiet operation and silky-smooth skin-safe material, the Happy Rabbit is the ultimate blend of performance and comfort.
So go ahead, indulge in the pleasure you deserve with the Happy Rabbit – your new go-to toy for unforgettable experiences every time.
Pro :- This vibrating toy is designed to fit most female bodies comfortably. Its dimensions are carefully crafted to provide a satisfying experience, without feeling too small or too large. The perfect size ensures that you can use it for extended periods without any discomfort, making it ideal for those who enjoy longer play sessions.
Con :- Unfortunately, this vibrating toy doesn't come with an external remote control, which can make it harder to adjust the settings during use. If you're trying to switch things up or need to change the vibration pattern, you may need to pause the action, reach over, and fiddle with the controls. While this isn't a huge drawback, it can be a little frustrating and take you out of the moment.
Check out the best price for the Happy Rabbit by clicking here.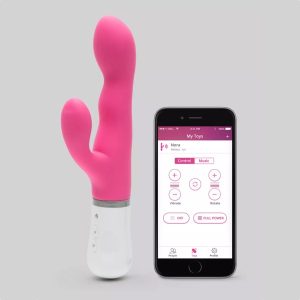 The Lovense brand has been a pioneer in integrating advanced technology into the world of sexual pleasure, and their NORA app-controlled pleasure device for women is a true game-changer.
This versatile sex toy offers a multitude of options for erotic stimulation, depending on your preferences. With its slightly wavy shaft, bulbous tip, and g-spot targeting length, NORA provides deep penetration and targeted pleasure that will leave you breathless.
But that's just the beginning. With the Lovense app, you can control the intensity of the vibrations from across the room or around the world, making it the perfect choice for couples in long-distance relationships. You can even customize the intensity of the sensations using the built-in control panel.
The NORA is also designed to work in conjunction with other Lovense products, such as the Max 2 male masturbator, to provide a fully immersive and synchronized experience that will take your pleasure to new heights.
But what sets the NORA apart is its innovative feature that allows the shaft to rotate in two different directions, providing an even more intense and satisfying experience.
And if you're worried about privacy and security, don't be. Lovense takes data privacy seriously and their app is designed to be secure, giving you peace of mind while you play.
So whether you're looking for a solo session or want to explore new possibilities with your partner, the NORA is the ultimate pleasure device that will leave you begging for more.
Pro :-
The pleasure possibilities are taken to the next level with this versatile device, designed to enhance your intimate moments and provide an array of couple's play options. With its advanced features and customizable settings, it delivers a unique and personalized experience every time.
The toy comes with multiple vibration modes, speed options, and rotation patterns, making it perfect for solo play or couple's use. Its ergonomic design ensures maximum comfort and pleasure, while its high-quality materials make it safe and easy to use.
Moreover, this pleasure device is incredibly user-friendly, with intuitive controls that allow you to adjust the intensity and pace of the vibrations with ease. Whether you prefer gentle pulsations or intense waves of pleasure, this toy has got you covered.
Con :-
While the device itself is an excellent investment for anyone looking to spice up their sex life, it does require some additional equipment to use as intended. This may be an inconvenience for some, as it means an extra cost and potentially longer setup time.
However, the good news is that the necessary equipment is widely available and relatively affordable, meaning that it won't break the bank or be too difficult to obtain. And once you have everything you need, you can fully enjoy all the benefits that this device has to offer, making it a worthwhile investment in the long run.
Check out the best price for the Lovense Nora by clicking here.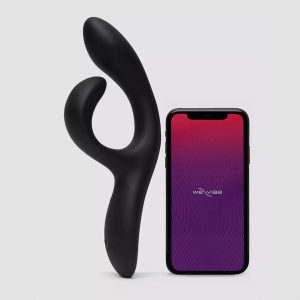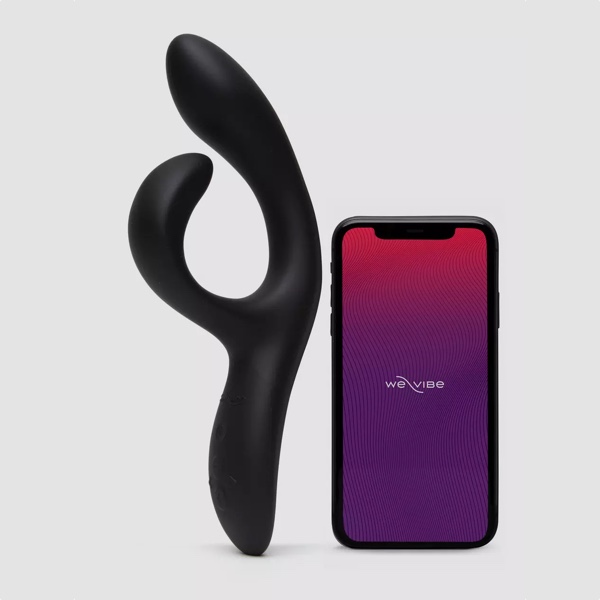 The We-Vibe Nova is not your average vibrator. This innovative pleasure device is designed to revolutionize the way couples play by offering enhanced stimulation and connection.
First of all, the We-Vibe Nova is rechargeable, so you never have to worry about buying batteries again. And with its Bluetooth compatibility, you can control it from your smartphone or tablet, making it a great option for long-distance play.
But the real game-changer is the unique design of the We-Vibe Nova. The body-hugging arch is specifically engineered to stay in place while you or your partner thrusts, ensuring that you never lose clitoral contact during sex. And the perfectly curved tip is designed to hit your G-spot with pinpoint accuracy, leading to mind-blowing orgasms.
But it's not just the physical design that makes the We-Vibe Nova so special. This pleasure device also syncs up with the We-Vibe app, which allows you to customize your vibrations in real-time. With 10 vibration settings already programmed into the device, each one has adjustable intensity levels and can be further tailored to your preferences using the free app.
And that's not all. The We-Vibe Nova also utilizes Feel Technology and Feel Performer Technology, which allow for interactive sex sessions between lovers regardless of distance or location. With the We-Vibe Nova, your couple's play options are virtually endless.
The only downside is that some separate equipment may be needed to get the most out of this toy, but the investment is well worth it for the enhanced pleasure and connection it provides.
Pro :- The We-Vibe Nova is designed with users of all levels in mind, ensuring that anyone can experience the pleasure that this device has to offer. It is also backed by a 1-year manufacturer's warranty, giving you peace of mind and reassurance in your purchase.
Con :- However, in order to take full advantage of the couples-friendly features of the We-Vibe Nova, a reliable Bluetooth connection and smart device are crucial. Without them, these features will not work properly and you will miss out on a world of pleasure. So, it's important to keep up with modern technology and invest in the proper equipment to fully enjoy this device.
Check out the best price for the We-Vibe Nora 2 by clicking here.
What is a Rabbit Vibrator
A rabbit vibrator is a type of sex toy that is designed for women. It typically has two parts: a shaft that is inserted into the vagina, and a clitoral stimulator that extends from the base of the shaft. The clitoral stimulator usually has a shape that resembles a rabbit or other animal, which is where the name "rabbit vibrator" comes from. Rabbit vibrators are popular because they can provide both internal and external stimulation, which can lead to more intense and satisfying orgasms.
Importance of choosing the right rabbit vibrator:
Choosing the right rabbit vibrator is crucial because not all rabbit vibrators are created equal. Factors such as size, shape, material, power, noise level, and waterproofing can all affect the quality of the experience. Choosing a rabbit vibrator that meets your needs and preferences can ensure that you get the most out of your purchase.
In this article, we will provide a list of the top 5 best rabbit vibrators on the market today. These products have been chosen based on their quality, features, and customer reviews. By providing a brief overview of each product, we hope to help you make an informed decision when it comes to choosing the right rabbit vibrator for you.
Factors to Consider When Choosing a Rabbit Vibrator
Size and Shape:
The size and shape of a rabbit vibrator are important considerations because they can affect how comfortable and effective the toy is. For example, a larger shaft may be too uncomfortable for some women, while a smaller shaft may not provide enough internal stimulation. Similarly, the shape of the clitoral stimulator can affect how well it fits and stimulates the clitoris. It's important to choose a size and shape that feels comfortable and pleasurable.
Material:
The material of a rabbit vibrator can affect its safety, durability, and texture. Common materials include silicone, rubber, plastic, and metal. Silicone is a popular choice because it is non-toxic, hypoallergenic, and easy to clean. Rubber and plastic are also good choices, but they may not be as durable or safe as silicone. Metal is a durable option, but it may be too hard or heavy for some women.
Power and Vibrations:
The power and vibrations of a rabbit vibrator can affect how intense and satisfying the experience is. Some women prefer a stronger vibration, while others prefer a more gentle sensation. It's important to choose a rabbit vibrator with multiple vibration settings so you can find the intensity that works best for you.
Noise level:
The noise level of a rabbit vibrator can be a concern if you live with roommates or family members. Some vibrators can be loud and distracting, while others are designed to be quiet and discreet. If noise is a concern, look for a rabbit vibrator with a low decibel level or a "whisper quiet" feature.
Waterproofing:
The waterproofing of a rabbit vibrator can affect where and how it can be used. A waterproof vibrator can be used in the shower or bath, which can add a fun and exciting element to your solo play or partnered play. If you plan to use your rabbit vibrator in water, make sure it is fully waterproof and not just splash-proof.
How to Use a Rabbit Vibrator
Step-by-step guide:
Before using your rabbit vibrator, make sure it is fully charged or has fresh batteries.
Apply a water-based lubricant to the shaft and clitoral stimulator.
Insert the shaft into the vagina, and adjust the angle and depth until it feels comfortable.
Turn on the vibration settings and adjust the intensity to your preference.
Use the clitoral stimulator to stimulate the clitoris, adjusting the position and intensity as needed.
Experiment with different vibration settings and positions until you find what feels best for you.
After use, clean your rabbit vibrator with a sex toy cleaner and store it in a safe and dry place.
Tips and tricks:
Experiment with different speeds and patterns of vibration to find what feels best for you.
Use the rabbit vibrator with a partner to add some extra stimulation during foreplay or sex.
Try using the rabbit vibrator in different positions, such as lying on your back or on all fours.
Combine the rabbit vibrator with other sex toys, such as a butt plug or nipple clamps, for a more intense experience.
Take your time and enjoy the experience. Don't feel rushed or pressured to have an orgasm.
Maintenance and Care of Rabbit Vibrators
Cleaning:
Proper cleaning is essential for maintaining the safety and longevity of your rabbit vibrator. Here are the steps to follow:
Before cleaning, make sure the vibrator is unplugged and the batteries are removed.
Use a sex toy cleaner or mild soap and warm water to clean the vibrator. Avoid using harsh chemicals or abrasive cleaners, as they can damage the surface of the vibrator.
Pay extra attention to the areas where bodily fluids may have accumulated, such as the grooves and crevices.
Rinse the vibrator thoroughly with warm water and pat dry with a clean, soft towel.
Allow the vibrator to air dry completely before storing it.
Storage:
Proper storage can help extend the life of your rabbit vibrator and keep it in good condition. Here are some tips:
Store the vibrator in a clean, dry, and cool place. Avoid storing it in direct sunlight or in a humid environment.
Keep the vibrator away from other sex toys or objects that may cause it to become scratched or damaged.
Store the vibrator in its original packaging or in a clean, discreet storage bag.
Avoid storing the vibrator with its batteries, as this can cause the batteries to corrode and leak.
If you plan to store the vibrator for an extended period, remove the batteries and charge them separately before using the vibrator again.
Best Rabbit Vibrators Conclusion
Recap of the top 5 best rabbit vibrators:
Choosing from the best rabbit vibrators can be a game-changer for your solo or partnered sex life. By considering the factors we discussed, such as size, material, power, noise level, and waterproofing, you can find a rabbit vibrator that meets your needs and preferences.
If you're in the market for a new rabbit vibrator, consider the top 5 options we discussed in this article. Remember to also take care of your vibrator by cleaning it properly and storing it in a safe place. With the right rabbit vibrator and care, you can enhance your pleasure and sexual experiences.
Take a look at more awesome stuff here.