Our Valentina Nappi Fleshlight review takes an in depth look at the signature product from Valentina Nappi. This is part of the Fleshlight Girls range and Dorcel Girls range of products.
Valentina Nappi Fleshlight Review – Quick Look
Moulded from the body of Valentina Nappi is always going to be a huge selling point for any product. The Valentina Nappi Fleshlight not only offers this unique selling point. Needless to say this fact made us exceptionally excited to start our Valentina Nappi Fleshlight review. It also features the hugely popular and highly stimulating Dorcel Fleshlight sleeve.
Both the Valentina Nappi Fleshlight and the Dorcel Fleshlight sleeve have proven themselves as hugely successful. In fact this Fleshlight sleeve has been a best seller for a very long time.

| | |
| --- | --- |
| Fleshlight Sleeve | Dorcel |
| Stimulation | ★★★★★★ |
| Tightness | ★★★★☆☆ |
| Suction Effect | ★★★★★☆ |
| Realism | ★★★★★☆ |
| Cleaning | ★★★☆☆☆ |
| Overall | ★★★★★☆ |
Valentina Nappi Fleshlight – Dorcel Fleshlight Sleeve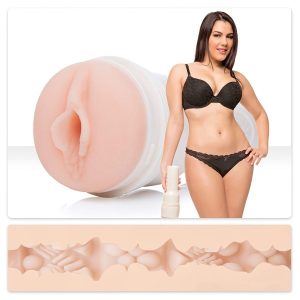 Moulded from the body of adult film actress, Valentina Nappi, the opening of the Valentina Nappi Fleshlight certainly looks inviting. This is an exact replica of the actress which looks and feels just like the real thing. You would certainly be forgiven for mistaking this opening for the real thing.
Chamber One
Once through the heavenly opening of this Fleshlight you enter chamber one of the sleeve. This chamber wastes no time in proving to the user just how hugely stimulating this product can be.
Chamber one is of moderate tightness and is lined with a variety of lumps, bumps, and nubs. First you will pass a single row of ball shaped nubs. These nubs, because of their size, feel soft but remain firm in their position as you pass them. This offers a moderately stimulating sensation while creating a feeling of tightness.
From here you enter a section of the chamber which is lined with long ridges positioned in groups of three. These ridges do not protrude all that far from the walls of the sleeve but they are positioned in a variety of positions and offer a high degree of stimulation.
The first chamber ends with several pyramid shaped nubs around the lining of the sleeve. These continue the level of intense stimulation while changing the sensation at the same time.
Transition One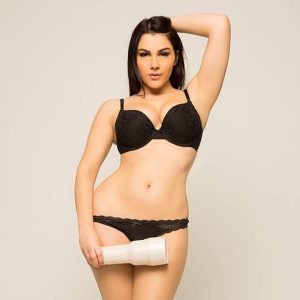 The transition chambers in the Dorcel Fleshlight are sued to connect the main chambers together. This first transition chamber is a simple as chambers come. It is short in length but is also the widest section of the Valentina Nappi Fleshlight. The walls of this transition chamber are soft and smooth. This offers a moment of relief from the intense stimulation provided by the main chambers.
Chamber Two
Chamber two feels somewhat tighter than the chambers which came before it. It also offers a high degree of stimulation and feels exceptionally lifelike. The walls of this chamber are lined with large ball shaped nubs which are positioned close together. This generates a ripple effect as you move through the chamber.
Transition Two
The second transition chamber is shorter than the first but very similar in its shape and texture.
It widens quickly then narrows even quicker. This transition chamber, like the first chamber, is has a smooth lining and offers little in the way of stimulation.
Chamber Three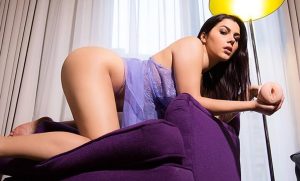 Chamber three is an exact replica of the very first chamber in the Valentina Nappi Fleshlight. The only difference between the two chambers is that this chambers has the texture running in the reverse direction to what is found in chamber one.
You will struggle to tell the difference between this chamber and chamber one. Both offer extreme stimulation and both have an enjoyable feeling of tightness.
Transition Three
Like the other transition chambers this chamber is short, starts narrow, gets widest half way though, then tightens up again. What makes this transition slightly different to the others is that, although the walls are smooth, they have a very slight wave to them as they increase and decrease in tightness.
Chamber Four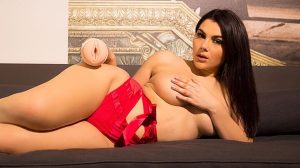 This final chamber is the tightest part of the Valentina Nappi Fleshlight. It is very similar in texture to chamber two. Firm, yet soft ball shaped nubs line the walls of this chamber which create a lifelike sensation as you move through it.
The main difference between this chamber and chamber two is that it is shorter and the ball shaped nubs feel slightly larger.
This final chamber ends with an opening of the Dorcel Fleshlight sleeve.
Cleaning
The Dorcel Fleshlight sleeve is certainly not difficult to clean but it does require special attention. Since most of the chambers are lined with nubs and ridges which are positioned closely together lube easily builds up and gets lodged.
The Valentina Nappi Fleshlight will not take very long to clean but you will find the need to insert your finger when cleaning.
Overall
If you are looking for one of the most stimulating Fleshlight's available the Valentina Nappi Fleshlight is the very best. The Dorcel Fleshlight sleeve is a highly stimulating product which offers a wide and varied form of stimulation. It feels exceptionally realistic especially at the opening. We can not express enough how much enjoyment we had throughout our Valentina Nappi review.
The only downside of the Valentina Nappi Fleshlight is it requires a little extra attention when it comes to cleaning. However, with that said, this is a very small price to pay for such a superb product and the enjoyment it will bring.
See more Fleshlight Girls here.