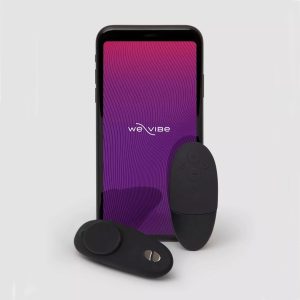 If you are looking to buy one of the best panty vibrators this We-Vibe Moxie review is just what you are looking for.
In a nutshell this really is one of the very best panty vibrators I have had the pleasure of trying. The fact it comes with a remote control as well as being able to be controlled by an app on your smartphone makes it insanely appealing. If you are wanting to spice things up and have some great fun in public you will love this remote and smartphone app controlled panty vibrator.
You can check out the best price for this panty vibrator by clicking here.
If you would like to learn more about this awesome sex toy you can continue to read this We-Vibe Moxie review.
We-Vibe Moxie Review – Quick Look
The We-Vibe Moxie is a wearable panty vibrator that can be controlled remotely through a Bluetooth app. It features a magnetic clip for secure placement and a strong motor for intense sensations. The device also comes with a remote, allowing you or your partner to control the vibrations from afar. The We-Vibe Moxie is designed to address common issues with panty vibrators, such as poor fit and weak vibrations, making it a reliable choice for those looking to add some excitement to their intimate experiences.
What is In the Box
The We-Vibe Moxie comes with everything you need to get started, including a USB charging cable, a wireless remote control, a sample packet of lubricant, an extra magnetic clip, and a silky storage bag.
You will also find in the box a quick-start user guide that includes some interesting warning notes, such as the recommendation to avoid charging it underwater or using it with a pacemaker due to the magnet. Personally, I find the warning section of user manuals to be an entertaining read. After all we live in a world where manufacturers have to give reminders not to drink cleaning fluid.
The remote control included with the product is well-suited for its purpose. It strikes a balance between having enough buttons for ease of use and not having too many buttons that would make it confusing.
Check out the best price for the We-Vibe Moxie by clicking here.
Materials
The We-Vibe Moxie is made with 100% body-safe silicone, ensuring a soft and comfortable experience. It is also free from phthalates, BPA, and latex, making it safe for use. Whether you're using it at home or taking it out on the town, you can trust that the Moxie is made with your health and well-being in mind.
It is worth pointing out at this point in this We-Vibe Moxie review that it is a waterproof toy. That means you can use it in bath, the swimming pool or hot tub.
Size and Dimensions
The We-Vibe Moxie is a size which makes it just right for public wear, as it is small enough to be discreet but not so small that it lacks power. This makes it ideal as a wearable panty vibrator and a great choice for travel, as it is compact and comes with a travel bag.
Overall, the Moxie's size is a perfect balance for those who want a portable and discreet pleasure device.
The We-Vibe Moxie consists of two parts: the main device and a slip-resistant magnet. The main device is a comfortable size and shape to wear in your underwear, and the magnet helps to secure it in place. Overall, the Moxie's design allows for a comfortable and secure fit that you can wear discreetly under your clothes.
Charging and Battery Life
The We-Vibe Moxie vibrator is equipped with a USB charging cable and a magnetic charger, which allows you to charge the device using any USB port. Magnetic chargers are convenient because they are simple to use and there is no risk of improperly inserting the charger. When the light on the device is flashing rapidly, it means the battery is still charging. When the light stays on without flashing, it means the device is fully charged and ready to use.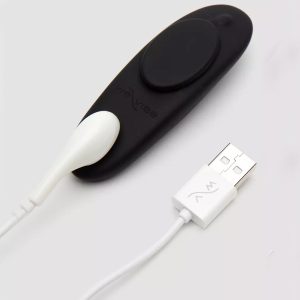 The We-Vibe Moxie requires about ninety minutes of charging time according to the user manual, and in my experience it took about eighty-five minutes to fully charge. The manual states that the device can last for up to two hours of use, and in my testing it had a battery life of approximately one hour and fifty-three minutes. Overall, I found the Moxie to have a satisfactory battery life for an external panty vibrator.
Check out the best price for the We-Vibe Moxie by clicking here.
The We-Connect App
One of the standout features of the We-Vibe Moxie is its app-enablement, which allows you to control the device remotely using your phone. This makes the Moxie an excellent choice for long-distance couples who want to experience intimacy together from any location.
Setting up the device is straightforward: simply download the We-Connect app and follow the instructions to pair it with your Moxie. To do this, press the control button on the Moxie and hold it down for five seconds until the light starts flashing. This indicates that the device is in pairing mode and the app will prompt you to connect it. Overall, the We-Connect app is easy to navigate and makes it simple to enjoy the Moxie from anywhere.
The We-Vibe Moxie can be controlled using the We-Connect app, which allows you to use preset modes or create your own custom vibrations.
You can also sync the device to music, check the battery status, and send messages to your partner through the app. Additionally, the app lets you set a maximum power level, so you can ensure that the device doesn't reach full power even when turned all the way up. This can be useful if you want to be prepared for a quieter setting. It's worth noting that you can't pair the Moxie with both the remote and the app at the same time.
If you want to switch from using the app to the remote, you'll need to disconnect the Moxie from the app and pair it with the remote again.
Easy to Use
 For this We-Vibe Moxie review I conducted a series of tests to determine the effectiveness of the We-Vibe Moxie's magnetic clips at keeping the device securely in place.
I tried the device with and without a pad, and with period-style panties that are thicker than average. In all cases, the magnetic clips held the Moxie firmly in place.
I also used both clips at once to ensure that the device didn't move, and found that the strong magnet kept the Moxie securely in place even when walking quickly or moving into different positions.
As a final test, I wore the Moxie and sat on a hard wooden chair to see if it would be suitable for wearing to a restaurant. I found that the sound of the vibration mode was slightly louder when I sat in a position that pressed the device against the chair, but it was more muted when I sat in a cushioned chair.
Overall, I was satisfied with the performance of the Moxie and its ability to stay in place during different activities.
Check out the best price for the We-Vibe Moxie by clicking here.
Comfort Level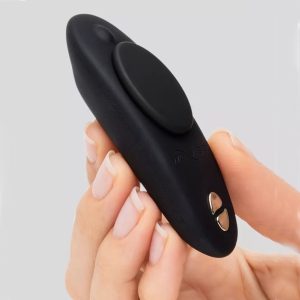 For the best stimulation, it's important to wear snug-fitting underwear with the We-Vibe Moxie.
You may also want to try wearing tight-fitting, structured leggings or pants for added support and sensation. In my experience, the Moxie works best when worn with fitted underwear and pants, and when seated in a cross-legged position.
As a rule hands-free toys don't always work for me. I found that throughout this We-Vibe Moxie review it was one of the few vibrators of this style that delivered effective pleasure for me. Just one of the many reasons why I highly recommend this panty vibrator.
Control From Anywhere in the World
My partner and I were able to use the vibration control app on our smartphones with ease.. The app functions well within a distance of 20 feet, but the Bluetooth connection can sometimes be inconsistent.
However, there are no issues with the app control except for one instance.
In addition to being able to control the vibrations remotely, the app also offers options like syncing with music, creating custom patterns, and even the ability to video chat while using the device.
Overall, it was a smooth experience.
What we both really loved about the We-Vibe smartphone app was that it allows you to control the We-Vibe Moxie from anywhere in the world. This is a great feature if you are in a long distance relationship. It is also great fun your partner being able to control the app when you are out nd about or even at work.
Check out the best price for the We-Vibe Moxie by clicking here.
Stimulation
If you prefer targeted stimulation, you may find it difficult to achieve with this vibrator as it does not have any mechanism to hold it in place or apply pressure. However, the raised bump does help to enhance the rumbly sensations. On the other hand, if you prefer more general stimulation, this vibrator should suffice.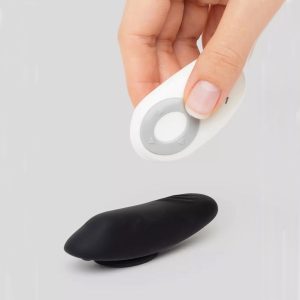 The Moxie's powerful motor provides strong, rumbly vibrations when held against the body during public play. However, due to gravity, the intensity may feel more like buzzy vibrations when using the vibrator on your own. Despite this, the vibrator is still strong enough to be used as a bullet vibe and is a good option for solo play.
If you are uncertain about whether or not you would enjoy remote vibrating panties, this vibrator is a good choice because it is versatile enough to be used in various ways and will not go to waste even if remote control isn't your preference.
Noise Level
One potential drawback of this toy is the volume. While it is relatively quiet on the lowest setting, it becomes louder as the intensity increases. While you may be able to use it in a crowded restaurant or club, it may not be suitable for more discreet occasions such as weddings or quick errands.
It is louder than some other public play toys. However it is still manageable in certain environments.
Overall, it may not be completely whisper quiet, but it should still be effective for its intended use.
Conclusion
The obvious conclusion to this We-Vibe Moxie review is insanely positive.
I highly recommend the We-Vibe Moxie for long-distance couples seeking a way to reconnect. This is also a fantastic panty vibrator that can add some serious spice to any relationship. I cannot begin to tell you how much fun it is to use in public.
It exceeded my expectations in terms of power and design, and is the best panty vibrator I have ever used. It delivers strong sensations and is a great option for those who need a little extra power. I will definitely be using this toy again, especially in environments with background noise.
It is an excellent choice for anyone about to buy a panty vibrator..
Check out the best price for the We-Vibe Moxie by clicking here.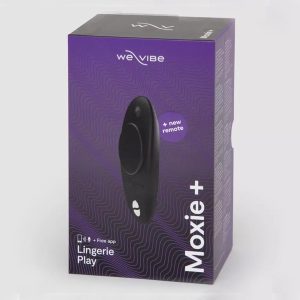 You can check out the best price for the We-Vibe Moxie by clicking here.