If you happen to be a fan of virtual reality porn then you will undoubtedly always be on the look out for ways to make this technology even more immersive. Here we look at the very best VR sex toys for men.
Best VR Sex Toys
When it comes to the best VR sex toys there is no one rule that defines what a virtual reality sex toy is. Personally I feel the best VR sex toys are interactive male masturbators that can be synced with your favorite virtual reality porn experiences. There really is something amazing about been able to feel exactly what you are seeing in the experience. However, with that said, a virtual reality sex toy can also be something as simple as a manual male stroker. Below are the best VR sex toys you can buy.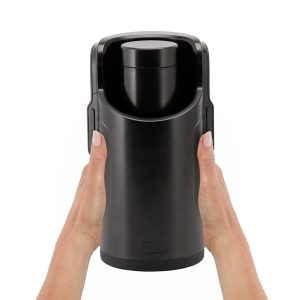 Simply put the Kiiroo Keon is without any doubt the very best VR sex toy that money can buy. the Kiiroo Keon is an automatic male masturbator that is 100% virtual reality compatible. It has the ability to perfectly sync with your favorite VR porn experiences perfectly replicating each and ever last detail you are watching.
The Keon is a VR sex device that really has to be experienced to be truly appreciated. It really is incredible how perfectly this toy reproduces the action you are seeing.
What truly makes the Kiiroo Keon stand out is not solely down to how amazing it is when used with VR porn. It can be used in several different ways. You have the option of using it with the touch buttons on the side of the device. These buttons allow you to control the speed and the length of the strokes. At full speed the Kiiroo Keon can achieve a whopping 230 strokes per minute. If that does not blow your socks off then nothing will.
There is also the option of downloading an app to your smartphone and controlling it this way. This app is where this interactive male sex toy really starts to get interesting. The specially designed app allows you to video chat with a partner and allows them full control over the Keon. It also allows your partner the chance to use a compatible sex toy which allows you to feel each other in real time. How amazing is that?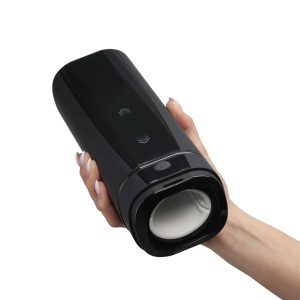 Our second choice of best VR sex toys is another Kiiroo product. The Kiiroo Onyx+ is another interactive male masturbator.
It uses the same patented Superskin material that Fleshlight use on their own male strokers. so it is every bit as realistic in how it looks and how it feels.
The Kiiroo Onyx+ generates its stimulation in a different way to other male VR sex toys. Rather stroking the penis the Kiiroo Onyx+ has ring that wrap around the sleeve. These rings contract and loosen to generate the sensation of being inside a vagina. This may sound a little weird but it works surprisingly well. It most certainly feels very much like the real thing.
Like you would expect the Kiiroo Onyx+ is capable of syncing perfectly with your favorite VR porn movies.
It also can be used in manual mode or connected to a special app on your smartphone. This then allows you to control it via your phone, have your partner control it using their phone, or sync it with another compatible interactive sex toy. The fact this Onyx+ is more compact than the Keon makes it ideal for anyone who travels.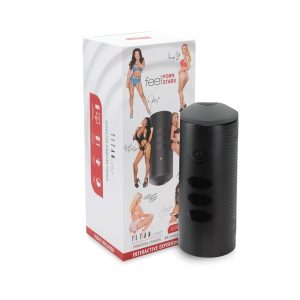 The Kiiroo Titan is different again in the way it goes about generating stimulation.
Rather than stroking the penis or using contracting rings the Kiiroo Titan uses 9 vibrating motors which massage the penis at different points.
The stroking motion is something you will have to do yourself. Some guys will be able to get off with just the vibrations. Others will undoubtedly have to use it as a stroker.
Think of the Titan as a vibrating male stroker that can sync those vibrations with your favorite virtual reality porn movie.
The Kiiroo Titan can also be connected up to a special app installed on your smartphone. It then has the exact same features as the Keon and the Onyx+.
What is attractive about the Kiiroo Titan is that you have the option of at least 3 different types of sleeve. It is simply a matter of choosing which sleeve suits you best. A lot of guys seem to light things being tight so it is good to see that Kiiroo have developed a sleeve especially for this market.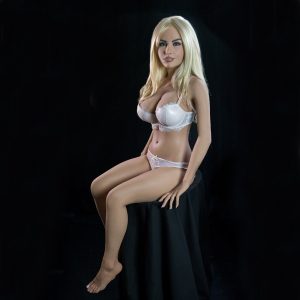 You possibly did not think you would see sex dolls getting a mention among the best VR sex toys. However sex dolls can add a whole new dimension to your virtual reality porn movies.
So, with that said, if you are going to buy a sex doll you may as well go for the very best sex dolls in the world which happens to be RealDoll.
RealDoll is a California based sex doll manufacturer which is well known to produce not only the best sex dolls in the world but the most realistic.
RealDoll products are so realistic and lifelike they can easily be mistaken for a real woman. They really are that realistic. Yes, they are expensive but you really do get what you pay for when it comes to sex dolls.
The wonderful thing about sex doll is how they can be used with or without virtual reality porn.
Sex dolls tend to work best with virtual reality porn in scenes where it is you doing the work. They tend to be a little less suitable in a scene where the woman is on top for example. However, I have found that positioning a sex doll so it is straddled over me and using a Kiiroo Keon works well with such scenes.
Another great thing about RealDoll is they produce a range of artificially intelligent robot sex dolls. This range of sex dolls speak and move and an even hold a conversation with you. If RealDoll keep advancing the technology of sex dolls there might be a time in the not so distant future where VR porn is not needed.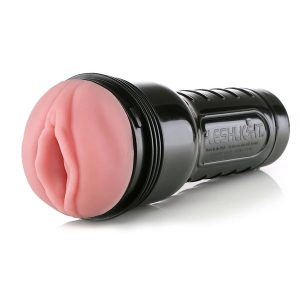 No list of the very best VR sex toys would ever be complete without mentioning the classic Fleshlight.
Sure, a Fleshlight is as basic and simple as male sex toys come but they are are superb when used with virtual reality porn.
The Fleshlight is probably the best known male sex toy in the world. They are highly realistic male strokers which look and feel just like the real thing.
The company even produces a range of strokers named Fleshlight Girls. This range of products features male masturbators that are moulded from the body of your favorite adult film stars. What means is products in this range are perfect replicas of some of the hottest adult stars in the world.
There really is nothing quite as enjoyable as watching your favorite adult film star in a VR porn scene while using her her signature Fleshlight.
Watching VR porn while using a Fleshlight Girls male masturbator is the closets you will ever come to actually being with some of the hottest adult stars. What is not to love about the idea of all this?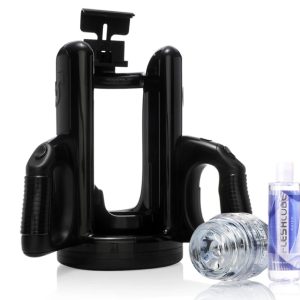 For those who do not know a Fleshlight Quickshot is a pretty much a miniature Fleshlight. It offers all the great things about a normal Fleshlight only it is half the size. This makes it a much more discreet sex toy for men while still being just as lifelike and realistic.
Because the Fleshlight Quickshot is half the length of a conventional Fleshlight means it can be entered from both ends. Fleshlight have seized on an opportunity here and made it so Fleshlight Quickshots feature two highly realistic openings. This could be a vagina and a mouth or a vagina and a butt.
The reason I am talking about this miniature male masturbator because of a certain accessory for this toy. This accessory is called the Fleshlight Quickshot Launch. What the Quickshot Launch is a device that automates the stroking of the Quickshot. Basically you attach your Quickshot to the Launch and the Launch moves it up and down.
The Launch does not have the ability to connect and sync with VR content. However it is a way of automating masturbation. Personally, I feel the Quickshot Launch is fantastic if you simple want to automate masturbating while watching your favorite VR porn movie.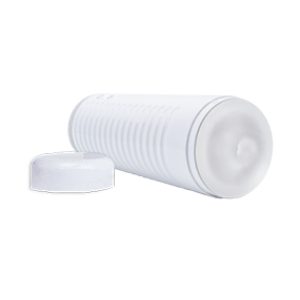 The Lovense Max 2 is a relatively new interactive male sex toy. It has been designed and manufactured by Lovenese, a sex toy manufacturer most people will recognise as the name behind some hugely popular female sex toys.
The Lovense Max 2 is basically an automatic male masturbator. It is controlled by using an app that is installed on your smartphone which used WiFi or Bluetooth. This app allows the Max 2 to follow an infinite number of pre-programmed routines which make it vibrate and contract in various ways. These routines can be created by you or by other Lovense users.
One feature that makes the Lovense Max 2 unique is that it has the ability to sync with music. Just imagine the fin you can have when you own an interactive male masturbator that can sync to your favorite Taylor Swift song.
The Lovense Max 2 cannot currently sync with VR porn movies. However, the vibrating patterns combined with how this can be used as a stroker makes this a superb toy to use with VR porn.
Another factor that makes the Lovense Max 2 one of the best VR sex toys is the price. This is a superb choice if you are on a budget or are simply wanting to take your virtual reality porn to the next level.
Best VR Porn Websites
If you are looking to buy one of the best VR sex toys you are most certainly going to need access to the very best virtual reality porn content. So here are the top virtual reality porn sites to use with your VR sex toys.
If you are looking for high quality VR porn content you should look no further than VR Bangers. VR Bangers is an adult film studio that can offer you a huge selection of scenes covering pretty much all genres. One on one, orgies, cosplay. Whatever happens to be your desire you will be pretty much sure to find a scene on VR Bangers that will blow your mind and your load in record time.
VR Bangers even produce various VR porn games and augmented reality content.
As the VR Bangers slogan says – Make America Hard Again. They sure are doing just that.
Check out the VR Bangers website here.
Possibly the most popular and best known adult studio in the world is Naughty America. This adult studio was one of the first studios to produce virtual reality porn and they are, to this day, one of the best.
This studio works with the hottest adult stars along with the newest. They produce the highest quality scenes. Not only that they take their most popular brands of porn scenes and make you the male star thanks to virtual reality technology.
Check out the Naughty America VR website here.
WankzVR are a hugely popular adult film studio and producer of adult VR content. They have even won the XBIZ Awards VR Site of the Year award several years running.
This studio has more than 400 scenes ready for your consumption and add are adding to this each and every day. This studio also runs the hugely popular MILF VR site. A site specializing in scenes featuring only the hottest mature adult stars.
Check out the WankzVR website here.
You really will struggle to find a hotter virtual reality porn studio than BaDoinkVR. They have more than 400 scenes ready for you to access. Each and every scene is of the highest quality. Many of these scenes feature adult film stars who are exclusive to BaDoinkVR.
They currently produce at least two new scenes a week so their available library are constantly increasing. You really will be blown away with this top rated producer of adult virtual reality porn studio.
Check out the BaDoinkVR site here.
See more VR sex toy stuff here.