Having received our Kiiroo Keon to try out and review I cannot tell you how excited we were to get my hands on this male masturbator. How lucky can a guy get? A guy who gets asked – can we send you something can you do a Britney Amber Kiiroo Stroker review?
Britney Amber Kiiroo Stroker Review
Well, let me put this as simply as possible. Yes, we are always happy to try out new products. I, personally, am more than happy to try out new products. This is an honest encounter as to what I thought of the Britney Amber Kiiroo Stroker.
Feel and See Britney Amber
If you had not already guessed I am a huge fan of adult film actress Britney Amber. I saw her in a few scenes, thought she was exceptionally hot, from then I was always a fan of her work. With that said I must admit I was excited to see the delivery guy at my door with a package in his hand. Unboxing the Britney Amber Kiiroo Stroker, an addition to the company's Feel Stars Collection, was certainly filled with anticipation.
My first impression of the Britney Amber Kiiroo Stroker was that it appeared very much like a Fleshlight. The case is a slightly different shape but the design concept is certainly the same.
Most importantly the sleeve most certainly looks and feels just like a real female vagina. Unfortunately I cannot tell you if it specifically  feels like Britney Amber's vagina I can tell you the opening is moulded from her own body. Therefore it is a perfect clone and as close as her fans could dream of getting.
At this point I was certainly impressed with how real this toy felt even just inserting my fingers. Trying the stroker for its purpose certainly did not disappoint. It really does feel like you are inside a real vagina. I must admit the idea that this is Britney Amber's vagina you are inside is an amazing experience.
Compatible With The Kiiroo Keon
Again, I must admit, what I was really looking forward to trying as part of this Britney Amber Kiiroo Stroker review was its compatibility with the Kiiroo Keon. You can see our full Kiiroo Keon review here.
The fact that only Kiiroo strokers are compatible with the Keon will make this Britney Amber Kiiroo stroker highly appealing to her fans.
So, I got my virtual reality headset ready and loaded up my favorite Britney Amber virtual reality porn movie. I must say I was truly blown away. I will make no secret of the fact I loved the Kiiroo Keon and I truly love virtual reality porn. The idea that I was having this automated sexual experience with Britney Amber blew my mind. You really do feel so very close to Britney Amber using her stroker combined with the Keon and, in this instance, The Britney Amber Porn Star Experience from Naughty America. The only real way you could get any closer would be to be with the real Britney Amber.
Another great thing about the Britney Amber Kiiroo Stroker combined with the Keon is that it works with conventional 2D porn as well. You do not have to have a VR headset for it to work. You can quite simply load up your favorite Britney Amber porn movie and feel exactly what you are watching on your television, PC, laptop, smartphone, or tablet. This is a way to be closer to Britney Amber and her huge volume of adult movies than you ever dreamt possible.
Easy to Clean
Just like other male masturbators the Kiiroo is fairly easy to clean. The internal sleeve can be removed from the case and run under a tap of warm water. In most cases you will likely have to get a finger in there as well to help dislodge any stubborn lubrication or fluids. I would highly recommend using Kiiroo's own cleaning solution. This has been specially designed for use with this sleeve and will help prolong its life. It also makes doubly sure you remove unwanted bacteria or other germs.
Once cleaned it is a simple case of allowing the sleeve to dry then returning it to the safety of its hard case.
What I Liked About the Britney Amber Kiiroo Stroker
Well, as you may have already guessed I truly love that this is a replica of Britney Amber's own vagina. The bottom line here is that if you really are a true fan of this adult film actress you really will want to buy this. You cannot call yourself a true fan if this toy does not scream out "BUY ME".
Away from the fact it is a replica Britney Amber vagina I love how realistic it is. I have used every Fleshlight that has ever been released along with plenty other brands of male masturbators and strokers.
I have always found that nothing really competed with a Fleshlight. There has certainly not been anything that felt as real as a Fleshlight. That is until I was given my first Kiiroo stroker. The Britney Amber Kiiroo Stroker is every bit as realistic as a Fleshlight. In fact in someways I genuinely feel it has an advantage over the Fleshlight. The internal structure of the Kiiroo stroker is fairly simple. This is something that works to its advantage and makes it feel so real and lifelike. In some instances I cannot help but feel certain Fleshlight products create an internal texture that is far too varied. They seem to do this to add stimulation but in doing so it reduces the sense of realism. The bottom line is it is impossible not to be amazed at just how lifelike this Kiiroo stroker is.
Another thing I really do love about the Britney Amber Kiiroo Stroker is that it is compatible with the Kiiroo Keon. In fact Kiiroo strokers are the only male masturbators compatible with the Keon which makes them an essential purchase. Especially if you want to feel your favorite adult film star as you watch them. Who would not want to do that?

What I Did Not Like About the Britney Amber Kiiroo Stroker
It really is difficult to complain about anything with this masturbator. Even if you do not know who Britney Amber is this is a wonderful product. One thing that I would have liked to see is if the opening of this toy was painted to look more lifelike. Yes, it looks and feels just like a real vagina. However, Kiiroo potentially missed an opportunity to paint this toy to appear a more similar skin tone to a real vagina.
Overall
The bottom line is that this is a truly awesome male masturbator. It really does have everything going for it. There is the fact it looks and feels just like a real vagina. Combine this with the fact it is as close as you could ever dream of coming to being inside the real adult actress. What is not to love? The consider it is the only male masturbator that is compatible with the Kiiroo Keon and you have a winning formula.
I genuinely hope Kiiroo start producing more male strokers moulded from more top adult film stars. They are sure to be give some seriously strong competition to Fleshlight. In fact I would not be surprised if, thanks to their Keon compatibility, take over from Fleshlight as the dominant force in this market.
I would not hesitate to recommend the Britney Amber Kiiroo Stroker to anyone. Fans and sex toy lovers alike will truly love this male sex toy.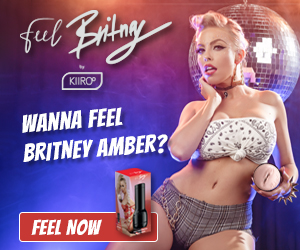 Check out more reviews here.