There are thousands of sex dolls on sale but what happens if you cannot find a perfect sex doll for your own personal needs? Well, instead of buying an in stock generic sex doll you can build your own sex doll. It is easy to design your own sex doll from scratch customizing each and every last inch of her.
Build Your Own Sex Doll
If you are looking to build your own sex doll there are several companies we would highly recommend. If you are happy to take a generic sex doll and change certain features we would highly recommend the likes of Silicon Wives or Sexy Real Sex Dolls. However, if you are looking to design your own sex doll from scratch your best choice would be RealDoll. This is a sex doll manufacturer with a reputation for creating the most lifelike realistic sex dolls in the world. The dolls they create will quite literally blow your mind when you see how realistic they are.

Head and Face
The first part of designing your own sex doll with RealDoll is to choose the perfect face. Currently RealDoll have a huge range of faces that you can choose for your sex doll. They also offer the choice of buying a magnetic face or a full head. Most people choose to the magnetic face option. This is simply because it makes it so easy and quick to completely change the look of your doll.
Body
One you have decided on the perfect facial features for your perfect sex doll you need to select the perfect body. RealDoll has a huge selection covering pretty much every body shape and size. Whether you like short skinny girls, athletic girls, tall girls with curves in all the right places, you name the body shape and size and we pretty much guarantee that RealDoll has that body for available. You will not find a larger selection of sex doll body shapes and sizes anywhere.

Skin Tone
Next up you need to choose a skin tone for your sex doll. There are currently five options available which are fair, light tan, medium, tan, and cocoa.
Eye Detail / Color
This is what we truly love about choosing to build your own sex doll with RealDoll. Their attention to every last detail is truly amazing. It is now time to choose the perfect eye color for your love. doll. There is also the option of having the eyes fixed in place. However this would mean in the future you would be unable to change them if you desired.
Makeup Style
Once again the fact you can choose the makeup for your sex doll demonstrates why RealDoll are the very best in this industry. Here you can choose from a variety of standard makeup styles. You can also choose your own custom design. This is simply done by providing RealDoll with photos of exactly how you would like the makeup on your love doll to look. What could be easier?
Hair Style / Color
You are spoilt for choice once again when it comes to choosing the hair style and color for your doll. There are a choice of at least 13 different standard hair styles and more than 9 different colors. There is also the option of a 100% custom hair style and color simply by providing RealDoll with a photo of what you are wanting.

Breast Options
It will come as no surprise to hear if you want to build your own sex doll RealDoll have plenty of options available when it comes to breasts. Here you can choose the size and shape of your sex dolls breasts. You can also choose the perfect nipple shape and nipple color.
Vagina Style
RealDoll even offer you the chance to choose the perfect vagina for your sex doll. There are a whole range of styles to choose from to suit your own personal tastes.
It is also possible to choose between a fixed and removable vagina insert. Personally, we would highly recommend the removable vagina option. This is simply because it makes cleaning your custom sex doll so much easier. We would also highly recommend considering the SenseX vaginal insert. This allows your sex doll to feel and respond to your touch allowing her to simulate everything from mild arousal to full blown orgasm.
Pubic Hair
It is even possible to choose the perfect amount of pubic hair for your sex doll. Perhaps you prefer a completely bald vagina. On the other hand you may well prefer a full 1970's Playboy bush. Somewhere in between perhaps?

Extras
Just when you think RealDoll could not possibly offer you any more customization options you reach the extras section. Perhaps you would like to add freckles to your sex doll. How about a piercing of some description? You can even, should you choose, convert your sex doll in to a transgender sex doll. There is simply no end to the options RealDoll offer you.
Check out the RealDoll website and their build your own sex doll tools here.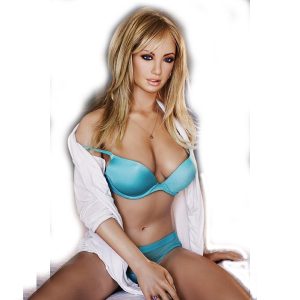 See more awesome stuff here.