I am the first to admit that when I first seen photos of The Handy Male Masturbator I was far from impressed. Being blunt I really did not have many expectations for this sex toy for men. Its design really did little to excite me. However when I was asked if I would be interested in doing a The Handy Masturbator review I was decided to keep an open mind. Sure, send me the product and I'll give an honest opinion to my readers.
The Handy Masturbator Review – Quick Look
So what exactly is the Handy Masturbator. Put simply it is an automatic male masturabator. It can be controlled using the buttons on the side or control can be given to your partner. It can also be synced with your favorite adult content, both conventional 2D and VR porn, so you can feel what you are watching.
You can check out the best price for The Handy by clicking here.
Design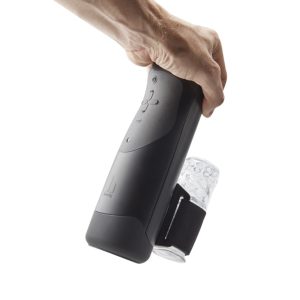 When I first received my toy for The Handy Masturbator review I was pretty surprised as to how sleek everything looked. Even the box looked like it belonged in an Apple Store.
The actual Handy Masturbator looks pretty much like a black plastic cylinder with a velcro strap towards one end. This strap is used to hold a silicon sheaf which is moved up and down by The Handy. The idea is that the silicon sheaf will replicate the vagina or mouth. I must admit when I first saw this I thought it looked a little small even for me. However, it is worth pointing out that this sheaf actually stretches when in use. This is actually a somewhat clever design idea as regardless of your size this still feels like the real thing providing you use plenty lube.
You can check out the best price for The Handy by clicking here.
Connectivity and Control
The Handy is pretty easy to get started with straight out the box. The side of the unit features several buttons which allow complete control of the toy. Using just these buttons it is possible to turn the toy on and off along with controlling the speed and length of the strokes. It is also possible to use these buttons to access the pre-programmed routines that are built in.
The real fun comes when you realise and start using the real technology on this toy. It can be connected using WiFi or Bluetooth allowing it to be connected to all kinds of smart devices. Your smartphone, an Amazon Alexa or Google Home, your virtual reality headset, even your PC or laptop.
The easiest way to control The Handy Masturbator is by connecting it to you own or a partners smartphone. This gives control of the toy to you partner from anywhere in the world as long as they have an internet connection.
If you are wanting to use this toy with your smart speaker things start getting a little more complicated. However, there are plenty of free guides available on the internet.
Virtual Reality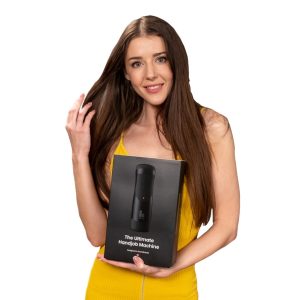 If you are not buying this interactive male sex toy as part of a couple in a long distance relationship you are likely buying it for the virtual reality connectivity. I have tried various other interactive male sex toys with virtual reality porn and I have always been blown away by the result.
So, how does The Handy Masturbator measure up against the likes of the Kiiroo Keon?
The quick and easy answer is that it measures it pretty well. In fact it does a remarkable job when it comes to replicating what you are seeing on a screen. It really did manage to create even more immersion into every VR porn movie I tried with it.
You can check out the best price for The Handy by clicking here.
What I Liked About The Handy Masturbator
The first and likely the most obvious thing I liked about this interactive sex toy for men is its size. Other interactive sex toys are usually a fair bit larger whereas this easily fits in the palm of your hand. It feels very much like you are holding a simple flashlight.
I also loved using it with virtual reality porn. It really does add a whole new dimension to your VR porn experiences. In fact it is fair to say that if you enjoy VR porn you really are missing out on something extra special if you do not buy an interactive sex toy to use with it.
What really surprised me was discovering you can actually use any male stroker with The Handy Masturbator. Do you own a Fleshlight? Well, that can be used with this toy. Pretty much every brand of male stroker can be attached and used with this toy. This means if, like me, you are not too sure about the stoker that is included you can easily change it to something more suited to your own individual needs.
This is also one of the easiest interactive male sex toys to get started with.
Making The Handy male masturbator an even better sex toy is that it is now compatible with FeelMe AI. For those who do not know FeelMe AI is an artificial intelligence platform that takes what it sees in adult porn movies and translates that into control for Kiiroo sex toys and The Handy. This means that now you can watch any porn movie and literally feel everything you are seeing on screen. You can check out FeelMe AI by clicking here.
What I Did Not Like About The Handy Masturbator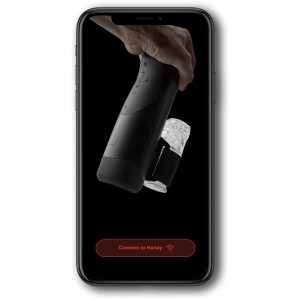 I must admit that I really did not like the fact the stroker is attached to the side of this toy. It throws off the balance when you are using it. I cannot understand why it has been designed like this other than the designers looking for a random way to make it look unique. Perhaps the fact this is an extremely compact male stroker could be the reason behind it.
It is certainly worth pointing out that the unbalanced feeling can easily be fixed. This is easily achieved by placing the flashlight handle above the penis with the stroker below.
Conclusion
I have been pleasantly surprised during this The Handy Masturbator review. Originally I was not impressed with the design of this toy but it does everything I expected and works well with virtual reality porn and conventional 2D adult movies.
If I could change anything about this toy it would be to position the stroker more central rather than on the side. This would make it feel so much more balanced when in use. However, if you are looking for a compact interactive male stroker that is not as cumbersome as the majority of other toys this is a perfect choice.
Not only is this a great toy if you are looking for something compact what really makes it worth buying is that it can use pretty much any stroker you choose. This alone makes it well worth buying.
You can check out the best price for The Handy by clicking here.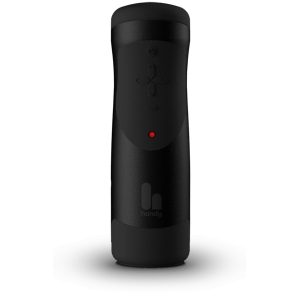 See more reviews here.