When we first decided to do a Fleshlight STU review we did so hoping to find whether or not lives up to the claims made by the manufacturer. The big question throughout our Fleshlight STU review was – does the Fleshlight Stamina Unit really improve your performance?
Fleshlight STU Review – Fleshlight Stamina Training Unit Review
The STU or Fleshlight Stamina Training Unit is marketed as not only a highly enjoyable male sex toy but as the perfect device to help men improve their sexual stamina.
| | |
| --- | --- |
| Fleshlight Sleeve | STU |
| Stimulation | ★★★★★☆ |
| Tightness | ★★★★★☆ |
| Suction Effect | ★★★★★☆ |
| Realism | ★★★★☆☆ |
| Cleaning | ★★★★☆☆ |
| Overall | ★★★★★☆ |
How it Works – Fleshlight STU Review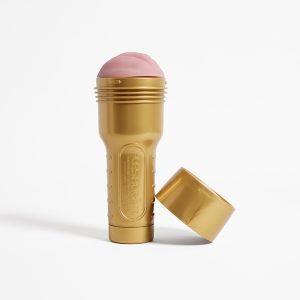 The principle behind the Fleshlight Stamina Training Unit is that the sleeve takes the experience of a real woman then massively increases the level of stimulation. Over a period of time the idea is you become accustomed to this increased level of stimulation which in turn allows you to last longer when you are with a real woman.
Realistic Opening
As with a large number of Fleshlight products the opening of the Stamina Training Unit is moulded to look and feel just like the real thing. The opening certainly feels just as soft and as inviting as the real thing. It even looks remarkably like the real thing although its coloring takes away a large amount of realism from its looks.
Fleshlight Sleeve
What made Fleshlight STU review so enjoyable was the Stamina Training Unit Fleshlight sleeve. Like all Fleshlight products the Stamina Training Unit features its own unique Fleshlight sleeve.
The STU sleeve is made up of a single internal chamber. This chamber which runs along the entire length of the sleeve is lined with large ball shaped nubs which are positioned closely together. These nubs deliver an intense level of stimulation creating a pulsating effect as you move in and out of the sleeve.
The level of intense stimulation is made even more intense due to the fact the Fleshlight STU is exceptionally tight. This means there is no escaping, not even for a second, as the ball shaped nubs press down on you.
It is fantastic that the Fleshlight Stamina Training Unit is so stimulating. However, because this product is so stimulating actually reduces how realistic it feels This is largely due to the fact this Fleshlight sleeve feels much tighter than the real thing.
Does it Work?
Having spent several weeks on our Fleshlight STU review one thing for certain is that this is a highly stimulating product. In fact, because of its tightness and texture, this is one of the most stimulating Fleshlight products available  and capable of providing more physical stimulation than the real thing.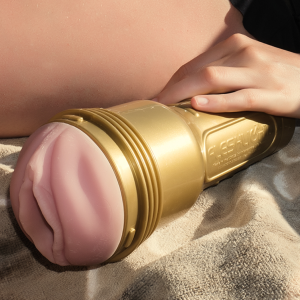 The big question is is – does the Fleshlight STU work? Does it help improve your sexual stamina?
Well, the answer is both yes and no.
In the physical sense the Fleshlight Stamina Training Unit does indeed work in improving a mans sexual stamina. The very first time you use the STU it is highly likely you will be finished in under a minute. Once you have used it for several weeks you become more accustomed the the high level of stimulation and find yourself lasting longer and longer. So, in the physical sense, the Stamina Training Unit does indeed help making you last longer.
However, when it comes to sexual stamina this is as much a factor of mental arousal as it is physical stimulation. In many cases, even with little or no stimulation, if you are mentally aroused enough you will still struggle to last longer.
In conclusion, our Fleshlight STU review feels this a great product for helping improve tolerance of physical stimulation but does little to help with the mental and emotional side of this. However, for some men, they may find that having used the Stamina Training Unit they have an improved level of confidence which may help improve their sexual stamina.
Cleaning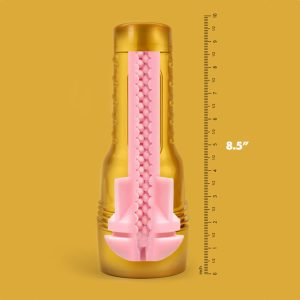 When it come to cleaning during our Fleshlight STU review process we found the process relatively straight forward. In order to clean the sleeve it must be removed from the case and have warm water ran through it. We must stress that it is important that you do not use soap on the sleeve.
After running water through the sleeve we found the texture of the internal walls provided plenty of places for lube to become lodged. In order to remove this stubborn lube we found inserting your finger and rubbing was more than enough to remove all remaining deposits.
Once left over lube is cleaned out we would highly advice that you use the official Fleshight cleaning solution then rinse with more water.
To complete the cleaning process it is a simple matter of leaving the sleeve to dry which is as important as the cleaning. If you fail to allow the sleeve to dry properly mould will quickly build up which can lead to all kinds of health issues.
What We Liked During Our Fleshlight STU Review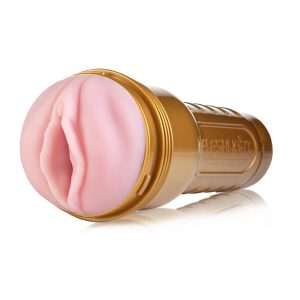 There certainly was a lot to love throughout our Fleshlight STU review process. There is no denying the Fleshlight Stamina Unit is a highly enjoyable and highly stimulating product. If you are looking for an enjoyable  toy with excellent stimulation the STU is a must have item.
We loved how realistic and inviting the opening of the STU is and we loved that, over time, the high intensity of the stimulation gave us a new found confidence when tackling the real thing.
There was also the discreet casing that the Stamina Training Unit comes with. It helps protect the sleeve. It is also only identifiable as a male sex toy by someone who is familiar with Fleshlight products.
What We Did Not Like During Our Fleshlight STU review
Throughout our extensive tests during our Fleshlight STU review there was not much we could find to complain about. However, we must admit that one thing we found a pain was cleaning the Fleshlight sleeve. We certainly would not say this is a difficult male sex toy to clean. We just found it a hassle having to leave it to dry. Of course this is very much the case with the majority of male sex toys.
Overall
Overall, we can only say that our Fleshlight STU review has left us with a product that we would highly recommend. This is a hugely stimulating and highly enjoyable product.
It may or may not improve your sexual stamina but it certainly improves your confidence. Which is usually half the problem with men who suffer from premature ejaculation. Whether or not the Stamina Training Unit lives up to the claims is irrelevant. If you are looking for a hugely enjoyable male sex toy then the STU is highly recommended.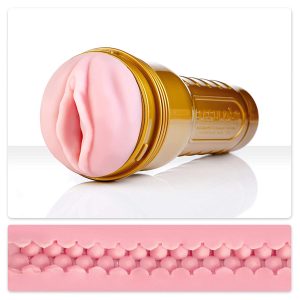 See more Fleshlight's here.