If you are wanting to learn how to have a hands free orgasm you have come to the right place. After all, regardless of if you are a man or a woman, an orgasm is always better when you do not need to use your hands.
How to Have A Hands Free Orgasm
Believe it or not it is easier than you might imagine to have a hands free orgasm. And before you ask, yes, it is perfectly possible to have a hands free orgasm when you are all alone.
So, the most obvious question you have now will be – how?
Well, it is simply a case of choosing the best interactive sex toy. Let us start with the best options for the men out there.
Men
Here are the best interactive sex toys for men for a complete automated orgasmic experience.
Kiiroo Keon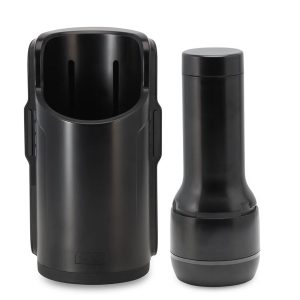 The first option for men is the truly awesome Kiiroo Keon.
The Keon by Kiiroo is combination of a Fleshlight stile male stroker or masturbator with a device which moves it up and down the length of the penis. It is very much a simple case of inserting the penis into the stroker then you control the speed and depth of the strokes.
The clever part of the Kiiroo Keon is it can be controlled using the unit or a smartphone app. This specially designed smartphone app can be controlled by yourself or by a partner. The really clever bit is that your partner can be, quite literally, anywhere in the world as long as they have an internet connection.
Another great feature with the Kiiroo Keon is that it can be synced with your favorite adult content. This allows you to feel everything you are watching on the screen. How amazing is that idea? Well, it get even more amazing if you happen to own a virtual reality headset.
For those who do not know virtual reality porn allows you to experience what it is like to be with your favorite pornstar. The Kiiroo Keon adds a whole new dimension to virtual reality porn. It allows you to feel closer than ever to the hottest pornstars on the planet.
You can even sync the Kiiroo Keon with other interactive sex toys. This then allows couples to share intimate exchanges from anywhere in the world.
ONXY+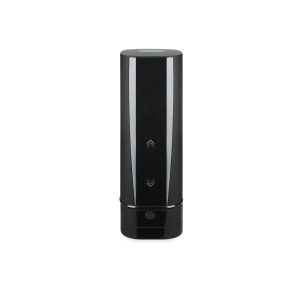 The Onyx+ is another interactive sex toy for men from Kiiroo. This compact toy offers a unique form of stimulation and way to give you a hands free orgasm.
What makes the Kiiroo Onyx+ so unique is that it does not use a stroking motion to stimulate the penis.
Instead the sheath which the penis is inserted into is located inside several different coils along its length. These coils then contract independently creating the sensation of being inside a real vagina. As you may well expect the coils tighten simulating the sensation of being inside. They then loosen to simulate being outside.
While this may certainly sound strange the end result is extremely impressive and enjoyable.
Just like the Kiiroo Keon the Onyx+ can be controlled using buttons located on the side of the unit. It can also be controlled using the same smartphone app or by being synced with a partners compatible device. There is also the option of syncing the Kiiroo Onyx+ with conventional 2D porn scenes and virtual reality porn.
If you travel a lot the Onyx+ could not be a more perfect way to take care of your hands free orgasm. It is highly stimulating and extremely compact.
Hot Octopuss Pulse Solo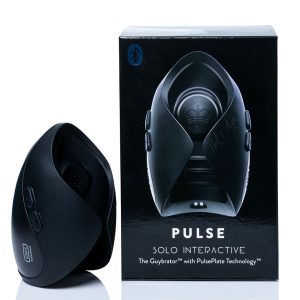 Another highly unique male sex toy and the perfect way for men to experience a hands free orgasm is the Hot Octopuss Pulse Solo.
This clever little male sex toy has been designed and manufactured by a company called Hot Octopuss. It incorporates Kiiroo technology to make it function and compatible with other Kiiroo sex toys.
Unlike a male sex toy that using stroking or physical contact to create stimulation the Hot Octopuss Pulse Solo Interactive works entirely differently.
The Hot Octopuss Pulse Solo Interactive uses pulses to create its stimulation. These pulses are basically moved through the air and the end result is astonishing. This clever compact device happens to be one of the very best interactive male sex toys we have seen in awhile.
Once again this is an interactive male sex toy that can be controlled using a smartphone app. It can also be synced with other compatible sex toys and with pornographic content. This includes conventional porn movies and virtual reality porn. It can even be synced with webcam models.
Girls
There are plenty of ways for a woman to have a hands free orgasm using similar toys. We all know there is a huge range of vibrators available to buy. However, vibrators, in most cases, still require a hand to hold it in place.
Here are some interactive sex toys for women that do not require a hand to hold them in place.
OhMiBod Esca2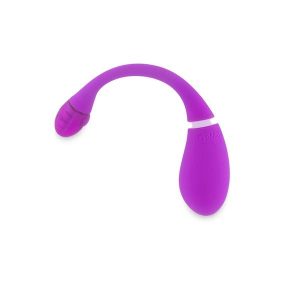 If you are familiar with webcam girls there is a good chance the OhMiBod Esca2 will look familiar. This clever little interactive toy is the toy of choice for webcam girls all over the world. It also happens to be a fantastic way for women to have a hands free orgasm.
The OhMiBod Esca2 is inserted into the vagina with the tail hanging a little out. It can then be controlled in a variety of ways.
The first and most common way this mind blowing toy is controlled is by syncing it with a smartphone app. This specially designed app can control the speed and intensity of the vibrations. It can even be used to generate vibrating patterns for added excitement. For this reasons this toy has proven to be extremely popular for couples looking to add some excitement to their sex life. Just imagine heading out to a public place for date night with this interactive sex toy. The exciting bit is when you hand control over to your partner.
The OhMiBod Esca2 can also be synced with adult movies and with a partners compatible toy. Since the OhMiBod Esca2 uses technology created by Kiiroo it is compatible with sex toys created by this company.
Webcam girls use the OhMiBod Esca2 as it can be synced with pretty much all webcam platforms. It can then be set so it vibrates when a viewer tips the webcam girl.
Kiiroo Cliona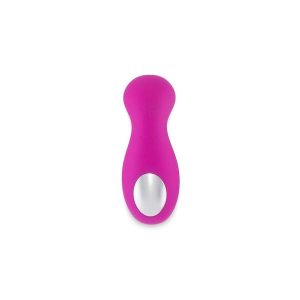 The Kiiroo Cliona is what is best described as a clit stimulator. This is very much a vibrator but because it is so small it can easily be held inside a woman's panties. For this reason we are classing it as one of the best ways for a woman to have a hands free orgasm.
The Kiiroo Cliona functions just like the other awesome interactive sex toys mentioned here. It is tuned on then inserted into a woman's panties so it is pressed gently against the clitoris.
Once it is turned on and active it can then be controlled using the specially designed Kiiroo app which is installed on your own or your partners smartphone. This app allows the person in control to control the speed of the vibrations. Once again this clever interactive vibrator is hugely popular for couples. It is the perfect way to add a little spice to your relationship. Especially if you dare experiment with this sex toy in public and allow your partner to take control.
It can also be synced with adult porn movies and other compatible sex toys.
There is the option of using it on various webcam platforms.
Check out more awesome cool stuff here.