Our Janice Griffith Fleshlight review takes a tried and tested look at the signature Fleshlight from this popular adult film star. We have been lucky enough to use the Janice Griffith Fleshlight for several weeks and can now hopefully answer the question – Should I buy the Janice Griffith Fleshlight?
Janice Griffith Fleshlight Review – Quick Look
The Janice Griffith Fleshlight is a Lady Fleshlight and features the Eden Fleshlight sleeve. It boasts an opening which is a perfect replica of Janice Griffith's own vagina which, for fans of the adult film actress, is more than enough to make her signature male sex toy beyond desirable.

| | |
| --- | --- |
| Fleshlight Sleeve | Eden |
| Stimulation | ★★★★☆☆ |
| Tightness | ★★★★★☆ |
| Suction Effect | ★★★★☆☆ |
| Realism | ★★★★☆☆ |
| Cleaning | ★★★★☆☆ |
| Overall | ★★★★☆☆ |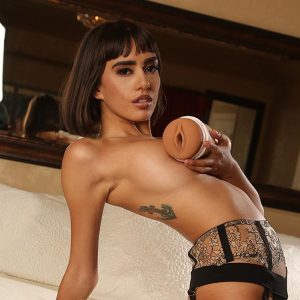 The Janice Griffith Fleshlight featuring the Eden Fleshlight sleeve is made up of five chambers. Each chamber features its own unique texture and form of stimulation.
Chamber One
The first chamber of the Eden Fleshlight sleeve is one of the widest of the entire sleeve. It is lined with hundreds of tiny ball shaped nubs which are generously spaced out.
These tiny ball shaped nubs generate a mildly stimulating tingling effect on the penis which is the perfect introduction to the Eden Fleshlight sleeve and the stimulation that is yet to come.
Chamber Two
The second chamber of the Eden Fleshlight creates a sudden change in the tightness of the walls.
Lined with firm yet soft cube shaped nubs this second chamber produces a pressing sensation which comes at you from all angles as you move back and forth through the chamber.
Chamber Three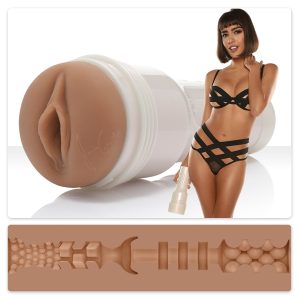 Chamber three is somewhat looser than the second chamber. Because of the tightness of chamber two followed by the sudden widening you will experience a throbbing sensation as you enter it from the second chamber which will continue squeezing the penis as long as you are inside it.
Once you are half way through this third chamber it suddenly narrows returning to an exceptionally tight feeling.
Chamber Four
Once you enter chamber four you will be at the point where the real intense and enjoyable form of stimulation begins. This chamber is lined with thick firm ribs which are well spaced out. Because these ribs are so thick they create a squeezing sensation.
What really makes chamber four so stimulating is the fact these ribs are spaced out. This creates a hugely enjoyable pulsating effect as you move back and forth through this chamber.
It is this first chamber that begins to make it exceptionally difficult not to climax.
Chamber Five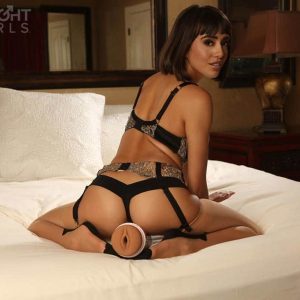 The fifth and final chamber of the Janice Griffith Fleshlight continues with an intense level of stimulation applied to the most sensitive part of the penis.
Like the first chamber this fifth chamber is lined with ball shaped nubs. The main difference between the two chambers is that in this fifth chamber the ball shaped nubs are much larger and positioned closer together.
This creates a pulsating effect which constantly changes the direction of its approach. The fact that this high level of stimulating is applied to the most sensitive part of the penis is more than enough to deliver and intensely heavenly climax. It also means this heavenly climax comes both quickly and suddenly.
Cleaning
Cleaning the Janice Griffith Fleshlight is certainly not the most difficult Fleshlight we have had to clean. However, it is also not the easiest.
The Eden Fleshlight sleeve, especially the final chamber has plenty of places where lube and the like can easily become lodged. While this will require nothing more than warm water, some special Fleshlight cleaning solution, and a finger it is worth noting that you will certainly have to pay extra attention when cleaning.
When it comes to drying the Janice Griffith Fleshlight after cleaning you will be pleased to know this is quite a fast process.
What We Like About The Janice Griffith Fleshlight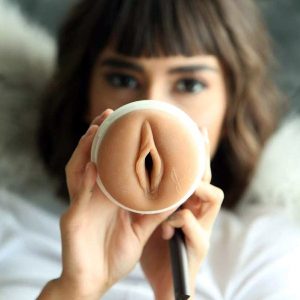 There are a few things that really stood out during our Janice Griffith Fleshlight review.
Obviously the fact that the opening is a perfect replica of Janice Griffith's own vagina is a massive selling point.
We particularly like the fact the Eden Fleshlight sleeve starts with a moderate amount of stimulation which gradually increases. This creates a huge amount of anticipation and a thoroughly intense climax.
There is also the fact that the Janice Griffith Fleshlight dries quickly after cleaning. This means you will not have to leave it out in the open for that long after cleaning.
What We Do Not Like About The Janice Griffith Fleshlight
There is not a lot that we can complain about with the Eden Fleshlight sleeve. If we had to pick fault we would really like to see the final chamber being that little bit easier to clean. However we do realise that there is a trade-off between intense stimulation and cleaning ability. We would rather spend a little extra time cleaning than sacrifice the level of intense stimulation.
Overall
Overall, the Janice Griffith Fleshlight featuring the Eden Fleshlight sleeve is an exceptionally good male sex toy.  It offers a good amount of varied stimulation ranging from mild to intense, something we really enjoyed through our Janice Griffith Fleshlight review process.
It is moulded from the very body of Janice Griffith, comes with a discreet storage case, and produces an intensely extreme climax. What is not to love?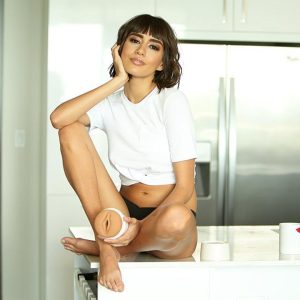 See more Fleshlight Girls here.