Our Kendra Sunderland Fleshlight review takes a tried and tested look at the signature product of the popular pornstar.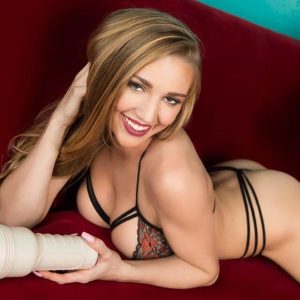 This Kendra Sunderland Fleshlight is part of the best selling Fleshlight Girls range. The big questions are – does this product live up to others in the range and should you buy the Kendra Sunderland Fleshlight.
Kendra Sunderland Fleshlight Review – Quick Look
The Kendra Sunderland Fleshlight features an opening moulded from this popular adult film actress. This is an opening which is a 100% replica of her vagina.
This male masturbator uses the Angel Fleshlight sleeve which is made up from different chambers each with their own unique texture and form of stimulation.
It also comes with the trademark plastic case for discreet and easy storage.

| | |
| --- | --- |
| Fleshlight Sleeve | Angel |
| Stimulation | ★★★★☆☆ |
| Tightness | ★★★☆☆☆ |
| Suction Effect | ★★★★★☆ |
| Realism | ★★★★☆☆ |
| Cleaning | ★★★☆☆☆ |
| Overall | ★★★★☆☆ |
Chamber One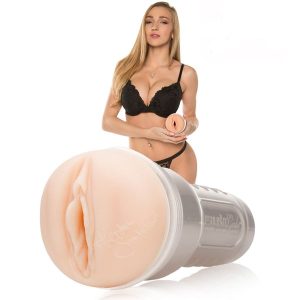 The first chamber of the Angel Fleshlight sleeve waists no time delivering an intense level of stimulation. This chamber has a texture made up from a thick string like rib which is creates a corkscrew pattern around the walls of the sleeve.
As you move in and out of chamber one the texture creates a slight pulsating effect as well as a twisting sensation. The sensation which is created is very much as you would expect should you have a woman sat on you rotating her hips as you move in and out of her.
Just how enjoyable this first chamber actually is really needs to be experienced to be believed.
Chamber Two
Chamber two offers a slightly reduced level of stimulation compared to the first chamber. It is however somewhat tighter than the first chamber. This tightness is usually applied near the base of the penis which is a great help when it comes to controlling your climax.
The texture of this chamber is made up from small circular nubs. It is difficult to say exactly what form of stimulation this chamber is hoping to deliver. When using the Angel Fleshlight sleeve we failed to notice these nubs having any effect. However, the tightness of this chamber does help create a firmer erection.
Chamber Three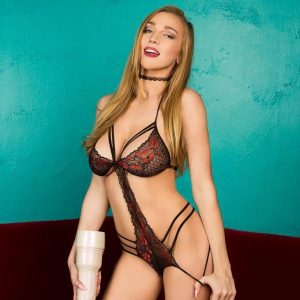 The third chamber returns to a form of twisting stimulation although not as intensely as the first chamber. While chamber one feels like a very fast twisting sensation this third chamber feels much slower and gentler and in the opposite direction.
The fact chamber one and chamber three move in alternative directions greatly increases the feeling of having a real woman on top of you rotating her hips as she moves up and down on you.
Chamber Four
Two textures make up the fourth chamber of the Kendra Sunderland Fleshlight. The chamber starts with a simple smooth texture which strokes the penis as you move through it.
Small tic-tac shaped nubs line the forth chamber from the half way point.. These nubs look like they should generate an interesting form of stimulation but in use they simply feel tight around the penis. This, as you would imagine, is quite pleasurable.
Chamber Five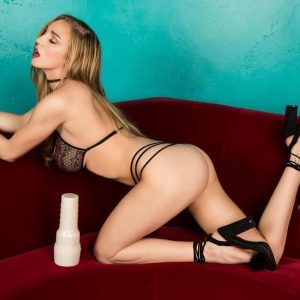 The fifth and final chamber is the tightest part of the Kendra Sunderland Fleshlight. Lined with long and thick fins which run lengthways along the Angel Fleshlight sleeve this final chamber gently squeezes the most sensitive part of the penis.
Small ball shaped nubs line the long fins found in this final chamber. These ball shaped nubs generate a gentle tingling sensation which feels amazing and deliver an exceptional climax. This climax really has to be experienced to be believed.
Cleaning
Cleaning the Kendra Sunderland Fleshlight is relatively easy. The only real place you are likely to have to pay attention to is the first chamber. This is simply because the texture provides plenty of places for lube to become lodged.
Using warm water, Fleshlight Wash, and a finger should be all you need to quickly clean the Angel Fleshlight sleeve. We found that it dried quickly after cleaning which means it can be put away quickly.
What We Like About the Kendra Sunderland Fleshlight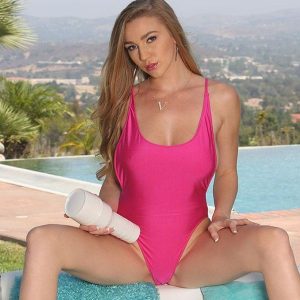 Any fan of Kendra Sunderland will see the fact it is a perfect replica of her own vagina as a massive selling point.
What we personally liked about the Angel Fleshlight sleeve was the twisting motions created by the first and third chambers. These two chambers really do deliver a highly enjoyable form of stimulation.
We also really liked the final chamber. Applying pressure and generating a tingling sensation to the tip of the penis feels incredible and delivers a highly intense climax.
What We Do Not Like About the Kendra Sunderland Fleshlight
The main criticism we have about the Kendra Sunderland Fleshlight is some of the textures are a little pointless. Clearly, they are supposed to deliver a unique form of stimulation but chamber two and four would probably offer a better form of stimulation had they been smooth.
Overall
Having used the Angel Fleshlight sleeve for several weeks we found it to be a highly enjoyable male masturbator. In fact our Kendra Sunderland Fleshlight Review was an experience we would happily repeat over and over. Overall, the stimulation and texture really can't be considered unique but the the final chamber offers a mind blowing climax that you will never get tired of.
The Kendra Sunderland Fleshlight is certainly a male sexy toy you should buy if you are a fan of the actress. It is also a must have male sex toy for anyone looking for a highly intense climax. Throughout our Kendra Sunderland Fleshlight review we were blown away with the intensity of each and every climax.
See more Fleshlight Girls here.