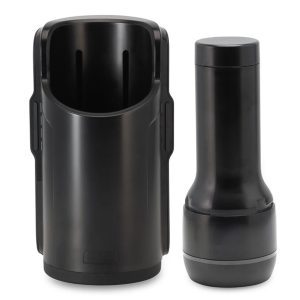 One of the very best sex toys for men is the amazing Keon by Kiiroo. This is an interactive male sex toy that takes the hard work out of masturbation and more.
Keon By Kiiroo – Sex Toy of the Day
Imagine a male stroker where you can simply sit back and enjoy the pleasure. That is exactly what the Keon by Kiiroo does.
It can be controlled several ways. Firstly it can be controlled using buttons located on the side of the unit. These buttons control the speed and length of the strokes. It can also be controlled using an app that is installed on a smartphone. The app can be installed on your own smartphone or your partners smartphone.
What really makes this interactive sex toy so amazing is that it can be synced with adult videos. This allows you to watch pornographic movies and feel what you are watching. If that does not sound appealing enough this toy can also be synced with virtual reality porn. That means you can experience what it is like to have sex with your favorite pornstars physically and visually. You really will be blown away at how immersive virtual reality porn is when it it combined with the Keon. One thing for sure is you will never look at pornography the same again.
You can check the very best price for the Kiiroo Keon by clicking here.
Check out more awesome stuff here.