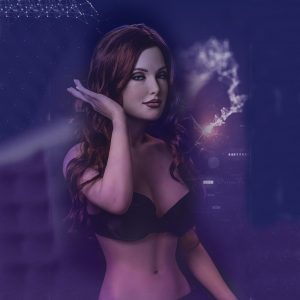 Todays sex toy of the day is the beautiful Serenity X sex doll. This is a creation from RealDoll and happens to be the most advanced artificially intelligent sex doll robots in the world.
Serenity X Sex Doll
The Serenity X sex doll is part of the RealDoll X range. This range of sex dolls are actually sex robots. They are capable of responding to your touch, remembering things you tell them, and holding conversations. The head of the dolls in this range are full animatronic making them the most lifelike and realistic sex dolls in the world.
This beautiful luxury sex doll stands a petite 4 feet, 10 inches tall ad weighs a little less than 60lbs. At this weight this luxury sex doll is heavy enough to feel like a real woman when in use. On the other hand she is also exceptionally easy to move around and position in poses.
This doll has the most perfectly formed C-Cup breasts which feel every last inch as realistic as they look. She has a 32 inch chest combined with a 22 inch waist and 32 inch hips. These body measurements give her the most perfectly toned feminine hourglass figure.
This doll can wear clothing sized between XXS and S and, for those who love beautiful feet, she can wear size 6 shoes.
Check the very best price for this robot sex doll by clicking here.
Check out more cool stuff here.