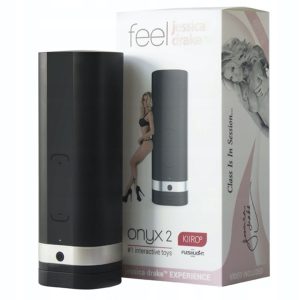 A few weeks ago I cannot begin to tell you ow excited I was to finally get my hands on the Kiiroo Onyx +. Having used it for a few weeks now it seems like the perfect time to bring you this Kiiroo Onyx+ review.  Hopefully this will help you decide if this high tech male sex toy is something you want to buy and does it live up to the hype?
Kiiroo Onyx+ Review – Kiiroo Onyx 2 Quick Look
This Kiiroo Onyx + review looks at the successor to the original Onyx masturbator. According to Kiiroo this new and updated version offers many improvements over the original. It is claimed it is now faster, quieter, and longer-lasting than the original.
At first glance the Kiiroo Onyx +, it is also known as the Kiiroo Onyx 2, appears to be in direct competition with the likes of the Fleshlight Launch. It is certainly not a cheap sex toy but it is comparable to the likes of the Fleshlight Launch. The main questions are – should I buy the Kiiroo Onyx + and is it any good?
Kiiroo Onyx+ Review – Experience
The bottom line is that when I first decided to do this Kiiroo Onyx + review, in fact when I first knew I was getting my hands on the device, it was always going to be compared to the Fleshlight Launch. After all the Launch is pretty much the best teledildonic device around at the time of writing. So, how does the Onyx + compare?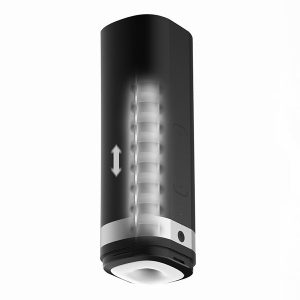 Well, to be completely honest when the Onyx + or Onyx 2 is compared to the Launch it is a a mixed bag. There are things the Launch has in its favor and things the Onyx + has in its favor. I must point out that if there was nothing to compare the Onyx + with it would have been the best thing in the world next to getting a night alone with your favorite Hollywood actress.
Overall the experience of using the Onyx + is very good and very enjoyable. It can be used as a stand alone device or it can be connected up to your smartphone or tablet. Once connect to your smartphone it will then replicate the action you see on the screen. This makes the Onyx + a truly fantastic device to own if you enjoy adult movie. It really comes into its own, just like the Fleshlight Launch, when it is used alongside a virtual reality porn movie. You will be amazed how much more immersive VR porn becomes when using the Onyx+
While the Fleshlight Launch moves the entire sleeve up and down on the penis to create the stimulation the Onyx + takes a different approach. The internal sleeve of the Onyx + is very much like a Fleshlight. But rather than moving the sleeve up and down on the penis the Onyx uses a combination of ten rings that move up and down the penis to create the stimulation.
In my opinion these rings work exceptionally well. I would say the Fleshlight Launch feels more realistic when it is replicating deep thrusting. However, the Onyx + feels like it is much better at replicating every minor detail of the action that is on screen. Basically, when the action heats up on screen the Fleshlight Launch is the so much better. The Onyx + cannot not compete in this area.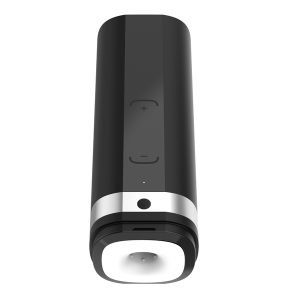 The Onyx + becomes superior if you are looking for every minor detail being replicated. You feel very much like you are inside a real woman as you can feel every last thing. You really have to experience this device to truly appreciate just how realistic this sex toy feels.
In my honest opinion, if your budget allows it, I would advice buying both the Kiiroo Onyx + and the Fleshlight Launch. I use the Kiiroo Onyx + with my VR headset. Then when things start heating up towards a climax I switch to the Fleshlight Launch. This really is a winning combination.
If I had to choose between the two what gives the Kiiroo Onyx + the edge is how detailed the experience feels combined with how small it is compared to the Launch.
Kiiroo Onyx + Review – Design
I wish I did not have to keep comparing devices in this Kiiroo Onyx + review but the fact it is in direct competition with the Fleshlight Launch makes it impossible not to. When it comes to the design of the two devices there really is no comparison. The Onyx + easily wins when it comes to design. It is smaller, easier to handle, looks better, and is easier to use than Launch. It measures about 26cm long. For me this is a huge advantage and something that makes the Onyx + such a hugely desirable and practical product.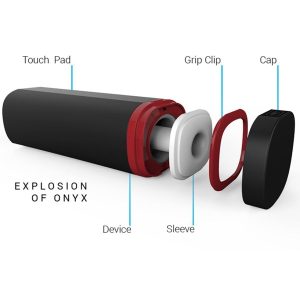 The Kiiroo Onyx + is a tiny as far as such devices go. Well, it is not really tiny but it is tiny when you compare it to any competitors. The casing is black and looks remarkably sleek. It certainly does not look like a sex toy should anyone come across it. Unlike the Fleshlight Launch which looks like something you could use to drill for oil.
All the buttons and controls on the Onyx + are well positioned and within easy reach. It is easy to control, something that is very important with these devices. After all who wants to be right in the middle of such an activity and find themselves struggling to control their toy.
The bottom line is that if design and ease of use is important to you the Kiiroo Onyx + is one of the very best devices available. I really am genuinely struggling to think of any other toy that comes anywhere close to this.
Kiiroo Onyx + Review – Features
The Kiiroo Onyx + can be operated in several different modes. Firstly it can be turned on and it will automatically begin stimulating you using the ten rings which move around. This is what is called manual mode where you can control the speed at which the rings move up and down the penis.
The second mode the Onyx + is the most fun and the very reason I was so excited to get my hands on this device. Syncing this device up with a smartphone or tablet allows you to watch your favorite adult movies with the Onyx + replicating what is happening on the screen. This is a truly fantastic feature which is made even better when you use it with virtual reality porn. I cannot begin to tell you how amazing virtual reality porn is when you can feel what the porn star is doing to you.
There is also a third mode that the Onyx + can be operated in. This mode allows the Onyx + to be connected to your partners compatible Kiiroo device or smartphone. I must admit this is yet another feature which makes this toy worth buying. Regardless of where your partner is in the world as long as they have an internet connection your toy will sync with theirs. This really is a truly wonderful feature which is ideal when couples are apart. The Onyx + can also be controlled by your smartphone or your partners smartphone.
Battery
If you are anything like me then you will hate any kind of gadget that requires batteries to be replaced. The good news in this Kiiroo Onyx + review is that it is equipped with a rechargeable battery. This battery can be charged using a micro USB cable which plugs into a port that is covered by a water resistant cap. It is important that I point out this toy is not waterproof. It is water resistant but you cannot submerge it in water.
Over the time I have owned the Onyx + I found its battery could be charged in as little as two or three hours. A full charge will last around an hour if it is used continuously. This is around the same amount of power provided by the Fleshlight Launch.
In my truly honest opinion I never managed to drain the battery in one sitting. I would however recommend you charge the unit after each use. After all you do not want to run out of power when you are in the middle of using it.
Sleeve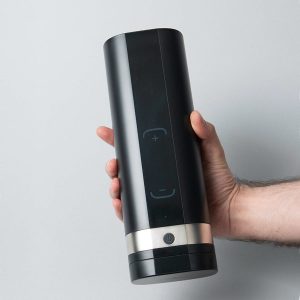 The Kiiroo Onyx + uses what is called a FeelPornStars sleeve which can be removed for cleaning. This sleeve can also be changed for another sleeve which can be purchased separately. At the time of writing this Kiiroo Onyx + review there are several sleeves available which are supposed to replicate a specific pornstars vagina. So far there is a Lisa Ann sleeve, a Jessica Drake sleeve, a Asa Akira sleeve, and a Romi Rain sleeve. There are whispers that more pornstars will be getting their own sleeve in the near future.
The most important question is – what do these sleeves feel like? Are they as lifelike and realistic as a Fleshlight?
The simple answer is – the FeelPornStars sleeves feel remarkably lifelike and realistic. In fact it is fair to say these sleeves feel very much like a Fleshlight sleeve. The material feels a little on the sticky side when not in use. However, once you apply lubrication to the sleeve you will swear you are inside a real vaginal. In fact I would certainly challenge anyone to tell the difference between the sleeve in this toy and real vagina. It really is that good.
Kiiroo Onyx + Review – Overall
In conclusion to this Kiiroo Onyx + review I honestly cannot recommend it enough. I would most certainly buy it again if I could go back in time. The fact it is smaller, lighter, and sleeker than the Fleshlight Launch, for me personally, means I would actually choose to buy this over the Launch. Adter all who wants a sex toy that is big and bulky.
Yes, the Launch offers a better experience when the action heats up if you are using it with a virtual reality system. With that said, overall the Onyx + wins without any doubt. It is fair to say that my Kiiroo Onyx + is actually the best sex toy that I own.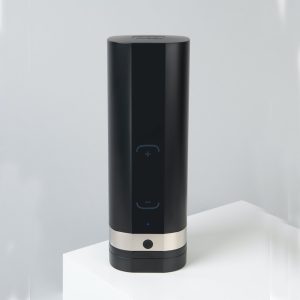 See more reviews here.