Our Laila 2.0 RealDoll review takes a tried and test look at this highly realistic, high end sex doll and asks – is it worth the money?
Check out the best price for the Laila 2.0 RealDoll sex doll by clicking here.
Laila 2.0 RealDoll Review – Quick Look
Before we jump into this Laila 2.0 RealDoll review let us take a closer look at this sex doll.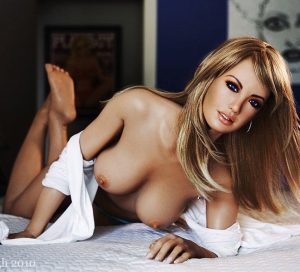 Laila 2.0 is a preconfigured sex doll that has been designed and manufactured by RealDoll. It is hardly any surprise that this doll is so highly realistic. After all RealDoll have a solid reputation for producing the most lifelike high end sex dolls available. It is fair to say there were times throughout this Laila 2.0 RealDoll review I found myself looking at her struggling to believe she was only a sex doll.
She has a look about her making her look like the perfect MILF or trophy wife. If you are looking for a sex doll that has a MILF look to her she is exactly what you are looking for.
Website and Ordering
The first thing I want to mention in this Laila 2.0 RealDoll review is the company website and ordering process. For me personally, and I am sure many of you are the same, when I make an online purchase I want things to be as simple as possible. The good news is the RealDoll website could not be any easier to use. From start to finish I found the site easy to navigate and buy from.
It is easy to select this doll from the online catalogue which takes you to the product page. On this product page you are presented with all the information you need about the doll along with a wide range of high resolution photos. There is also the option of customizing the doll in pretty much any way that you desire. For me I wanted to buy this doll in her preconfigured form so a simple press of the 'add to cart' button and then off to the checkout page.
The checkout page could, like everything else, could not be easier. It is a simple case of adding your details and choosing a payment method. RealDoll accepts payments from major credit cards such as MasterCard, Visa, America Express, and Maestro. They also accept payment from PayPal and bank transfer.
Shipping Delivery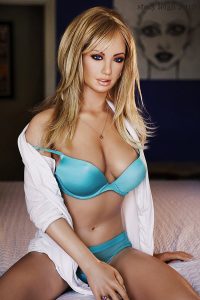 If you are anything like me you will undoubtedly worried about confidentiality. The last thing anyone would want, myself included, would be a large box turning up at my front door with any indication as to what was inside. I am pleased to say with RealDoll there really is no reason to worry. This company appears to take customer privacy extremely seriously which is good news.
My credit card statement gave no indication that I had spent the money on a sex doll. Then, when my doll arrived at my door I it was securely packed with no indication as to what was inside the delivery.
However, there are several things that were not perfect with the delivery. Firstly, if you live in the USA, you can expect to pay at least $500 for handling and shipping. The cost of handling and shipping is considerably more if you live outside the USA.
Secondly, delivery is to the curbside only, not to your front door. With this in mind it is advisable to have a helping hand when you have an exact date for delivery.
It is worth pointing out here that it is possible to contact RealDoll and ask for a quote to have your doll delivered to your door. As with everything in life this service costs that little bit more. The truth is if you are lucky enough to be able to afford such a beautiful high end sex doll then such delivery costs are unlikely to be an issue. At least you can rest easy knowing your doll will be well looked after on its journey from the factory to your home.
Measurements
Laila 2.0, when stood up, is a somewhat petite sex doll standing at 5 feet 3 inches tall. She weighs somewhere between 70 and 75 lbs which, in my opinion, makes for a perfect weight for a sex doll. She is heavy enough to feel just like a real woman when in use but light enough to move around without any major difficulties.
Her breasts are an ample C-Cup combined with a 33 inch underbust, a 24 inch waist, and 35 inch hips. This gives Laila 2.0 a very sexy and feminine figure that is well toned and a delight to look at.
Skull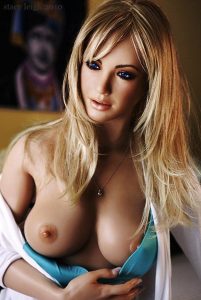 The Laila 2.0 sex doll uses what RealDoll call the Face X system. This is one of the first things that appealed to me about a RealDoll.
It is possible to buy additional faces for any RealDoll that you buy. This allows you to buy one sex doll body and multiple faces giving you the feeling that you have several sex dolls in one.
It is worth noting that while all faces are compatible with all body types certain faces look better with certain bodies.
There is also the option of purchasing additional hair pieces and eyes. Both can be easily changed to give your doll a totally different appearance.
The preconfigured option in this sex doll are blue eyes which really do look stunning. Her hair is long straight, and blonde.
Skin
The skin on this doll is made from a very high quality silicone. The fact the Laila 2.0 sex doll uses silicone for skin means the doll looks and feels just like a real woman.
The attention to detail when the doll has been painted is nothing short of amazing. Every last detail about this doll has you looking and struggling to believe she is not a real living woman. The tones of her skin, her lips, her eyes, every last inch of her is manufactured to the very highest of standards. When you actually see a RealDoll in person the price tag really does become fully justifiable. These dolls are quite literally a real work of art.
Removable Vagina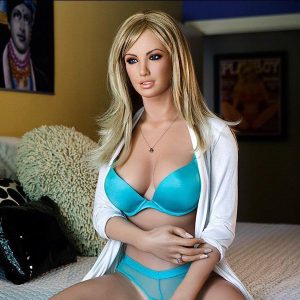 One attribute of this sex doll that has proven itself to be invaluable is the removable vagina. I have used sex dolls in the past which have used a fixed vagina. Such dolls have always proven themselves exceptionally difficult to clean after use. The fact the vagina can be removed from this RealDoll makes cleaning so much easier.
When I first realised this RealDoll was fitted with a removable vagina I was a little concerned. I worried as to whether there would be visible joins where the vagina met with the doll's body. I also worried if it the vagina would remain firmly in place when in use. When I received my Laila 2.0 sex doll this was the first thing I checked out. It is pretty much impossible to see where the join between the vagina meets the body. It also stays firmly in place during use.
What is it Like to Have Sex With Laila 2.0?
The whole point of a sex doll is that it not only looks like a real woman but that it feels like a real woman. It is easy to see just from photographs that the Laila 2.0 sex doll looks remarkably lifelike. You will certainly be blown away when you see her in person just like I was.
The first time I had sex with this doll for this Laila 2.0 RealDoll review I must confess I was excited. I was obviously attracted to her which was the very reason I bought her in the first place. Sex with her created the very same level of excitement and anticipation as sex with any real beautiful woman.
Her skin feels very much like that of a real woman which which makes the experience feel all the more real. Her buttocks and breasts are very much indistinguishable from the real thing. You really could not ask for a more realistic feel to a doll. Just what you would expect from a high end sex doll.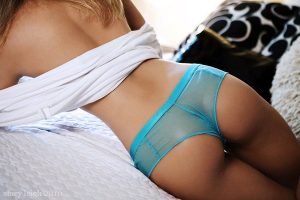 When it comes to actually penetrating this sex doll you will need to use a suitable lubricant. Sadly, technology allowing a sex doll to self-lubricate is not in existence yet. Unless you want to badly chafe while having sex with Laila you will have to have a ready supply of lubrication. Once you have that in place you will not be able to tell the difference between this sex doll and a real woman. Both inside and outside the vagina and anal opening feel exactly as they should to the touch and when in use.
The mouth on the other hand does not offer the same level of realism. Yes, the mouth does offer you oral sex which feels like the real thing if you happened to be thrusting into a woman's mouth. However, there is no sensation of sucking which reduces the sense of realism.
What I Like About the Laila 2.0 RealDoll
From a personal stand point the most obvious thing I love about this sexy doll is her looks. I personally find her a highly attractive and very sexy girl. The fact she looks so realistic fuels this attraction along with being something else I truly love about this doll.
I truly love that Laila, as with all RealDolls, can be customized. The fact you can easily change her face, hair, and eyes makes it feel very much like you own several dolls for the price of one. Yes, there are other sex doll manufacturers that offer such cusomizations but none do it as well as RealDoll.
Finally, I truly love that she has a trophy wife and MILF look about her. She is so sexy in that way.
What I Do Not Like About the Laila 2.0 RealDoll
There really is very little that I do not like about the Laila 2.0 RealDoll. The very few things I do not like or would improve are not necessarily the fault of RealDoll.
The first and most obvious thing I do not like is the overall price of this sex doll. With that said now I own the doll I am the first to admit it has been worth every last penny. I have owned various other sex dolls and none come close to this. Hands down this is the most realistic and most high end sex doll I have ever seen.
I would liked to have the cost of shipping included in the price but as the saying goes – there is no such thing as a free lunch.
Other things I have complained about through this Laila 2.0 RealDoll review is very much down to sex doll technology not being advanced enough yet. Hopefully self lubricating, self warming, and animatronic sex dolls will be around in the not so distant future.
Conclusion
In conclusion to this Laila 2.0 RealDoll review the bottom line is this is a sex doll I would highly recommend. In fact the quality and buying experience of this doll, alone with the value, leads me to stating I would actually highly recommend any sex doll manufactured by this company. There really is no other sex doll manufacturer that comes close to products from this company.