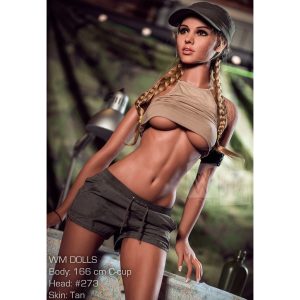 While not officially a real Lara Croft doll our Lara Croft sex doll review takes a look at the closest we are ever likely to get to a product based on the legendary Tomb Raider character. Complete with large breasts, athletic looking body, and plated pigtails it is hard to deny that this is an exceptionally close match to a real Lara Croft sex doll. The great thing with this doll is that you can dress this Lara Croft sex doll in her official Tomb Raider costume or as any other fantasy you may have.
Lara Croft Sex Doll Review
With so many dolls available to buy it can be difficult to know whether a certain product is everything that it claims to be. It is also difficult to know whether or not if a specific doll will live up to your own personal fantasies. Since any decent doll is far from cheap our Lara Croft sex doll review and guide will hopefully help you decide – Should I buy the Lara Croft sex doll?
| | |
| --- | --- |
| Height | 5 feet 5 inches (166 cm) |
| Weight | 73 lbs (33 kg) |
| Breast Size | C-Cup |
| Chest Size | 32 Inches |
| Waist Size | 20 Inches |
| Hips Size | 33 Inches |
| Vaginal Depth | 6.7 Inches |
| Oral Depth | 5.1 Inches |
| Anal Depth | 6.7 Inches |
| Material | TPE |
| Manufacturer | WM Doll |
Highly Realistic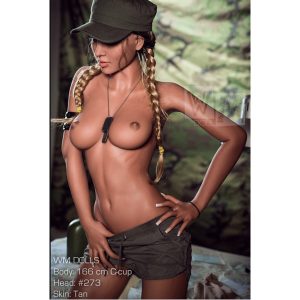 The first thing that you notice when you look at this doll is just how realistic and lifelike she looks. Her beautiful facial features, hair, lips, eyes, even her skin tone looks very much like a real woman. It is not uncommon for sex dolls to look like dolls but in this case it is clear to see that a lot of care and attention has went into her creation.
When we first set eyes on her we could not believe how realistic her tan skin looked and felt. It is not just her skin tone that makes her look so amazingly realistic. Her body has been perfectly sculpted to look both feminine and highly athletic. You can even make out a very slight hint of her abdominal muscles across her well toned stomach.
Her breasts, vagina and anus are also highly realistic, very much like the real thing. In fact it is fair to say her breasts could be among the most perfect we have ever seen on a sex doll. Certainly the very best we have seen on a sex doll in this price range.
What will strike you the most about this doll is her stunningly attractive facial features and hypnotically seductive eyes. You will swear you are looking at a real woman when you come face to face with this doll.
Measurements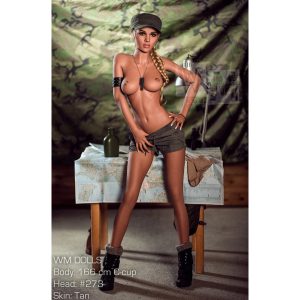 What really adds to the realism and lifelike appearance of the Lara Croft sex doll is her measurements.
She stands 5 feet 5 inches tall which really portrays the feeling that you are spending time with a real woman. Her body is remarkably sexy and highly feminine in its appearance.
Her highly realistic looking and feeling breasts are an elegant C-cup which look nothing short of perfect on her body. She has a 32 inch chest with a 20 inch waist, and 33 inch hips. This gives her sexy athletic shape coupled with a womanly curved hourglass shape. You really could not ask for a sexier body on a woman especially if you love the look of an athletic woman.
The Lara Croft sex doll is also a superb choice of doll for anyone who has a secret foot fetish or loves the look of women's legs. This doll has highly realistic feet and long slender legs which you will never tire of looking at or stroking.
She weighs 73 lbs which is obviously somewhat lighter than the weight of a real woman. However, this weight is enough to feel highly realistic while still being light enough to move around and position with ease.
Skin Manufactured from TPE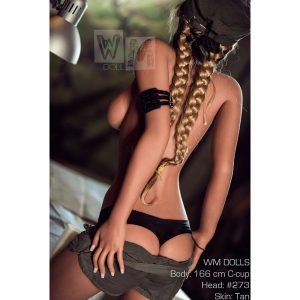 The Lara Croft sex doll features a skin which is manufactured from high quality TPE (Thermoplastic Elastomer) rather than silicone.
For a long time silicone was the most popular choice of material for sex doll skin. Silicone is a robust material that can be made to look and feel like human skin making it the perfect choice for sex dolls.
However, in recent years dolls with TPE skin have gained popularity. TPE is similar to silicone in many ways. It can be moulded to look and feel just like real skin and it has one huge advantage over silicone. This advantage is the price.
TPE material is substantially cheaper than silicone which means a doll finished with TPE will cost substantially less than a silicone doll. There is also the fact the manufacturing cost of a TPE doll is also a lot cheaper than with silicone. Whichever way you look at it a TPE sex doll is always going to work out cheaper with little difference in the way of quality or realism.
Apart from the cost it is difficult to say whether TPE or silicone is the best material for a sex doll. Much of what is said about each material is nothing more than a matter of opinion. It is worth pointing out that silicone is slightly more durable than TPE. TPE on the other hand tends to feel more realistic than silicone.
Fully Positionable Metal Skeleton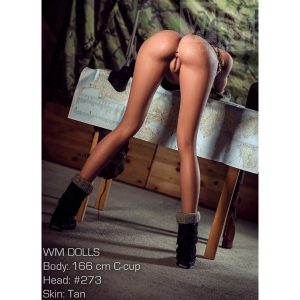 Like most sex dolls the Lara Croft sex doll is constructed using a lightweight steel skeleton. The Lara Croft sex doll features a skeleton which features all the movable joints of a real skeleton. This makes her fully positionable into any pose you could possibly imagine.
The fully positionable skeleton means that, not only can you position the Lara Croft sex doll in any pose you desire, you can have sex with her in any position imaginable. And she will never refuse which is the great thing about these dolls.
With this celebrity sex doll you will be able to have sex with her in the simple missionary position, bent over a table doggy style, with her legs over her head, reverse cowgirl style, even with her sat on top of you. There is quite literally no sex position that you can not perform with this celebrity sex doll. How amazing is that?
Provides All Forms of Sex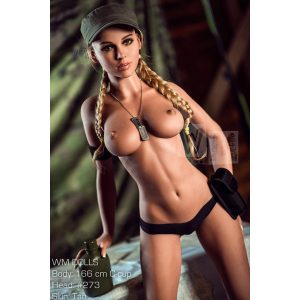 Possibly the greatest thing about sex dolls is that they are always willing, never have a headache, and never say no. They are, quite literally, willing to do absolutely anything in any position.
The Lara Croft sex doll has the ability to provide you with vaginal, oral, and anal sex. She has a highly realistic vagina which is anatomically correct and looks just as real as the rest of this superb doll. With a depth of 6.7 inches her vagina feels remarkably like the real thing. So much so you will swear you are inside a real woman.
She also has a mouth with a depth of 5.1 inches capable of giving you oral sex and an anus with a depth of 6.7 inches which can provide a highly realistic and tight anal sex experience.
Customizations and Options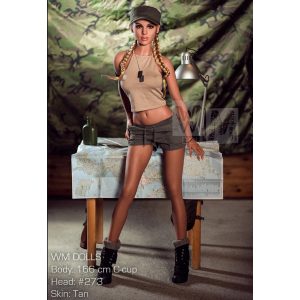 The Lara Croft sex doll offers plenty of customizations should there be any part of her you care to change. Personally we feel that this doll is perfect in her standard form although we would suggest considering changing her hair from blonde to brunette like the video game character.
It is also possible to change skin tone of the Lara Croft sex doll. There is a range of skin tones to choose from which include white, fair, pink, natural, tan, brown, and black. There is also the option of selecting her eye color from the blue, brown, and green. You can also choose wether or not your Lara Croft sex doll should have pubic hair or be completely smooth.
An option we would most certainly recommend is the optional feet upgrade. As standard, like most dolls, the Lara Croft sex doll cannot stand on her own without the need of support. By choosing to upgrade her feet allows her to stand without the need for any form of external support. When you consider the cheap cost of the upgraded feet it would be a sin not to include this. The upgraded feet greatly increases the poses she can be positioned in as well as offering even more positions for you to have sex with her.
We would also highly recommend that you consider a sex doll specific case. Not only will this protect your doll when it is not in use but keep it out of sight and discretely hidden.
Quality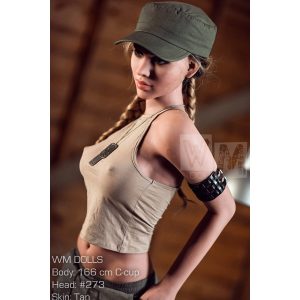 Something that is undoubtedly important to anyone buying a sex doll is the quality. The great news is that the Lara Croft sex doll is an exceptionally high standard of quality in every way possible.
We have been lucky enough to be using the Lara Croft sex doll for over a month now and have had no issues whatsoever. The lightweight steel skeleton and its joints have shown no sign of becoming loose and the skin looks just as it did upon delivery.
The attention to detail is also of an exceptionally high quality. Every body part is perfectly proportioned and the level of care that has went into creating a highly realistic skin tone and looks is nothing short of incredible.
We would certainly give the Lara Croft sex doll a gold star rating in terms of quality.
Price and Value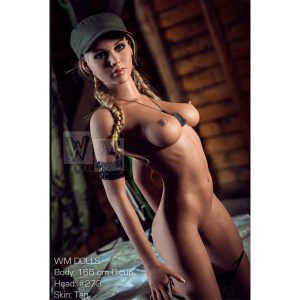 Like any decent sex doll the Lara Croft sex doll is not a product that you would consider cheap. However this is most certainly a cheap product as far as sex dolls go. If you consider some dolls can cost upwards of $10,000 this doll, at a fraction of that price, is exceptionally well priced.
In fact we would go as far to say the Lara Croft sex doll, despite its fantastic price, is as good, if not better, than many of the highly expensive dolls that we have seen and used.
Overall, the Lara Croft sex doll is fantastic value for money. Possibly even the best value sex doll that we have ever seen.
What We Like About the Lara Croft Sex Doll
There really is far too much that we love about the Lara Croft sex doll to list.
What really stands out is just how real and lifelike she looks. The attention to detail that has went into creating her lifelike skin, facial features, and body is stunning. We really love that she is fully positionable and can provide you with all forms of sexual intercourse. There is also the fact you can customize her appearance to your own liking at the point of purchase.
What We Do Not Like About the Lara Croft Sex Doll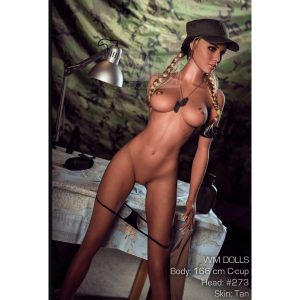 There really is not that much we can say which is negative about the Lara Croft sex doll. She really is an excellent doll in every sense.
It would have been nice if the doll came with clothing but considering the excellent price it is difficult to complain to much. You can find the Tomb Raider clothing you will need for this doll here. It is also worth us pointing out the obvious and stating you can dress her in any outfit you desire and live out any fantasy you may have. Secretary, nurse, stockings, she looks so sexy in any outfit.
Overall
Overall the Lara Croft sex doll is a truly stunning creation. She looks and feels incredibly realistic, has highly attractive facial features, and a heavenly sexy body.
Capable of providing all forms of sex in any sexual position imaginable this is a male sex toy that will always be money well spent. The fact that she is sold at such an incredible price means she is a one of the very best value dolls we have seen while still being an exceptionally high quality.
We really can not recommend the Lara Croft sex doll enough.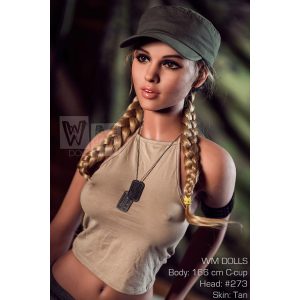 See more sex dolls here.