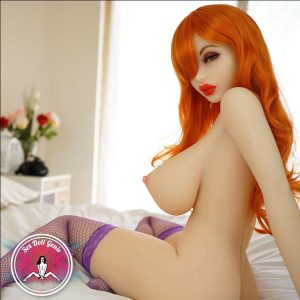 Our Jessica Rabbit sex doll review takes a tried and tested look at the doll based on the hugely popular animated sex character from, Who Framed Roger Rabbit. Despite being an animation the idea of a real life Jessica Rabbit has generated various porn videos including a Virtual Reality porn experience. Now, thanks to the Jessica Rabbit sex doll, you can live out the fantasy for yourself.
Jessica Rabbit Sex Doll Review
Here it is worth pointing out that the Jessica Rabbit sex doll is not officially a doll based on the character. It just so happens to bare a striking resemblance to her with the same body shape, facial features, makeup, and hair.
The more important question is – should I buy the Jessica Rabbit sex doll and is it any good. This Jessica Rabbit sex doll review will answer that very question.
| | |
| --- | --- |
| Height | 5 feet 0 inches (152 cm) |
| Weight | 68.34 lbs (31 kg) |
| Breast Size | K-Cup |
| Chest Size | 20.87 Inches |
| Waist Size | 17.72 Inches |
| Hips Size | 33.07 Inches |
| Vaginal Depth | 7.09 Inches |
| Oral Depth | 5.51 Inches |
| Anal Depth | 6.3 Inches |
| Material | TPE |
| Manufacturer | Piper Doll |
Highly Realistic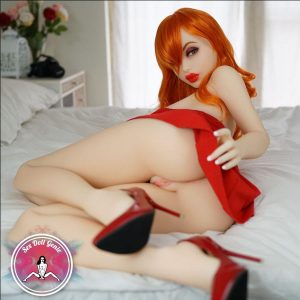 The first thing you notice when you look at the Jessica Rabbit sex doll is how realistic it looks. It not only looks remarkably like the character it actually looks very much like a real life version of the character. It does this while still managing to maintain the cartoon characteristics of the animated version which is impressive.
She has beautiful long red hair, alluringly seductive bright red lips and eyes that are exceptionally hypnotic. Even her eyeshadow makeup perfectly replicates that of the character in the movie.
Looking at this doll you cannot help but realise how much time has been spent making her skin realistic and lifelike. Her skin is quite pale but it looks and feels very much like that of a real woman. You will quite literally not believe how realistic the likes of her breasts, legs, vagina, and skin feel when you touch her.
Measurements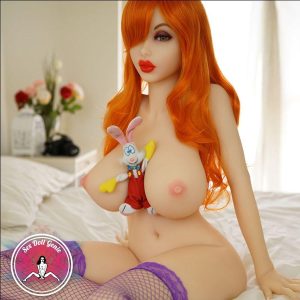 Standing only 5 feet tall this celebrity sex doll is one of the more petite dolls available.
Even though she is a petite sex doll she still boasts huge K-cup sized breasts. These breasts look and feel exceptionally realistic while been made to look even bigger thanks to her petite height and slender well toned body.
Her chest measures 20.87 inches combined with a 17.72 inch waist and 33.07 inch hips gives this doll a highly feminine and exceptionally attractive figure. You really could not hope for a sexy doll with a sexier hourglass figure. This is a body you will struggle to keep your hands and eyes from.
Weighing 68.3 lbs this sex doll is somewhat lighter than a real woman. However, this does not take anything away from how real she feels when in use. The weight actually feels heavy enough to feel like a real woman while still being light enough to move her around and position with relative ease.
If you happen to be a man who enjoys the look of a woman's legs or happens to have a secret foot fetish this could be a great choice of doll. Even though she is a petite doll her legs still measure 29.76 inches. Not only are her legs long they look and feel just like the real thing. She also has highly realistic feet which look fantastic bare, in high heels, or nylon stockings and pantyhose.
Manufactured from TPE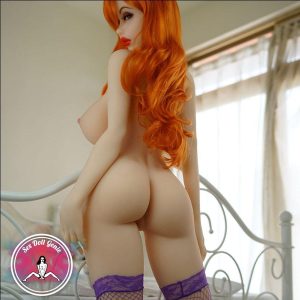 The Jessica Rabbit sex doll features a high quality TPE (Thermoplastic Elastomer) skin. For a long time silicone has been the preferred choice of material when it comes to making sex doll skin.
However, TPE is quickly becoming just as popular due to its realistic look and relatively cheap cost. Not only is TPE a cheaper material to use it is also cheaper to mould which reduces manufacturer costs. The end result is a highly realistic sex doll which is much cheaper than their silicone alternatives.
There are good and bad points when using both silicone and TPE so it is difficult to say if one is better than the other. Silicone certainly appears to be harder wearing but with the correct care a TPE doll will last just as long as silicone.
We personally feel that TPE has the edge over silicone due to the reduced costs with relatively little in the way of lost realism.
Fully Positionable Metal Skeleton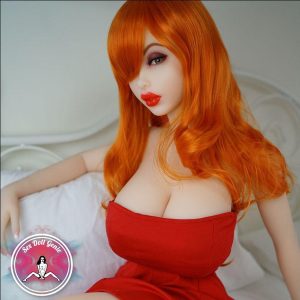 Like a real woman the Jessica Rabbit sex doll features a strong, fully movable skeleton. Unlike a real woman the Jessica Rabbit sex doll takes its shape because of a lightweight steel skeleton.
The steel skeleton of the Jessica Rabbit sex doll features the same joints found in a human skeleton. This make it possible to position her in any pose that a real woman could achieve. As a result she will always be willing and available to try any position that you can possibly imagine.
It also means that you can position her in any pose you wish should you care to spend time in her company or simply enjoy looking at her.
Provides All Forms of Sex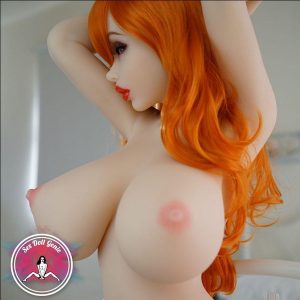 The Jessica Rabbit sex doll is quite capable of providing you with all forms of sexual intercourse. There is quite literally no act that she will ever refuse you. She is always willing to try any position, anal sex, or oral.
All her body parts look and feel just like a real woman. She has a vagina with a depth of 7.09 inches, an anus with a depth of 6.3 inches, and a mouth of 5.51 inches. We were amazed just how much each cavity felt like the real thing.
Quality
Having used the Jessica Rabbit sex doll for over a month we were amazed at the exceptional high quality. Her skin not only looks and feels lifelike it is also a very high quality. We threw all kinds of abuse at our Jessica Rabbit sex doll and she took it all without even blinking.
Her skeleton and joints are also of an exceptionally high quality. It is not uncommon for sex dolls with movable joints to suffer from problems as a result of moving the joints over and over. We feel like we never stopped putting her in different poses and positions yet we never experienced any issue with the joints. They continued to hold their position, never felt like they were becoming loose, and did not begin to make any noises.
We personally found all of the above a major selling point. After all when you are spending your hard earned money on a sex doll you want to know it will stand the test of time. The Jessica Rabbit sex doll certainly does that.
Free Customization
There are plenty of customizations you can make to the Jessica Rabbit sex doll should you choose. The great thing about this sex doll is that many of these customizations are free at the point of purchase. Not only does this add exceptional value for money it means you will wind up owning a doll which perfectly suits your individual fantasies.
Such free customization options include hair color, skin tone, finger nail color, lip color, areola size, toe nail color, labia color and vagina type.
If you are wanting a Jessica Rabbit sex doll that looks like actual character we would recommend leaving the hair and eye color the same. However, every other option is down to your own personal preferences.
We would certainly recommend choosing the removable vagina over the fixed version. The removable vagina makes cleaning so much easier.
Non-Free Customizations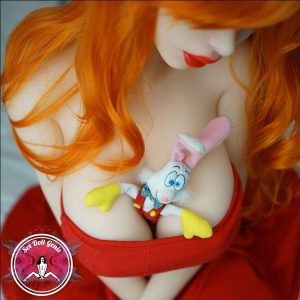 There are also several non-free customizations that you can choose when buying the Jessica Rabbit sex doll. These customizations include upgraded feet, an upgraded skeleton, pubic hair, texture of the vagina, and a storage case. There are several that we would highly recommend.
We would certainly recommend that you choose to upgrade the dolls feet and skeleton. The upgraded feet will allow your doll to stand on her own without the need for supports. We'd also highly recommend that you upgrade to the E.V.O. skeleton. The upgraded E.V.O. skeleton will allow your doll to be positioned in a squatting pose. This is obviously a position that is greatly desirable should you like the woman on top position.
The vagina texture is something we would also consider upgrading. This option allows you to choose the perfect internal texture to suit your own desired level of stimulation.
Finally we wold highly recommend that you buy a sex doll specific sex doll case. This will allow you to store your doll discretely without having to worry that she will be damaged, stained, or discovered by others who live in your household.
Price and Value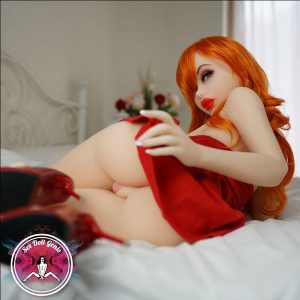 The Jessica Rabbit is certainly not what we would consider cheap. With that said when you consider that some sex dolls can cost more than $10,000 this product is a fraction of the price.
When you consider this doll is highly realistic, exceptionally high quality, looks just like Jessica Rabbit, and is a fraction of the price that some dolls cost it is hard to argue that she is exceptional value for money. There is also the fact that many of the customizations that can be made to this doll which adds to her overall value for money.
What We Like About the Jessica Rabbit Sex Doll
There is plenty to love about the Jessica Rabbit sex doll. It is not just that she looks like the character that we really love her.
We love how her creators have managed to combine the looks of a real woman with the cartoon characteristics of the character. There is also the high level of customizations that are available and the highly competitive price at which she is sold.
Finally we really love that she can be positioned in any pose or sexual position as well as offering every form of sex imaginable. What is not to love about that?
What We Do Not Like About the Jessica Rabbit Sex Doll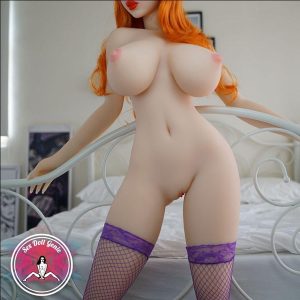 We have genuinely struggled to come up with anything that we do not love about the Jessica Rabbit sex doll. She really is that good a product.
On a personal level we would have liked her to be a little taller although we realise that her petite height will appeal to a lot of people.
There is also the fact that she is sold without any clothes included. You could, of course, consider this a positive as you can dress her as you choose.
You can buy a complete Jessica Rabbit costume for your doll here.
Overall
Overall the Jessica Rabbit sex doll is a truly fantastic sex toy that will not cost you the price of a car.
She looks and feels exceptionally lifelike, is capable of providing all forms of sex, is highly customziable, and looks just like the character from the movie.
The doll has highly attractive facial features and a smoking hot body. This is an excellently priced sex doll that will give you endless hours of enjoyment and will never tell you that she has a headache.
A sex doll we would highly recommend.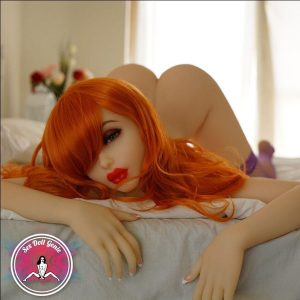 See more sex dolls here.