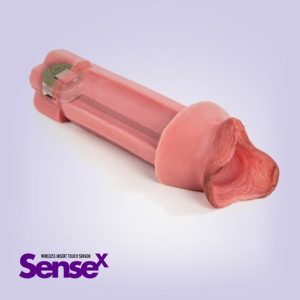 Just imagine how wonderful it would be if your sex doll could respond to your touch. Would that not be the most amazing thing? Well, the dream is now a reality as it is possible to upgrade your sex doll with the RealDoll SenseX Insert. This sex doll upgrade is the first step in making your doll interactive.
RealDoll SenseX Insert
The SenseX Insert is an electronic vagina insert for your RealDoll. This insert is paired using Bluetooth to the xMode app which is installed on your smartphone. The electronic vagina insert is able to detect touch and movement. Once touch or movement is detected the xMode app transmits audio feedback to any audio source that is paired to it. A paired audio source can be anything from a Bluetooth speaker, headphones, or a RealDoll X robotic head. The app is able to generate everything from mild arousal to a full blown orgasm. This will happen just like it would with a real woman.
The app can produce various different voices so you can choose the perfect one for you. The vagina insert is specifically designed to be used with the RealDoll X robotic head. Although you do not need a RealDoll X robotic head for this insert to work it really does take your sex doll to the next level. Just imagine how amazing it will be to play with your sex doll's vagina and have her become more and more aroused. Then imagine how much better this would be with a highly realistic motorized head. A head that is capable of different facial expressions, blinking, eye movements, and lips that move as she talks.
Check our more awesome stuff here.