When I was asked if I would like to do an Alexis Fawx Kiiroo stroker review I was more than a little excited. Regular readers will be aware I have had the pleasure of reviewing other products in the FeelStars range. A range of male sex toys that have featured signature products from some of the hottest names in the adult entertainment industry. However, none of them are quite as hot, as big, or as well known as Alexis Fawx.
Alexis Fawx Kiiroo Stroker Review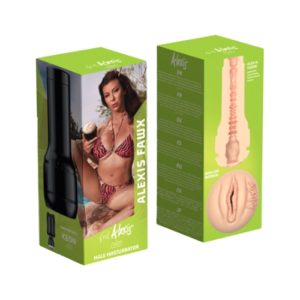 So, to start this Alexis Fawx Kiiroo stroker review let me explain exactly what it is. It is a male stroker or male masturbator. It looks and works very much like the world famous Fleshlight. It features a sleeve which is made to look and feel just like a real vagina. This sleeve is contained in a plastic tube which is designed to look like a flashlight.
Undoubtedly this male stroker's biggest selling point will be its vaginal opening. This opening has been molded from the body of Alexis Fawx. This means it looks and feels just like the woman herself. This is something that, in my opinion, will have huge appeal to her many fans all over the world. After all who would not jump at the chance of being inside this stunningly sexy adult film star.
The Alexis Fawx Kiiroo stoker is made up from five individual chambers. Each chamber has its own unique texture and form of stimulation.
Chamber One
The first chamber in this male stroker is the widest of all five. At first glance the walls of this chamber appear to be smooth. However, if you look closely or when you first use this stroker you realise there is a slight texture to the walls.
The walls feature a very light texture which gently twists around the sleeve. This generates a very mild twisting sensation which teases more than it stimulates. You will find this teasing will dramatically increase your level of arousal.
Chamber Two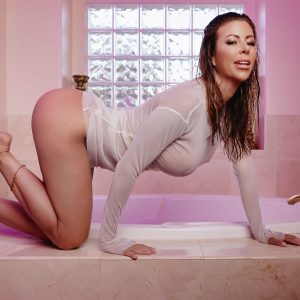 The very first thing you notice as you enter the second chamber is how tight it feels. This is mainly noticeable because the first chamber is so wide. Even so the sudden tightness combined with the teasing sensation of the first chamber makes you feel like you are about to climax at any given moment. Moving from chamber one through to chamber two is something that really has to be experienced to be truly believed. It as close to the excitement associated with your first time as you are ever likely to experience.
The walls of the second chamber are lined with a ribbed texture. This texture generates a pulsating sensation as you move through it.
Chamber Three
The third chamber is the shortest of this sleeve. It is every bit as tight as the second chamber and is lined with a very lifelike texture. The texture visually resembles a net and feels so much like the inside of a real vagina it is unreal.
Chamber Four
The forth chamber is lined with what can be best described as a ribbed texture. It could also be said the walls of this chamber very much resemble stairs. Just like the third chamber this texture delivers a pulsating effect. However you will find in this chamber the pulses are more intense and goes on for longer.
Chamber Five
The fifth and final chamber of this sleeve is lined with long ribs. These ribs run lengthways along the chamber. As you enter this final chamber you can feel the ribs squeezing the tip of the penis. Since this is the most sensitive part of the penis you will literally be amazed how heavenly this feels. It certainly enhances you climax in a way that, once again, really has to be experienced to be truly appreciated.
Kiiroo Keon Compatible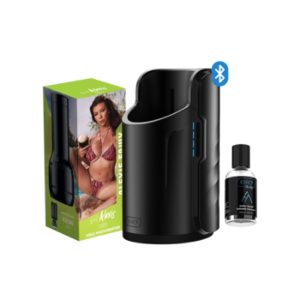 It would be easy to suggest that Kiiroo's FeelStar range of strokers are identical to their Fleshlight counterparts. The simple truth is there is one factor that makes Kiiroo stand head and shoulders above Fleshlight and other male stroker products. That factor is that Kiiroo strokers are the only male masturbators that are compatible with the Kiiroo Keon.
For those that do not know the Kiiroo Keon is an interactive male masturbator. A Kiiroo stroker is secured inside the Kiiroo Keon and it takes over doing all the work for you. The Keon can be controlled in several ways. This can be done by using buttons on the side of the unit, a smartphone app, or by syncing it to your favorite audult video. Yes, you read that correctly. The Kiiroo Keon can be synced to your favorite adult content. Just imagine being able to feel everything you see in your favorite scenes in real time.
To be totally honest one of the best things about this Alexis Fawx Kiiroo stroker review was using it with the Kiiroo Keon. When it is combined with Alexis Fawx virtual reality porn the result is quite literally mind blowing. Not only are you visually immersed in a virtual world where you are having sex with this porn star you can actually feel everything that you are seeing. The compatibility with the Keon makes this male stroker an absolutely essential male sex toy.
What I Like About the Alexis Fawx Kiiroo Stroker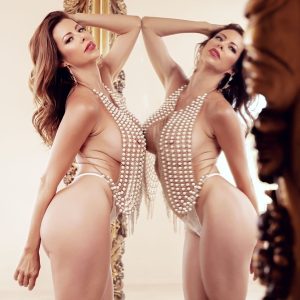 The most obvious thing that I loved about this stroker is how the opening is a perfect replica of Alexis Fawx. As a fan of this adult star I am more than sure this will be a huge selling point among her many fans over the world.
The overall experience was also something that I loved about this stroker. In particular I really did enjoy the teasing sensation of chamber one followed by the tightness and pulsating of the second chamber. It is unlike anything else I have experienced with any other male sex toy.
The fact this is compatible with the Kiiroo Keon is something that makes this stand out among pretty much everything else. Whether you try it with conventional 2D porn on you TV or try it with virtual reality the result will be the same. You will never look at porn the same again.
What I Do Not Like About the Alexis Fawx Kiiroo Stroker
There really is not that much I did not enjoy throughout this Alexis Fawx Kiiroo stroker review.
The one thing I did not like about this stoker, and I would say this about all these male sex toys, is the cleaning. I really do not understand why these manufacturers do not see the huge gap in the market for a specific cleaning tool. Something that made cleaning strokers easy and simple.
Conclusion
The bottom line is that if you are an Alexis Fawx fan this is a male sex toy you would be stupid not to buy. The fact it can be used with the Kiiroo Keon makes it something that pretty much everyone should buy. Once you try it combined with the Kiiroo Keon you will be amazed how you ever lived without it.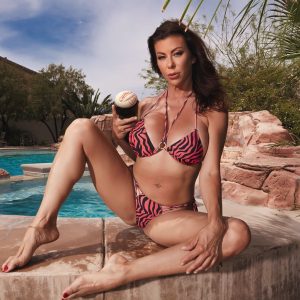 Check out more awesome stuff here.