If you live in or happen to be visiting the state of Arizona and are in the Tuscon area looking for the hottest adult shops then this guide if for you. Here is our picks of the best sex shops in Tucson, Arizona.
Best Sex Shops in Tucson, Arizona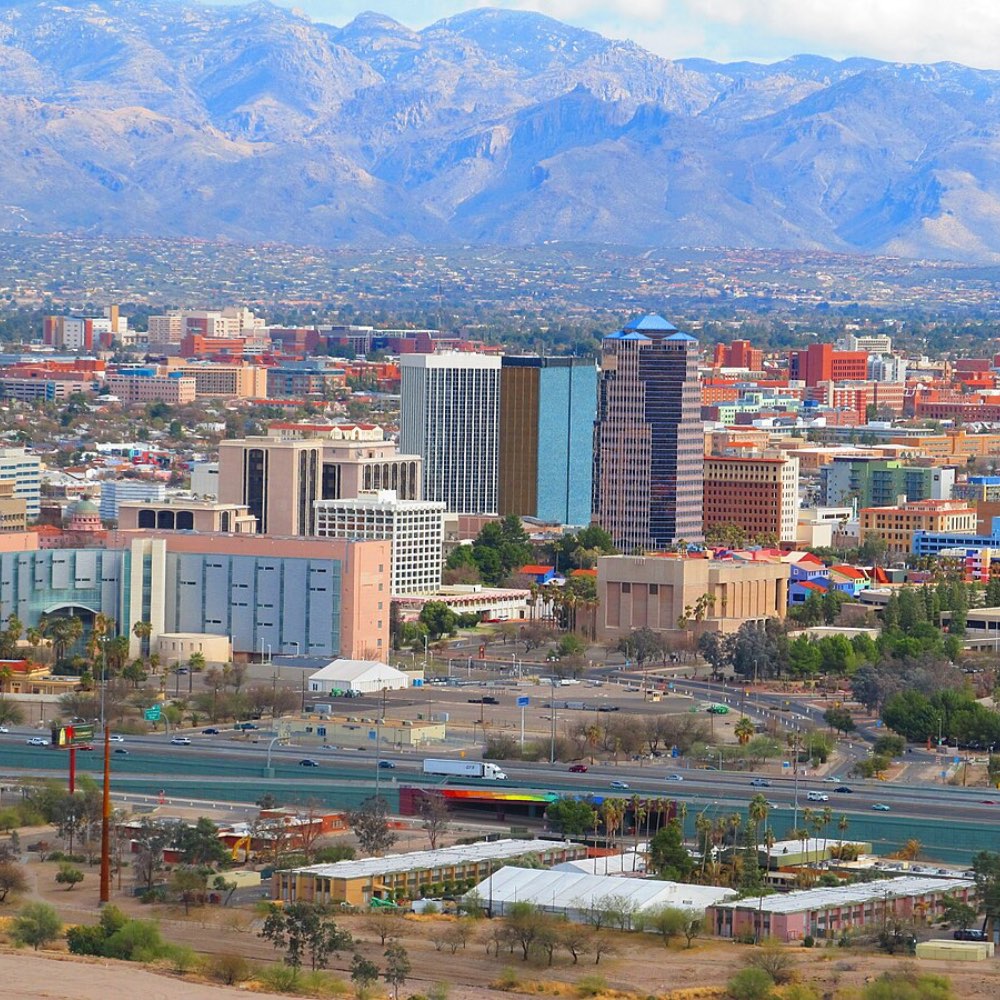 Let us waste no time and dive straight into our top choices of the best sex shops in Tucson, Arizona.
1. Fasinations – Best Sex Shop in Tucson, Arizona
Fascinations, situated at 3658 E Speedway Blvd in Tucson, AZ 85716, earns its reputation as one of the premier sex shops in the area by providing an extensive array of products tailored to promote a healthy lifestyle and enrich intimate experiences. This establishment goes beyond the conventional offerings, curating a diverse selection that spans lingerie, apparel, activewear, romantic gifts, supplements, toys, bath & body products, costumes, and bachelorette party supplies.
What sets Fascinations apart is not only the breadth of its product range but also the emphasis on quality and inclusivity. The store prides itself on catering to a wide audience, ensuring that individuals and couples of varying interests and preferences can find something tailored to their desires. Whether customers are seeking sensual lingerie, innovative adult toys, or wellness supplements, Fascinations strives to create a welcoming atmosphere where patrons can explore and embrace their unique intimacy needs.
The commitment to promoting a positive and open approach to sexuality is evident in the carefully curated product lines. The store aims to empower its customers to prioritize their sexual well-being by offering not only products but also a supportive and non-judgmental shopping environment. Fascinations' dedication to customer satisfaction and education on intimate well-being makes it a standout choice among Tucson's best sex shops.
In addition to its product offerings, Fascinations often hosts events and educational sessions, further contributing to its status as a hub for sexual wellness in the community. The store's location on Speedway Blvd makes it easily accessible, providing a discreet and comfortable space for customers to explore and discover products that align with their desires. For those seeking a comprehensive and inclusive shopping experience in the realm of intimacy, Fascinations proves to be a standout destination among Tucson's best sex shops.
Location: 3658 E Speedway Blvd, Tucson, AZ 85716
2. Jellyaink Boutique
Jellywink Boutique, situated at 416 E 7th St in Tucson, AZ 85705, proudly distinguishes itself as a woman-owned sexuality resource center and shop. This establishment has earned its place among the best in the area by providing a comprehensive range of products and services geared towards fostering a positive and inclusive approach to sexuality.
What sets Jellywink Boutique apart is its commitment to being more than just a retail space. It serves as a valuable resource center, offering an extensive selection of items that cater to diverse interests and preferences. From books and sex toys to oils and lubes, lingerie, BDSM implements inspired by "50 Shades," GLBTQI supplies, fun gifts, and gift certificates, the boutique strives to be a one-stop destination for individuals and couples exploring their intimate desires.
The warm, tasteful, and friendly environment of Jellywink Boutique adds to its appeal. The shop is staffed by a sexuality educator who is not only knowledgeable about the products but is also adept at guiding customers through their questions and curiosities. This personalized approach creates a comfortable space for patrons to explore their desires with confidence.
In addition to its product offerings, Jellywink Boutique goes beyond the traditional retail model by providing workshops and a wealth of information on various aspects of sexuality. This commitment to education contributes to the boutique's reputation as a community hub for sexual wellness.
The boutique proudly declares itself as woman, GLBTQI, and guy-friendly, emphasizing its dedication to inclusivity. This openness and welcoming atmosphere make Jellywink Boutique a standout choice for those seeking a more personalized and informed approach to their intimate needs. For a sexuality resource center that combines a diverse product range with a commitment to education and inclusivity, Jellywink Boutique stands out among the best in Tucson's sex shops.
Location: 416 E 7th St, Tucson, AZ 85705
3. Adult Expectations
Specializing in an extensive array of adult products and entertainment, Adult Expectations is a standout among Tucson's sex shops. Located at [Provide Address], this establishment boasts the largest selection of adult toys, novelties, magazines, movies, lingerie, and more in the area.
Established in 1983, Adult Expectations has a rich history of providing the Tucson community with a diverse range of adult novelties. As a locally owned and operated family business, it has been a staple in the region for decades. This longevity is a testament to its commitment to offering the highest quality products and maintaining a reputation as a trusted resource for adult entertainment needs.
Managed by CP M., the store prides itself on being a welcoming and customer-oriented space. The manager's dedication to ensuring a positive shopping experience is evident in the diverse inventory available for patrons. From adult toys and videos to magazines and lingerie, Adult Expectations aims to cater to a wide range of tastes and preferences.
Whether you are a seasoned enthusiast or a first-time visitor, the store encourages you to stop by and explore its vast selection. The emphasis on variety and quality makes Adult Expectations a go-to destination for individuals and couples seeking adult entertainment in Tucson.
In summary, Adult Expectations stands out among the best sex shops in Tucson due to its long-standing presence, locally owned and operated status, and an extensive inventory that caters to diverse adult preferences. If you're in the Tucson area and looking for a one-stop-shop for adult novelties, this establishment offers a welcoming environment with a history of providing quality products since 1983.
Location: 2505 N Stone Ave, Tucson, AZ 85705, Balboa Heights
4. Zone d'Erotica
Zone D Erotica, situated at 6227 N Travel Center Dr, Orange Grove I- Plaza, Tucson, Arizona 85741, is a notable adult DVD store in the area. Specializing in adult entertainment, this establishment has carved a niche for itself in the category of adult DVD stores.
With a location that caters specifically to adult DVD enthusiasts, Zone D Erotica offers a focused and curated selection of adult films. The store's emphasis on this niche is reflected in its address at Orange Grove I- Plaza, making it a convenient stop for those seeking a diverse range of adult DVDs.
Boasting 25 reviews and an average rating of 3.6 stars, Zone D Erotica has garnered attention and feedback from its clientele. This suggests a level of customer satisfaction and engagement, contributing to its standing as a notable adult entertainment destination in Tucson.
The services provided by Zone D Erotica include in-store shopping, allowing patrons to physically browse and select their preferred adult DVDs. This approach provides a more tactile and personalized shopping experience for customers who appreciate the tangible aspect of selecting adult entertainment.
In summary, Zone D Erotica is a distinctive player in the realm of adult DVD stores in Tucson. Its specific focus on adult DVDs, along with a location tailored for convenience, reviews, and an average rating of 3.6 stars, positions it as a noteworthy option for those seeking adult entertainment in the area. Whether you're a seasoned enthusiast or a curious newcomer, Zone D Erotica offers an in-store shopping experience to meet your adult DVD preferences.
Location: 6227 N Travel Ctr Dr Tucson, AZ 85741
5. Continental Adult Shop
Continental Adult Shop, hailed by its departing staff member as a memorable workplace, stands out as a unique establishment in the adult retail landscape. Situated at [Provide Address], this shop has earned praise not just for its products but for the exceptional team that makes it a standout in the industry.
The current crew at Continental Adult Shop is commended as a group of fantastic individuals and wonderful coworkers. The glowing review highlights Cota, the manager, as an absolute saint and the best manager the departing employee has ever had. This commendation reflects not only the quality of leadership but also the efforts put forth by the management to create a positive environment.
Cota, the manager, is lauded for working tirelessly to ensure the shop is not just a retail space but a clean, comfortable, and safe space for everyone, be it customers or employees. This emphasis on a welcoming and secure atmosphere adds a unique touch to Continental Adult Shop, making it more than just a place to purchase adult products.
The departing employee expresses gratitude for their time at Continental Adult Shop, acknowledging the difficulty of saying goodbye due to a move to another state. This sentiment underscores the positive impact the shop has had on its team members, creating a sense of camaraderie and fondness among the staff.
In summary, Continental Adult Shop, located at [Provide Address], is more than just an adult retail store. It's characterized by a fantastic team, a dedicated manager in Cota, and a commitment to providing a clean, comfortable, and safe space for all. The heartfelt farewell from the departing employee serves as a testament to the unique and positive workplace culture fostered by Continental Adult Shop. For those seeking an adult shop with not only quality products but also a welcoming atmosphere, this establishment proves to be a memorable choice.
Location: 2655 N Campbell Ave Tucson, AZ 85719
Conclusion
In the vibrant landscape of Tucson, Arizona, the variety of adult stores reflects a community that embraces diversity, exploration, and open conversations about intimacy. Each sex shop, with its unique offerings and distinctive atmosphere, adds a layer of richness to the city's adult retail scene.
Fascinations, with its extensive range of products geared towards enhancing intimacy and promoting a healthy lifestyle, stands out as a comprehensive destination for those seeking a diverse array of items. The inclusive and welcoming space it provides sets the stage for an exploration of desires with confidence.
Jellywink Boutique, a woman-owned sexuality resource center, goes beyond the conventional adult shop model, offering not only an extensive product range but also valuable educational workshops. Its commitment to inclusivity, warmth, and a knowledgeable staff creates an environment that encourages a personalized and informed approach to sexual wellness.
Adult Expectations, a long-standing family business, has been a reliable source for adult novelties since 1983. Its history, combined with a commitment to quality and a diverse inventory, positions it as a trusted establishment catering to the varying tastes of Tucson's adult community.
Zone D Erotica, focusing on adult DVDs, provides a niche shopping experience for enthusiasts seeking a curated selection in this specific category. The store's location and customer reviews underscore its significance as a specialized destination for adult entertainment.
Continental Adult Shop, praised not just for its products but for the exceptional team and management, exemplifies the impact of a positive workplace culture. The heartfelt farewell from a departing employee highlights the unique connection that can form within such establishments, transcending the transactional nature of retail.
As we explore the best sex shops in Tucson, it becomes evident that each has its own character, contributing to the city's rich tapestry of adult retail offerings. Whether it's the inclusive spaces, specialized niches, or the personal connections formed within these establishments, Tucson's sex shops cater to a diverse array of desires, fostering a community that embraces open conversations about sexuality and intimacy.
Check out more stuff here.