Believe it or not but premature ejaculation is endured by at least 1 out of ever 3 men in the USA. In fact the real number of men suffering from premature ejaculation is likely much, much higher. Some say the real figure is likely to be higher than 2 out of 3 men in the USA. As you have probably guess I am one of the unfortunate guys included in these statistics. This is how I improved my premature ejaculation in 7 days.
How I Improved My Premature Ejaculation in 7 Days
If you suffer from premature ejaculation you will likely already be aware of the vast number companies claiming they can help you. The truth is there is no such thing as a simple quick fix. There is no secret magic pill that will cure your premature ejaculation. Trust me, I know this better than anyone. I have tried every product under the sun. I have even used drugs and alcohol in an effort to last longer in the bedroom. This is the very reason I am amazed to have finally figured out something that actually works.
Like everything in life I feel this method is a work in progress. It has certainly helped me. Hopefully it will help you as well. As they saying goes – practice makes perfect. I am confident that as time ticks by I will become even better.

The truth is that over the years I have indeed experimented with vibrating devices. While experimenting I discovered initially they are wonderful devices. However, they quickly develop into something that is just not enough. When you then switch to using your hand the vibrations have left you feeling numb. It was this that led me to this technique. What I personally used was the Kiiroo Titan. I chose this device because rather than being a simple stroker it delivers its stimulation through the use of vibrating bullets.
Day 1 – 2
I was already well aware of how switching from a sex toy with high vibrations to my hand allowed me to last longer.
What I will say is that when I first purchased the Kiiroo Titan to help me last longer in bed I did get a little carried away with it. I have loved virtual reality porn ever since I first experienced it. Obviously the first thing I tried with the Titan was VR porn. I must admit the experience was amazing. Imagine being totally immersed in VR porn and actually feeling what you are seeing. Amazing is not a strong enough word. It really did take a lot of effort to drag myself away from enjoying the interactive side of things.
However, I did manage to do just that. I turned off the interactive element of the Kiiroo Titan and went used it on manual mode only. My technique was that I would crank the vibrations up to as much as I could bare. Then, half way through, I would switch from the Kiiroo Titan to my hand or a Fleshlight.
Over the first two days I was very much aware that this technique was allowing me to last longer and longer. Could I be indeed be onto something here? Even when I switched to a Fleshlight I was lasting considerably longer.

Day 3 – 4
When it come to the third day of this technique I was very much aware that I was lasting longer. Even when I decided to start and finish with my favorite Fleshlight I was lasting a considerable amount of time longer than I had ever lasted before.
I was also noticing that it was taking less and less time with the Titan for my penis to become what I can only describe as numb. Numb is probably not the correct word. What I mean is that I was less sensitive to any lesser form of stimulation.
Day 5 – 7
By the time I reached day 6 of this technique. The technique of starting with the vibrating Kiiroo Titan then finishing with my hand or a Fleshlight really had made a difference.
When I started this experiment I was able to last no longer than 30 seconds when using my favorite Fleshlight.  By day 6 I was lasting well over 2 minutes. Even when I solely used a Fleshlight I was still lasting well over a minute and a half. Things were most certainly progressing in the right direction. Not only that, my confidence was reaching new heights.
The only thing that was really left was for me to try my improvements with a real woman.

Conclusion
Having used my stop and start technique for more than a week the big night was finally here. It  was time to see what the result would be like with my partner. I did not mention to my partner that I had been experimenting with something in the hope of improving my stamina. If I am truly honest I genuinely did not have much hope that this would have made any difference. After all a Fleshlight is one thing. A real woman is a completely different thing.
You cannot believe my surprise, or my partners, when I managed to last more than a minute. Okay, so I know a minute is not exactly setting the world on fire. However, in the past I have been lucky if I managed a couple of seconds once I penetrated a woman.
My partner and I obviously spoke about what I had been trying during our pillow talk. This led to us deciding that we could incorporate my technique into our love making. She would get involved using the Kiiroo Titan on me before we engaged in penetrative sex. The good news is that by doing this I was able to last even longer. If we use the Kiiroo Titan I can now last approximately 5 minutes. If we do not use that Kiiroo I am usually able to last approximately 2-3 minutes. The bonus is that I am improving all the time.
It is as simple as that. This is how I improved my premature ejaculation in 7 days. I now feel so much more confident and have increased the level of intimacy with my partner. What more could I possibly dream of?
If you want to try this technique you can pick up your own Kiiroo Titan here.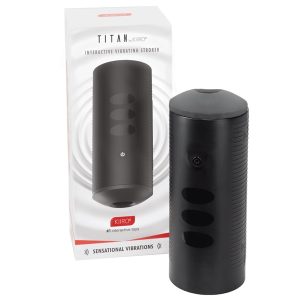 See more super helpful stuff here.