In recent years the sale of sex dolls has skyrocketed and it is not just men who buy them. More and more women are buying male sex dolls. Here we look at how to use a male sex doll for women.
How To Use A Male Sex Dolls For Women
Believe it or not recent scientific studies have shown that at certain times women have a stronger craving for sex than men. Undoubtedly this is one of the reasons so many women are now buying their own male sex dolls. There is  certainly a wider range of female sex dolls. However, as time goes on, more and more male sex dolls for women and gay men are appearing for sale.
Tips To Maintain A Male Sex Doll
Here are some top tips to look after and maintain a male sex doll. Apply these tips and you will get many years of enjoyment and pleasure out of your doll.
1 – Bathe With Your Doll Whenever Possible
Just like sexual intercourse with a real man the penis of a sex doll enters into your vagina or asshole. For this reason it is vitally important that the penis on a male sex doll is cleaned after each use. Failure to clean the penis on a male sex doll dramatically increases the chance of infection and various other problems.
This is even more important if you allow your doll to be used by friends. After all no one wants to pick up an STD.
As humans sex is something that feels amazing. But clean sex always feels so much better. Even when it is dirty.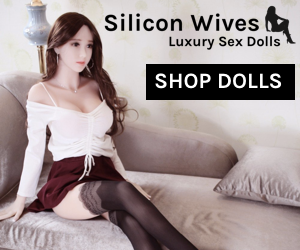 2 – Lubricate Your Male Sex Doll
When a woman has sex with a man she knows the importance of lubrication. The exact same principle applies when you have sex with your male sex doll. You should always apply lubrication to the penis of your sex doll. This will make the experience so much more enjoyable for you.
If you are a gay man and own a gay sex doll make sure you apply lubrication to the asshole of your sex doll. In most cases the asshole of a male sex doll is quite tight. Adding plenty of lubrication will bring you the most intense amount of pleasure.
3 – Body Spray
It does not matter if you are a man or a woman the number one turn off for everyone is body odor. What most sex doll owners do not initially realise is that a sex doll can develop its own body odor. When we have sex with a doll we sweat. Silicon absorbs that sweat and very quickly your doll will begin to smell. For this reason you can use deodorant body spray on your doll.
Make sure you check the manufacturers guidance before spraying body spray on your male sex doll. The last thing you want to do is damage your beautiful doll.
4 – Do Not Get Too Carried Away
Because sex dolls are made from silicon or TPE they are not as robust as real human skin. This obviously means they cannot take the same kind of rough handling and abuse as human skin.
By all means enjoy having sex with your doll. Feel free to be as dirty and rude as you want. But do not get too carried away. The last thing you want to do is damage your doll by being too rough with him.
Take a look at this huge selection of male sex dolls for women here.
Check out more cool stuff here.