Our Romi Chase Kiiroo stroker review is the second toy we have had the privilege of trying from this company this month. The big question we had with this Romi Chase Kiiroo stroker review was – would it live up to the expectations created from this company's previous products?

Romi Chase Kiiroo Stroker Review – Quick Look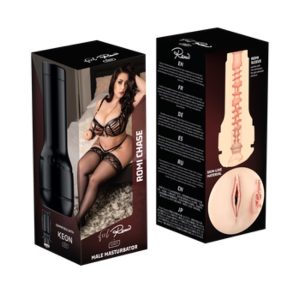 The Romi Chase Kiiroo stroker is a male masturbator sex toy designed to look like a real vagina. You will have likely heard people refer to these toys as a pocket pussy. In this instance the opening is created from a mold of Romi Chase's own vagina. It therefore looks and feels just like the real thing. In fact, as you would expect from a Kiiroo toy, we would challenge anyone to tell the difference between the opening of this toy and the real thing.
Chamber One
Whenever I review a new Kiiroo stroker there seems to be a chamber that hits like a train. It surprises you with an insane amount of enjoyable stimulation. In this stoker that chamber happens to the first chamber. As soon as you enter the highly realistic vaginal opening you are blown away by this first chamber.
Chamber one has walls lined with different sized triangular shaped nubs. These nubs are relatively firm and run length ways along the sleeve walls. This chamber generates a pulsating sensations while squeezing the penis.
The pulsating effect feels sensational when applied to the tip of the penis. Once you are fully inside this sleeve this first chamber squeezes the base of the penis. This squeezing makes you feels rock hard while helping delay the climax. When you do finally climax the squeezing sensation  makes you explode like a baby gorilla.
Chamber Two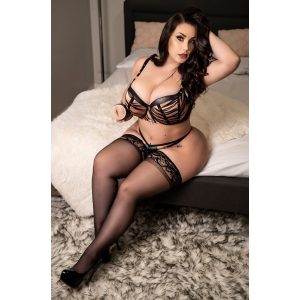 The second chamber in this sleeve is less stimulating but much more life like and realistic.
Chamber two is lined with hexagonal shaped nubs. These nubs are ever so slightly flexible and feel remarkably like the inside of a real vagina. The squeezing sensation experienced in the first chamber continues to delight in this chamber.
Chamber Three
The third chamber is the widest of all the chambers in this male masturbator. As you move enter this wider chamber you feel like your penis is allowed to throb with the extra space. This feels amazing.
Chamber Four
Just when you thing you could not be turned on anymore you enter chamber four. The fact this chamber only ever comes into contact with the tip, the most sensitive part of the penis, creates stimulation so good it will blow your mind.
Inside this chamber the walls are lined with a corkscrew texture. This texture very much resembles the threads of a screw. As the tip of your penis moves through this chamber a heavenly twisting sensation is applied. This feels as if you have the real Romi Chase sitting on you as she twists her hips in a circular motion. All I can telly you is this chamber feels amazing. It is something you really have to experience to be truly appreciated.
Kiiroo Keon Compatible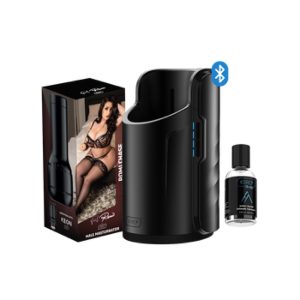 If I was not enjoying this Romi Chase Kiiroo stroker review enough already the fact it is compatible with the Kiiroo Keon is the icing on the cake.
Kiiroo male strokers are the only male sex toys compatible what is the best interactive toy ever. Put simply the Kiiroo Keon takes a Kiiroo stroker and automates the stroking process. Yes, this means you an have a complete hands free orgasm.
The Kiiroo is controlled in several ways. The simplest way is using the buttons on the side of the unit. It can also be controlled using an app installed on your phone or your partners. This allows couples in long distance relationships to enjoy physical intimacy from anywhere in the world.
The Kiiroo Keon can also be synced with compatible sex toys. This allows couples to be closer than ever from anywhere in the world. If you enjoy webcam girls the Kiiroo Keon is superb as it can sync with the webcam girl you are watching. Imagine her having a compatible vibrator and you being able to feel her touch.
Finally there is the option to sync the Kiiroo Keon with your favorite adult porn movies. This allows you to feel everything you see on screen. How amazing is all of this?
What I Liked About the Romi Chase Kiiroo Stroker
Since I started reviewing Kiiroo products i always have high expectations. They are the only male stroker manufacturer who, in my opinion, have created something better than a Fleshlight. The Romi Chase Kiiroo stroker has not disappointed.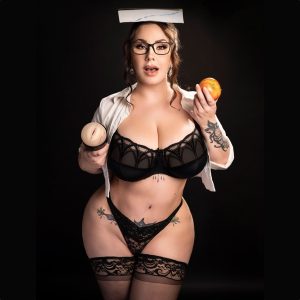 What I really loved about this stroker is the squeezing sensation applied to the base of the penis. Then the twisting sensation in the final chamber is out of this world. When you combine the two you experience the most insane level of pleasure yet your climax is held back due to the squeezing at the base. This really is a male sex toy you do not want to miss experiencing.
I also really loved the fact this stroker is that it is compatible with the Keon by Kiiroo.
What I Did Not Like About the Romi Chase Kiiroo Stroker
As with the majority of Kiiroo strokers there really is not a whole deal I can find to complain about. Personally I really did love the Romi Chase Kiiroo stroker. However, I would suggest this toy may be a little overly stimulating for some people. It is worth pointing out that because this toy is so stimulating it works as a great sexual stamina training unit. If you suffer from premature ejaculation this could be the most perfect sex toy for you.
Overall
In conclusion to this Romi Chase Kiiroo stroker review it has proven itself to be a male sex toy I would highly recommend.
The opening looks and feels just like a real vagina. More importantly it looks and feels just like Romi Chase's vagina. It offers a heavenly level of stimulation, works great as a stamina training unit, and is compatible with the Keon by Kiiroo. What is not to love?
This is a male sex toy every guys should buy and experience just once. It really is that amazing.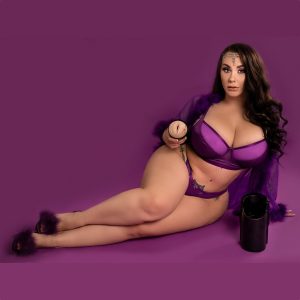 Check out more awesome stuff here.