If you are looking to buy an interactive sex toy for men and have settled on a Kiiroo toy you might well have one thing on your mind. That thing may well be wondering what is the best Kiiroo sex toy for men?
The Best Kiiroo Sex Toys For Men
So, when push comes to shove what are the very best Kiiroo sex toys for men? Well, here are our choices ranked in order of awesomeness.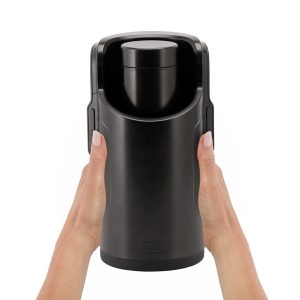 Out of all the Kiiroo interactive sex toys available the very best is the Kiiroo Keon. If we are going to be brutally honest there is not a male interactive sex toy out there that comes close to the Keon. The bottom line is the Kiiroo Keon is the best male interactive sex toy that money can buy.
This is a male sex toy that pretty much does it all. Firstly it is highly realistic. We would challenge anyone to tell the difference between the stroker and a real female vagina. Obviously this is the most important thing when it comes to a male sex toy.
Then there is the fact it can be operated manually or by connecting it to a special app that is installed on your smartphone.
This is where things start getting interesting. This app allows you to do so much other than simply control this sex toy. It allows you to pass control of this automatic male masturbator to your partner. It also allows you to video chat with your partner and, in the process of video chatting, pass control to your partner. What you really will love about the Kiiroo Keon is that the app allows it to be synced with another interactive sex toy. This allows you and your partner to feel each other in realtime regardless of where you are in the world. How amazing is that? The perfect choice for any couple in a long distance relationship.
Of course the highlight if you buy the Kiiroo Keon is that it can sync with your favorite adult content. It works with conventional 2D porn along with virtual reality porn. Just imagine how amazing your pron will become when you can feel exactly what you are watching.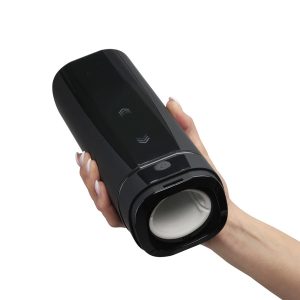 In second place on our selection of the best Kiiroo sex toys for men is the Kiiroo Onyx+.
The Kiiroo Onyx+ is another high quality interactive sex toy for men.
It is much more compact than the likes of the Kiiroo Keon and it works in a completely different way. The stimulation is not generated by a stroking motion. The Kiiroo Onyx+ uses a completely unique technique to generate the stimulation. The Onyx+ uses rings that contract and loosen. Each ring can tighten and loosen individually. This allows the Onyx+ to generate a pretty much perfectly realistic sexual experience. The way the Onyx+ works may sound like it would not work. However, we promise you will be blown away with how realistic this device happens to be.
Just like you would expect from an interactive sex toy the Onyx+ can be used in a manual mode.
It can also be controlled using an app on you smartphone. This app also allows you to hand control of the toy to a partner who can then video call with you. It can also be synced with your partners compatible sex toy so you can feel each other in realtime.
Just like you would hope for with an interactive sex toy for men the Kiiroo Onyx+ can be synced with your favorite adult content. Both conventional 2D porn movies ad 3D virtual reality porn all work with the Kiiroo Onyx+
The fact the Kiiroo Onyx+ is quite a compact male sex toy makes it ideal if you travel. It fits easily into your luggage and is pretty discreet.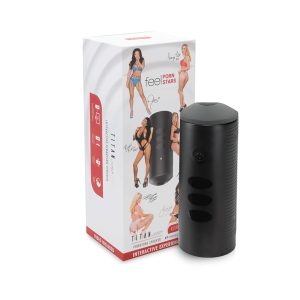 The Kiiroo Titan is a somewhat unique automatic interactive male sex toy. When we say it is unique we mean the way it goes about generating stimulation is unique. It also happens to be in third place among the best Kiiroo sex toys for men.
While the Kiiroo Titan is at heart a simple male stroker it also features no less than 9 vibrating bullets. These bullets are located along the length of the penis when it is inserted into the Titan. Basically, you should think of the Kiiroo Titan as a male stroker on steroids.
The 9 vibrating bullets in the Kiiroo Titan are pretty powerful. Most men will find they are able to climax with just the vibrations alone. Those who cannot reach a climax using just the vibrations quickly will get to that point when they combine those vibrations with using it as a stroker.
What we really like about the Kiiroo Titan is although it is very much a vibrating stroker it features interactive technology. Just like every other interactive Kiiroo toy the Titan can be controlled manually, by using an app, or allowing your partner to control the level of your pleasure.
Of course there is also the option of syncing the Kiiroo Titan with all your favorite adult content. Conventional 2D porn and virtual reality porn can be used and synced with the Titan.
The Titan has it all. It is a stroker and is also a vibrating stroker and an interactive sex toy for men. How could any guy fail to love the idea of all that?
You really do not get much more basic or enjoyable when it comes to male sex toys than the average male stroker. However, it is worth noting that not all male strokers are made equally.
When it comes to the very best known of male masturbators or strokers most people pretty much start and finish with the world famous Fleshlight.
While Fleshlight is certainly the most popular and best known of male strokers Kiiroo have a secret. Kiiroo have the luxury of using Fleshlight's patented Superskin technology. This allows Kiiroo to produce strokers every last bit as lifelike as an original Fleshlight.
Check out more cool stuff here.