Lately sex toys from this company have just been getting better and better so I am the first to admit I was excited when asked to do a Victoria June Kiiroo stroker review. The big question is – does this live up to the other products in the the FeelStars range and is it worth buying?
Victoria June Kiiroo Stroker Review

So, let us get started with this Victoria June Kiiroo stroker review.
The fist thing you notice about the Victoria June Kiiroo stroker is the opening. It is molded from Victoria June's own vagina and therefore is a perfect replica. It looks and feels just like the real thing. It is certainly the closest any of us are going to get to this very sexy star. This is something that will undoubtedly be a huge selling point among her fans.
Chamber One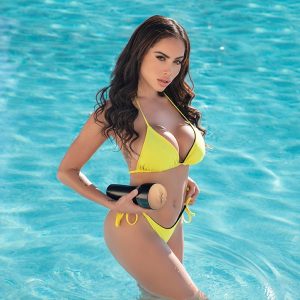 The first chamber you encounter in this stroker is actually made up from two sections connected by a transition chamber. As you enter this first chamber the first thing you realise is how tight this toy feels. If you have never used a male stoker before, in my opinion, they always feel so much better when they are tight. This happens to be one of the tightest strokers I have tried and this is just the first chamber.
The walls of this chamber are lined with a ribbed texture which delivers an intense pulsating sensation as you move through it. The transition chamber that divides this first chamber is even tighter than the  chamber itself.
Chamber Two
Before you enter chamber two there is second transition chamber. This transition chamber is even tighter than what you have already encountered and feels quite long. It certainly feels amazing as it squeezes your cock.
Once inside the second chamber you experience the most mind blowing sensation. The walls of this chamber are lined with a corkscrew texture. As you move back and forth through this chamber a heavenly twisting sensation is experienced. This twisting sensation is something that I have experienced in many other male strokers. However, because this chamber is so tight the twisting sensation feel so much more intense than anything I have ever experienced before.
Chamber Three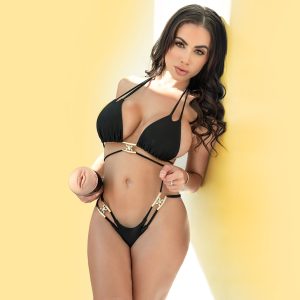 The third chamber of this Kiiroo stroker is shaped like a flying saucer. As simple as this chamber sounds it still manages to deliver a surprisingly high level of pleasure. As you advance into this chamber the opening squeezes your penis which feels amazing. Once you pass through the opening the chamber widens which makes it feel like your penis is about to explode in more ways than one. Just as you feel you are about to reach the most biblical of climaxes the chamber begins to squeeze again.
At this point you realise this male stoker would be the most perfect toy to use if you enjoy edging.
Chamber Four
The forth and final chamber of this male sex toy continues the high level of stimulation. Once again this chamber feels exceptionally tight. It is also lined with a ribbed texture which, since it is the last chamber, only ever makes contact with the tip of the penis. Since this is the most sensitive part of your penis the level of stimulation is insanely enjoyable.
The pulsating effect is enough to push pretty much any man over the edge very quickly.
Kiiroo Keon Compatible
One of the best things about Kiiroo male strokers is that they are compatible with the Kiiroo Keon. I am often asked how well Kiiroo strokers compare against the likes of Fleshlight products. In my honest opinion Kiiroo strokers have a slight edge over Fleshlight simply because they are the only strokers compatible with the Keon by Kiiroo.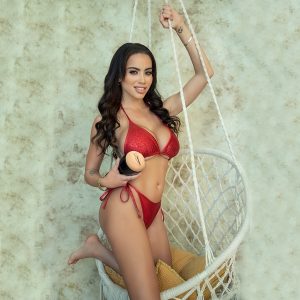 You will likely be wonder what exactly is the Keon by Kiiroo.
The Keon is a compact device which houses Kiiroo male strokers. Once the stroker is fixed inside the Keon automates the stroking. The Keon can be controlled using an app which is installed on your smartphone or your partners smartphone.
It is the fact the Keon can be used with your favorite adult content which makes it one of the best male sex toys that money can buy. With the Kiiroo Keon you can feel everything you see when watching conventional pornography or virtual reality porn. As you would imagine using the Keon with virtual reality porn is the most amazing experience ever.
I own a Kiiroo Keon and have used it with a wide range of male strokers. None of them could have prepared me for this Victoria June Kiiroo stroker review when I used it with this toy. It is something that has to be experienced to be believed. The experience is so intensely enjoyable you struggle not to contain yourself vocally.
What I Liked About the Victoria June Kiiroo Stroker
To be one hundred percent honest I pretty much loved every single thing about this male stroker. It is actually one of the best, if not the best, male stroker I have ever used. I love how tight it feels and I love the textures and the stimulation they generate. You will not experience a better orgasm with any other stroker.
I love that this stoker is compatible with the Kiiroo Keon. It is one thing to use this toy when you are in control of the stroking. When you automate things I assure you that you will be cumming like a baby gorilla in record time.
What I Did Not Like About the Victoria June Kiiroo Stroker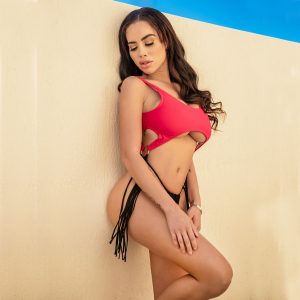 The only thing negative I could say about this stroker is that it is not the most realistic. It delivers an intense level of stimulation and pleasure from the very second you enter it. However, because of this it does not feel like you are entering a real vagina. If you want a male sex toy that feels like you are entering a real woman then this would not be the toy for you.
Conclusion
If I was going to buy just one male stroker then this would be the one. It delivers the most heavenly and explosive levels of pleasure imaginable. In fact the levels of pleasure are so intense I am sure some guys will struggle to deal with them. It really is that good.
If you are a woman looking to buy a male sex toy to use with your partner this would be an ideal choice. The man in your life will be truly blown away when you use this toy on him.
If you are looking for an out of this world experience or simply a fan of Victoria June this is a male sex toy you need to own. It is certainly the best and most intensely enjoyable male sex toy I have tried in the past several years.
Check out more awesome stuff here.