As a fan of Apolonia Lapiedra I was quite excited to get my hands on this and start on this Apolonia Lapiedra Kiiroo Stroker review. I have been somewhat impressed by the latest products so I was excited to see whether this would live up to expectations.
Apolonia Lapiedra Kiiroo Stroker Review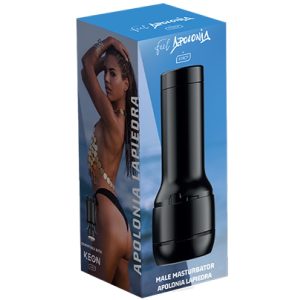 The FeelApolonia Kiiroo stroker is a male masturbator. It is a very similar design to Fleshlight strokers with a highly realistic sleeve and plastic case which looks very similar to an oversized flashlight.
Perfect Replica of Apolonia Lapiedra
Probably the most appealing thing about this stroker is that it is moulded from Apolonia Lapiedra's own body. This makes it a perfect replica of this adult stars own vagina. How could any true fan of Apolonia Lapiedra not want to own such a toy?
Feels So Realistic
Not only is this male stroker sex toy a perfect replica of Apolonia Lapiedra's own vagina it feels just like the real thing as well. This really is as close as you could ever hope to get to the real adult film star.
The sleeve is made from what feels like the same material used in Fleshlight sex toys. This is undoubtedly why it feels just like you are inside a real vagina. The first half of the sleeve feels smooth. Once you reach the halfway point the texture changes and the level of stimulation is greatly increased. At the half way point you begin to encounter various lump, bumps, and a ribbed like texture. The fact these textures only ever come into contact with the tip and most sensitive part of the penis feels amazing. It is also the reason this male stroker delivers such an intense climax.
Compatible With Kiiroo Keon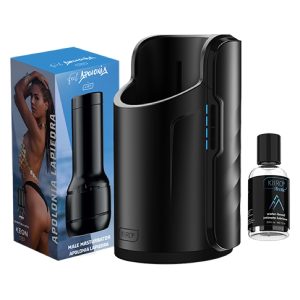 The most exciting part of this Apolonia Lapiedra Kiiroo Stroker review was the chance to use it with the Kiiroo Keon. The Kiiroo Keon is an interactive sex toy that automates the stroking process. It is capable of being controlled using buttons located on the device, by a smartphone app, or by being synced to your favorite adult content. Since it is only Kiiroo strokers that are compatible with this awesome interactive sex toy I keen to try it. I loaded up some Apolonia Lapiedra VR porn, connected the Keon and Apolonia Lapiedra stroker and got myself ready.
As always the Kiiroo Keon was magnificent perfectly replicating the action I was experiencing in VR. What I really enjoyed was experiencing Apolonia Lapiedra VR porn while having a realistic clone of her pussy replicating the action. It was as if you could quite literally feel the real Apolonia Lapiedra.
Easy to Clean
As you would expect during this Apolonia Lapiedra Kiiroo stroker review a lot of cleaning was needed. As with all sex toys the clean up can be a real pain. However this Kiiroo stroker is one of the easiest male strokers too clean.
Simply run warm water through the inside of a sleeve while using a finger to dislodge any left over lube. It always pay to also use Kiiroo's own specially developed cleaning solution to kill off any unwanted bacteria and germs. This will also help keep the Kiiroo male stroker in the very best condition for the longest possible time.
What I Live About the Apolonia Lapiedra Kiiroo Stroker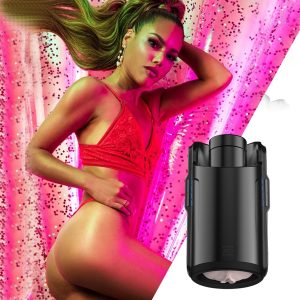 Probably the most obvious thing any fan, including myself, will love about this toy is that it is a perfect replica of Apolonia Lapiedra. When you play with it you really do sense that you are actually feeling Apolonia Lapiedra.
I really love that it feels so much like the real thing. And of course I love that it is compatible with the Kiiroo Keon. If you have not already tried the Keon it is something I would highly recommend. When you combine it with this porn star stroker and some of her content you will be blown away.
What I Did Not Like About the Apolonia Lapiedra Kiiroo Stroker
The one thing I did not like about the Apolonia Lapiedra Kiiroo stroker was its color. I say this about pretty much every male stroker and the same applies to this specific product. I always think it is such a shame manufacturers do not color these strokers to look more realistic. Yes, they visually look as they should. However, with just a little more work they could paint them so they looks as lifelike and as realistic as the real thing. Why color it like a rejected toy doll?
Apolonia Lapiedra Kiiroo Stroker Review Conclusion
The bottom line is that any fan of Apolonia Lapiedra would be insane not to rush out and buy this. How could any fan not want to experience what Apolonia Lapiedra feels like?
Even those who are not fans will undoubted enjoy this male stroker. It looks and feels just like a real vagina. Then there is the fact it is the only brand stroker which is compatible with the awesome Kiiroo Keon.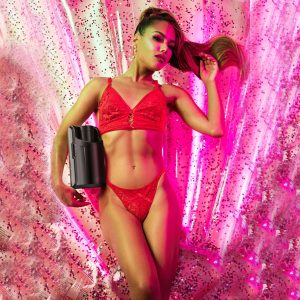 See more reviews here.