We have been lucky enough to get our hands on the brand new male masturbator from Kiiroo. This means we can finally bring you our Leigh Raven Kiiroo stroker review. This all new male masturbator is Kiiroo's latest addition to their FeelStar range.
Leigh Raven Kiiroo Stroker Review

As with all FeelStar male stokers the first thing I noticed at the start of this Leigh Raven Kiiroo stroker review was the opening. The opening is a created from a mold made from Leigh Raven's actual vagina. That means the opening on this male stroker looks and feels just like the real Leigh Raven. This something which will most certainly make this a must buy toy for any true fan of Leigh Raven.
Chamber One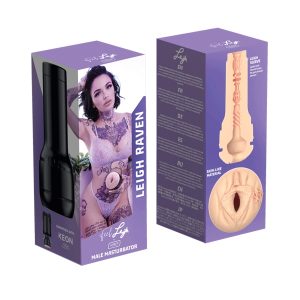 As is the case with pretty much all FeelStar strokers the first chamber starts quite wide. It then becomes narrower the further you advance into it. Having a first chamber shaped like this in a male stroker always seems to it feel so much like a real vagina.
What really makes this particular first chamber stand out is the texture on its walls. In most other Kiiroo strokers the walls are relatively smooth. This is not the case with this FeelStar stroker. In this chamber the walls are lined with a ribbed texture. Because of this ribbed texture you feel a heavenly pulsating sensation as you move through it. A sensation that feels incredible when applied to the tip of the penis. You cannot help but imagine Leigh Raven's vagina quivering with anticipation as you move through this chamber.
It is also worth noting that at the end of this first chamber is a single rib which is thicker than the ones before it. When you are fully inserted into this male stroker this rib squeezes near the base of your penis. This makes you feel unbelievable erect while helping to delay your climax. It also greatly enhances your climax when it arrives.
Chamber Two
When I first started this Leigh Raven Kiiroo stroker review I must admit I was seriously impressed with the first chamber. It was difficult to imagine things getting any better. The good news is the second chamber of this Kiiroo FeelStar stroker is even better than the first.
The walls to chamber two are lined with a twisting corkscrew texture. Very much like the threads on a screw. As you move back and forth through this chamber a truly divine twisting sensation is applied to the penis. Once again this feels truly incredible when applied to the tip of the penis. When in this chamber you cannot help but imagine the real Leigh Raven twisting her hips in a circular motion as you make love to her. It truly is an incredible sensation.
Chamber Three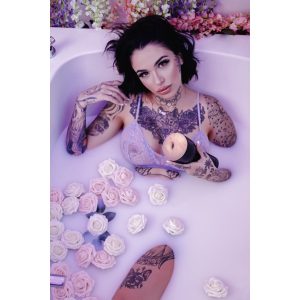 It is difficult to explain the texture you find in the third chamber other than it is lined with various shaped nubs. What really stands out about this third chamber is the way it squeezes your penis. This means there are now two points on your penis being squeezed and it feels incredible. You will feel more erect than you have ever been in your life. On top of that you find yourself at the point of climax but your penis being squeezed at two points stops you. This is a sensation which will blow your mind. It really has to be experienced to be believed and appreciated.
Chamber Four
The forth chamber continues to squeeze the penis with the same firmness found in the chamber three. However, the texture and stimulation changes here.
Just like the first chamber this chamber is lined with a ribbed texture. This ribbed texture generates a godly pulsating sensation. A pulsating sensation that is more intense than you experienced in the first chamber. This is simply because this chamber is so much tighter.
You will certainly find your climax quickly approaching when the tip of you penis encounters this chamber.
Chamber Five
The third and final chamber is shaped as if it was formed around a small egg. Because it is shaped like this the head of the penis is able to bulge out. This is a truly unique and heavenly sensation when combined with the squeezing of the penis in previous chambers. You really will be on the edge here. Desperately close to climaxing but held back by the squeezing.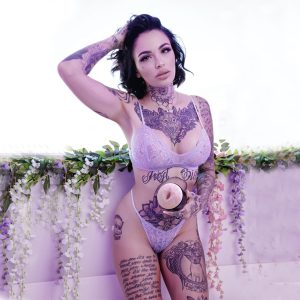 When you finally do climax I can assure you it will literally blow your head off. It feels like your climax has been kept contained like a hosepipe under pressure that finally explodes. It really is mind blowing and is beyond any climax you will have experienced with any other male sex toy.
Kiiroo Keon Compatible
Another truly fantastic part of this Leigh Raven Kiiroo stroker review was realising it is compatible with the awesome Kiiroo Keon. For those who are not the familiar the Kiiroo Keon is one of the best interactive sex toys for men in recent years.
Put simply any Kiiroo stroker can be fitted to the Keon. Once fitted the Keon takes over the stroking motion allowing you to experience a completely hands free orgasm.
The Kiiroo Keon can be controlled by using an app installed on your own smartphone or your partners. This means it can actually be controlled from anywhere in the world. As you would guess this is a great toy for long distance couples and webcams.
What really makes the Kiiroo Keon so amazing is that it can be synced with adult movies. You can watch your favorite Leigh Raven porn movies and feel what you are watching on screen. The Kiiroo Keon can also be synced with virtual reality porn. Just imagine how immersive it would be to experience a Leigh Raven virtual reality porn movie. Then add to it her signature stroker and the Kiiroo Keon. The end result is an experience closer than you could ever dream of with this beautiful adult film star. It really is like being there in the room having a sexual encounter with her.
What I Liked About the Leigh Raven Kiiroo Stroker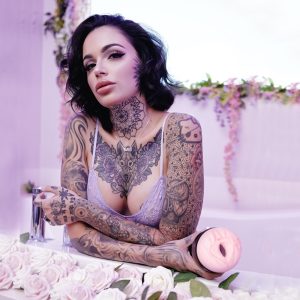 Make no mistake at all. This is one seriously enjoyable male stroker. The level of stimulation is out of this world. It simulates more than the feeling you are inside the real Leigh Raven. This male stoker allows you to feel what it would be like to be inside Leigh Raven but be inside her while she is going wild. You really do feel like she is tightening her vagina around you and twisting her hips in circles as you slide inside her. This is a male sex toy with stimulation so amazing it really has to be experienced to be appreciated. For this reason alone it really is a sex toy everyone should own.
There is obviously the fact the opening is a perfect replica of Leigh Raven's own vagina. This is something that really did appeal to me. It will undoubted appeal to her many fans who want to get closer than ever to this stunning adult star.
We also have to mention that it is fantastic this product is compatible with the Kiiroo Keon. Feeling what you can see in a conventional porn movie starring Leigh Raven is amazing. When you can feel what you see in a Leigh Raven virtual reality porn experience you will be truly blown away. After all what fan of this adult star would not want to get this close to her?
What I Did Not Like About the Leigh Raven Kiiroo Stroker
There really is very little I could complain about during this Leigh Raven Kiiroo stroker review. The one negative thing I would say could also be taken as a huge positive. This Kiiroo stroker is an insanely stimulating male sex toy. For some inexperienced guys the stimulation could likely be far too intense. This could result in you reaching a climax extremely quickly which may be considered a bad thing for some guys.
On the other hand the fact this male stroker is so insanely stimulating makes it a great unit for stamina training. If you are one of the many guys who suffer premature ejaculation this could be the product you are looking for.
Conclusion
The bottom line is this FeelStar Kiiroo stroker is an insanely enjoyable male sex toy. It could be described as mind blowing or out of this world but that simply does not do it justice. If you are looking for an experience and a climax that will blow anything else out the water then this is a male sex toy I would highly recommend. It is certainly one of the most stimulating male sex toys I have tried in a long time.
You can check out the best price on the Leigh Raven Kiiroo stroker by clicking here.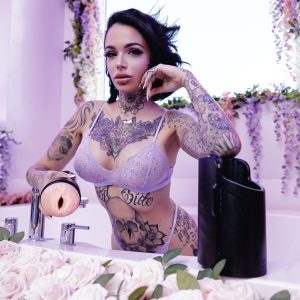 Check out more awesome stuff here.