Sex toys and the technology that makes them possible has come a long, long way in recent years. This is especially true when we talk about interactive sex toys and male masturbators. Male masturbators that can be synced with conventional 2D porn and, as you would expect, highly immersive virtual reality porn movies. So, if you are wondering why the Kiiroo Onyx+ is the best male masturbator that money can buy?
Why the Kiiroo Onyx+ Is the Best Male Masturbator
Well, in simple terminology the Kiiroo Onyx+ is a male masturbator for the modern world. It uses the very latest innovations in technology to bring pretty much every possible aspect of adult entertainment together. The Onyx+ can be used as a stand alone device, synced with your favorite adult movie or virtual reality porn experience, even used as an interactive sex toy for couples. The combinations of all these factors that explain why the Kiiroo Onyx+ is the best male masturbator available to today.
Okay, But Why Is This So Special?
By now you are probably wondering what makes the Kiiroo Onyx+ so special. Well, it happens to be quite a few things. Firstly, there is the specially designed and patented canal. A canal which is unique to the Kiiroo brand. This canal is made up from 10 contracting rings which contract and release. They do this to perfectly mimic the sensation you experience when penetrating a woman. There is also a specially developed air channel which enhances this system. It releases air from the chamber providing a suction sensation during use. This really is something that has to be experienced for yourself to be truly believed and appreciated. The first time anyone tries this for themselves they really will be blown away with how lifelike and realistic this toy is.
The fact that there are so many rings allows the Kiiroo Onyx+ to perfectly replicate every minor detail of penetrative sex. It can change its tempo and rhythm in the blink of an eye and so much more.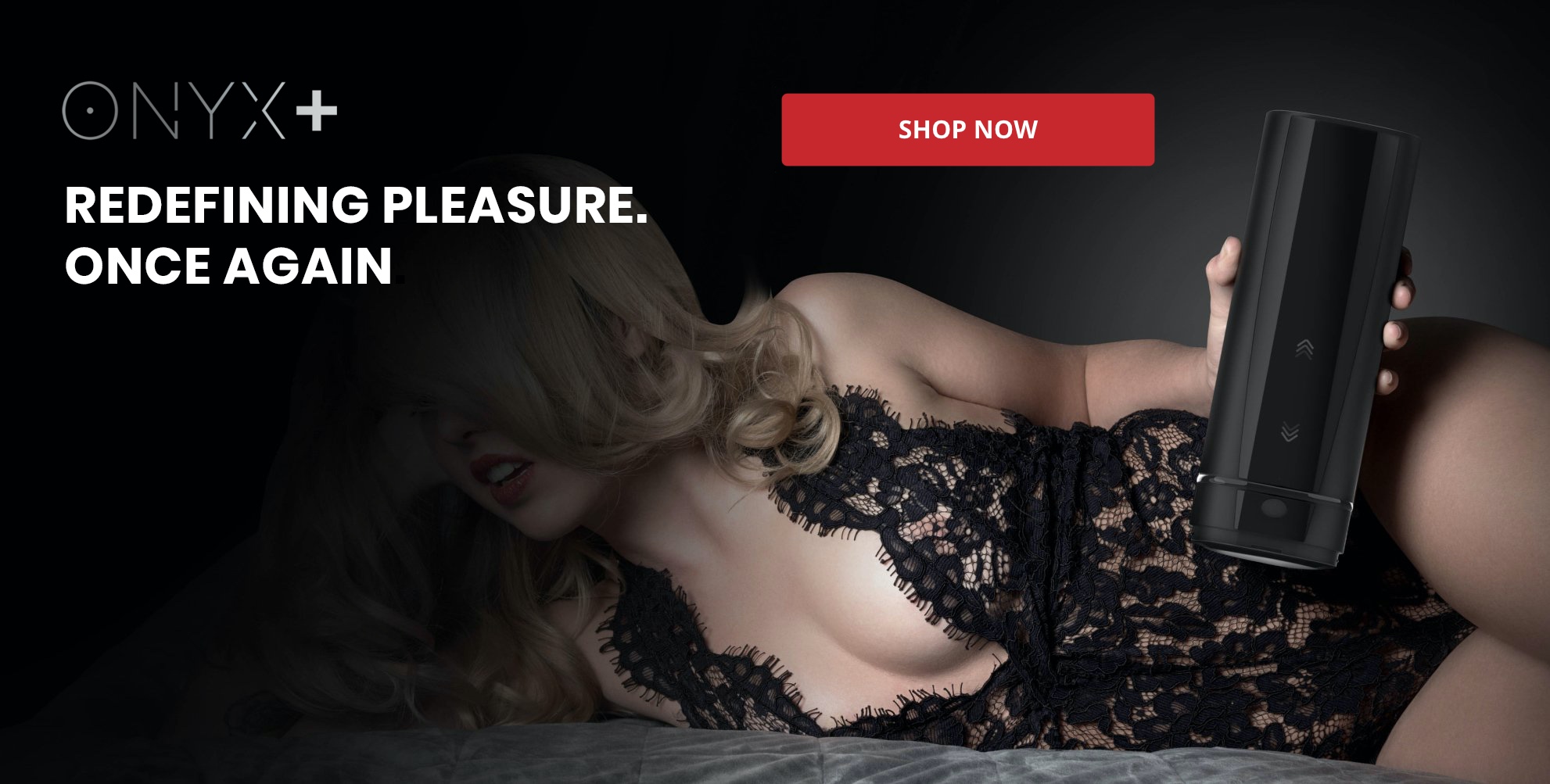 Connectivity Across Any Distance
Another thing that makes the Kiiroo Onyx+ so amazingly unique is the fact it can be used in conjunction with another Kiiroo device to convey another persons movements in realtime. There is no lag between devices. No delay. No interruptions. All that users of connected Kiiroo devices is a pure, intimate connection regardless of the distance between you.
As it stands the Kiiroo Onyx+ is the only interactive masturbator that offers two-way pleasure via an online connection. This fact alone makes it the number one choice for anyone wanting to make a sexual connection online. Just imagine what Kiiroo products can do for a long distance relationship. These toys are the perfect way to feel your lovers touch from anywhere in the world. Is that not the most amazing thing you could ever dream of?
Syncs to Adult Content
There are even more reasons as to why the Kiiroo Onyx+ is the best male masturbator. The technology that is built into this toy has the ability to syncronize with adult content. Put simply this technology allows you to get closer than you ever imagined would be possible to your favorite adult film star. This technology works with conventional 2D adult content and with virtual reality adult content. You will not believe how mind blowing virtual reality porn is when you experience it with the Kiiroo Onyx+. Immersive is a word that simply does not explain how amazing the experience happens to be. This toy allows for what can only be described as the ultimate pornographic experience.
There are even specially designed subscription services that allow users of Kiiroo devices to access free adult content. Such comprehensive services fo a very long way to demonstrate the diversity of the Kiiroo Onyx+ and its potential. And of course it gives you instant, unrestricted, free access to a whole library of Kiiroo compatible porn movies.

Highly Realistic Materials
While the technology built into this device is certainly impressive it would all be for nothing if the Onyx+ did not feel like the real thing. The good news is the Onyx+ features a sleeve which has been designed to provide unrivaled realism. It delivers what can only be described as the perfect blend of durability, tightness, and lifelikeness. The material used for the internal sleeve is nothing short of perfect. It feels so much like a real female vagina you will struggle to not believe you are inside the real thing.
The internal sleeve can be easily removed and washed. All you need to do is simply rinse the sleeve with the specially formulated wash after use. This is all it takes to keep the sleeve in perfect condition for years of safe, clean use.

There is More
As hard as it to believe there is even more than make this toy the very best that money can buy. The Kiiroo Onyx+ has been designed so it looks sleek and unobtrusive. This makes it perfectly suited to anyone who values discretion. The simple fact is anyone who was to stumble upon your toy they would be unlikely to recognise what it really is. They would likely mistake it as some sort of modern art before they thought it was a high tech sex toy.
Another great thing about the Kiiroo Onyx+ has a manual mode. This is easily activated with the touch of a button. Once in manual mode all that is needed is a swipe of the control pad to control the speed and rhythm of the Onyx's pleasure rings.
There is also the fact the Onyx+ happens to be the worlds safest interactive online adult sex toys. When you connect the Onyx+ online it uses an incredibly secure six-digit alphanumeric passcode. This keeps the use of Kiiroo devices over the internet private and secure. There is no need to worry about your intimate moments being hijacked by a third party. Privacy and security is a primary concern of Kiiroo devices.
Conclusion
When you take the time to digest all of this it is impossible to deny this is a unique piece of sex tech. It is the perfect way for couples to connect over any distance and the perfect way to make your pornographic experiences so much better.
If you are still not convinced I would challenge anyone to try the Onyx+ for themselves and not fall in love with it. You will try it once and you will be hooked. That is just a plane old simple guarantee.
See more cool stuff here.