I must say I have been more than a little impressed with the rate at which Kiiroo have been releasing their new range of porn star male stokers. Once again I have been lucky enough to be asked to review their latest release. This is our Natalia Starr Kiiroo Stroker review.
Natalia Starr Kiiroo Stroker Review
The first thing I noticed when I started this Natalia Starr Kiiroo stroker review was that it is very much identical to a Fleshlight. It features a sleeve which looks and feels just like a real vagina with this sleeve being placed in a black plastic case which looks similar to a flashlight.
100% Replica of Natalia Starr
Put simply, if you are a fan of Natalia Starr this is a male stroker you are most certainly going to want to buy. The opening has been created from a mould of Natalia Starr's own vagina. It is therefore a perfect replica and your chance to get closer than ever to your favorite blonde porn star.
Inside the sleeve of this stroker is divided into four individual chambers.

Chamber One
Once you are through the opening of this stroker the walls are smooth. As you progress into what is the first chamber the walls are lined with a ribbed like texture. These ribs are positioned closely together and generate a pulsating sensation as you move over them. I must admit this ribbed texture feels amazing especially when applied to the tip of the penis. After all this is the most sensitive part of the penis so be ready. Be ready for the level of stimulation to skyrocket in the most mind blowing of ways.
Chamber Two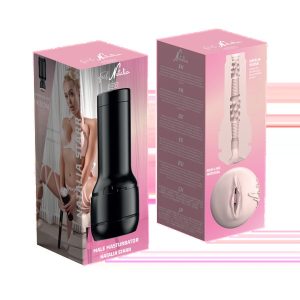 If you manage to survive the first chamber without shooting your load do not expect any easing on the stimulation in the second chamber. This chamber is lined with soft nubs which point directly up from the walls of the sleeve. As you move over these nubs they gently flex in the direction you are moving. As they flex it feels very much like you have the real Natalia Starr tightening her vagina around your penis as you slide in and out of her.
Chamber Three and Four
The third and forth chambers are identical to the textures you encountered in the first two chambers. For me personally I found this repetition enhances the sense of realism this male masturbator offers.
If you are not familiar with the Kiiroo Keon it is basically an interactive sex toy. It takes any compatible Kiiroo stroker and automates the stroking process. It can be controlled using buttons ont he side of the unit, by a smartphone app, by a partner from anywhere in the world, or synced with your favorite adult porn content. It works with both conventional 2D porn movies and with virtual reality porn movies.
The Natalia Starr Kiiroo Stoker is indeed compatible with the Kiiroo Keon. You really have to experience a Natalia Starr VR porn movie with her signature Kiiroo stroker and the Keon for yourself. Put in the simplest of ways the experience is truly mind blowing. You can actually feel everything you are seeing.
What I Liked About the Natalia Starr Kiiroo Stroker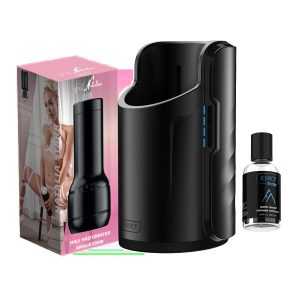 It is hard not to love that this is a perfect replica of Natalia Starr's vagina. Pretty much anyone familiar with this beautiful adult film star will love this attribute. It really is amazing how realistic it feels so, as you would imagine, I loved feeling this close to a real porn star.
I really did love how realistic this sleeve feels. It manages to combine an intense level of stimulation without being so overly stimulating it looses its realism. This is something that is very rare with male strokers.
Throughout this Natalia Starr Kiiroo Srokre review the one thing that really makes it stand out is that it is compatible with the Kiiroo Keon. This is something that I feel really makes this a must have male sex toy. You really have to experience this stroker with the Kiiroo Keon to appreciate it. It will revolutionize the porn industry and your porn movie viewing experience will never be the same again. You can check out the Kiiroo Keon here.
What I Did Not Like About the Natalia Starr Kiiroo Stroker
There really was not that much I did not like during this Natalia Starr Kiiroo Stroker review.
I I had to be picky I really with Kiiroo had taken the time to color the opening in a more realistic way. I have never understood why pretty much every manufacturer of male male masturbator does this. They seem to make the openings look and feel super realistic then get bored and just leave it an unrealistic, generic color. This is such a shame and the first manufacturer that takes the time to color the openings correctly will have a best selling male sex toy.
Conclusion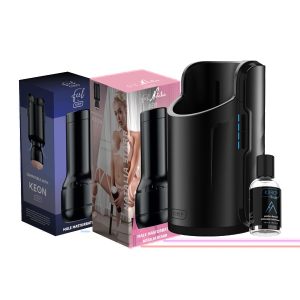 Well, undoubtedly you will be wondering if I would buy the Natalia Starr Kiiroo Stroker.
Yes, I would buy this and I would highly recommend it. And not simply because it is a perfect replica of her vagina, although this is a huge selling point.
The bottom line is this really is an awesome male sex toy. It looks and feels just like the real thing and it is a great price.
The million dollar question is – why would anyone choose this over a Fleshlight?
Well, to be honest a Fleshlight and this stroker are pretty much identical products. What makes the Kiiroo the winner between the two is that it is compatible with the Kiiroo Keon whereas the Fleshlight is not. Yes, Fleshlight have the Launch but the Launch is nowhere near as good as the Kiiroo Keon.
If I had to buy one porn star signature male stoker it would most certainly be this. If not this then another stroker in the Kiiroo FeelStars range. This really is a truly stunning product and I cannot recommend it enough.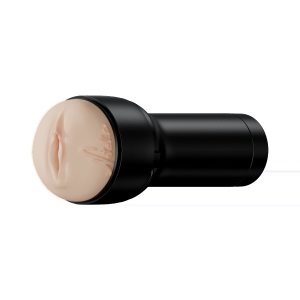 Check out more awesome stuff here.